A&E > Food
Upstairs, downstairs: Umi offers two floors of Asian-inspired entrees, sushi and more
May 11, 2018 Updated Tue., May 15, 2018 at 3:24 p.m.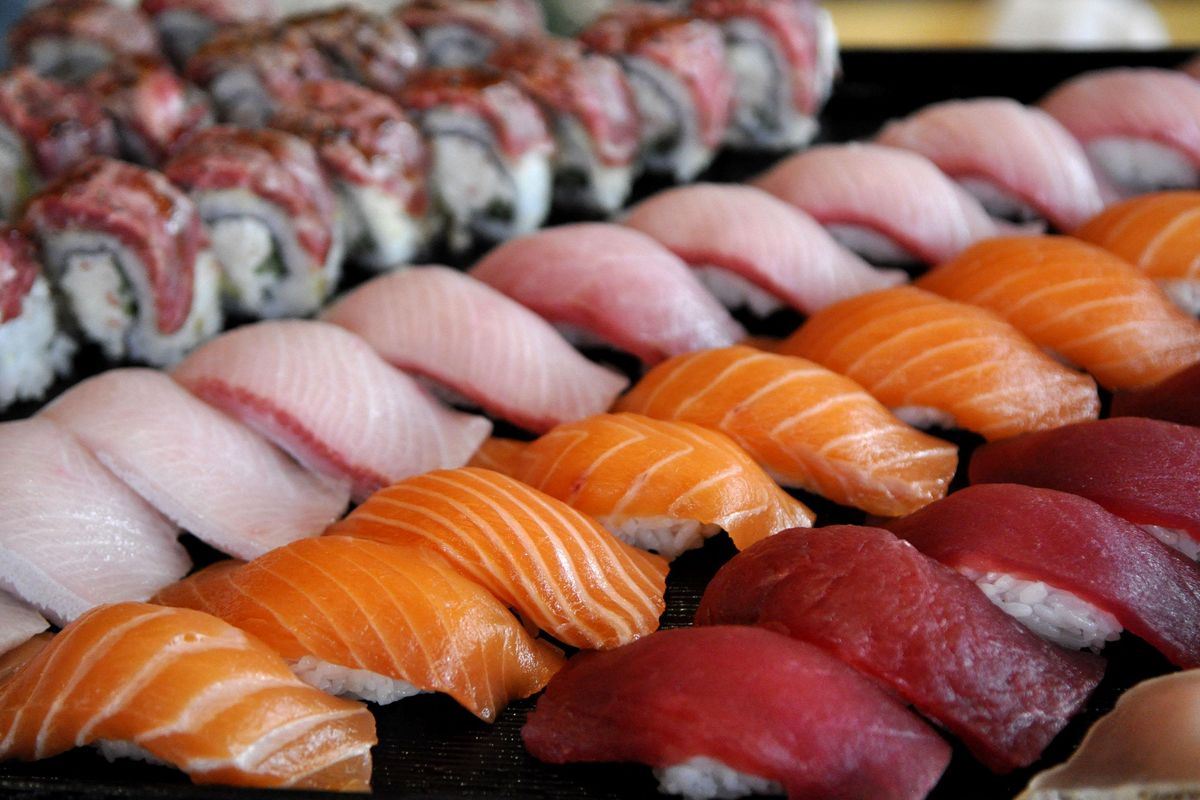 Sushi rolls and nigiri are seen at the new Umi Kitchen and Sushi Bar in Spokane's Kendall Yards. (Adriana Janovich / The Spokesman-Review)
Upstairs, the ambiance is light, bright and airy, with an open kitchen and fixtures evoking Japanese lanterns and fishing baskets.
Downstairs is darker, done in shades of charcoal.
Clean lines, concrete floors and a contemporary feel unite both floors of the new Umi Kitchen and Sushi Bar, which opened Friday in Kendall Yards and features high-end seafood. The menu is mostly Japanese with plenty of sushi options. But culinary influences include Thai, Chinese and Vietnamese as well as classic French and Italian.
"It's this collision of culture," said Scott Hoefer, the Spokane doctor who co-owns the restaurant and lounge with business partner and banker John "Jack" Heath III.
They admittedly "really don't have restaurant experience." While they have "influenced" the concept and design, "We don't want to run a restaurant," Hoefer said.
He and Heath are trusting chefs Tong Liu and Haru Wong with the menu and the running of the restaurant as well as showcasing the art and craft of their culinary skills.
Fans of Asian-inspired cuisine in Spokane know Liu, originally from China, from his work at QQ Sushi and Kitchen, Ginger Asian Bistro and Wasabi Asian Bistro.
Hoefer met Liu about 13 years ago. Liu was cooking at Ginger, and Hoefer was a frequent customer.
Liu's "been really successful in town, and he has followers, and you could say Jack and I are followers," Hoefer said. "We were impressed with Tong's food and customer service and decided to try to help him find a location to do his own thing. We have confidence in him."
Wong, who's half Chinese and Japanese, also came to the U.S. from China. He recently moved to Spokane and revamped the menu at Fire in downtown Spokane, adding sushi and seafood with Asian-inspired flavors.
Umi means sea or ocean in Japanese, "and I like the thought of it, the sound of it," Hoefer said. "It's simple. It's easy to remember. I think it fits our project."
Umi's menu is a mix of sushi, sushi rolls, nigiri and sashimi. But there's more to it, too. Along with the rainbow, caterpillar, Hawaii, Alaska, California, Las Vegas and Spokane rolls, expect tempura, rice and noodle dishes, and kushiyaki, or grilled and skewered meats and vegetables.
Chow mein is on the menu. So are spicy seafood udon and fried rice. Tempura offerings include shrimp, softshell crab, squid, oysters and lobster.
Soups are miso, clam and hot-and-sour. There are salads, too – seaweed, poke salmon skin and poke with tuna, salmon and octopus.
To start, consider monk fish liver, grilled conch with sea salt and yuzu sauce, oyster shooters, edamame, dumplings, or salmon and foie gras with seaweed, served in an apple.
Trust the chefs and order omakase-style, allowing them to prepare courses for guests using their own judgment.
If sushi and sashimi don't please your palate, Umi offers an entire selection of special entrees, some of which offer a classic European bent.
Try pan-fried sea scallops with asparagus, for example, as well as baked lobster pasta, spicy lamb chops, pepper steak with red wine and skillet-seared salmon with lemon-butter sauce. Look, also, for General Tso's chicken as well as Thai-style beef with lemongrass, mint, garlic, basil and hoisin sauce.
"There really is something for everyone," said bar manager Colleen Early. "I think it's going to be a hit in Kendall Yards."
In the weeks leading up to its opening, she said, "neighbors have definitely been peeking in the windows. It's a beautiful build-out. My jaw dropped when I first saw the downstairs."
Plans for Umi, which will employ about 25 to 30 people, have been in the works for more than a year. Spokane's Uptic Studios did the architecture and design.
"The design for Umi Sushi was inspired by forms and textures of traditional Japanese fishing baskets," said Julie Collins of Uptic Studios. "Creating a natural comfortable yet upscale place to enjoy exceptional sushi was the design team's main goal."
Dark-stained board-and-batten walls in the main dining room pay homage to the traditional Japanese method of wood preservation. Shou sugi ban preserves and finishes wood through the use of fire.
Interior designer Toni Caffero worked on the design as well, hanging a painting Thursday just before the restaurant's friends-and-family preview event. In the downstairs lounge, she went for "a little bit of a moody feel" to make it "somewhere to tuck in and have a drink and a bite of food with your peeps. The herring bone wallpaper has a distressed wood look which brings a fun design element to the bar."
Minors aren't allowed in Umi Den, a cocktail lounge that seats about 50 people. The mood is modern and a little more masculine than its upstairs counterpart. Dark leather and other accents are balanced by natural light from oversized windows offering sweeping views of the Spokane River, Centennial Trail and downtown skyline.
The space is larger than upstairs, too, totaling about 1,500 square feet. A community table, suitable for larger groups, stands in an alcove in the back of the space, providing spectacular views. Bench seating runs along one wall, lined dark wallpaper evoking patterned wood as well as a series of four- and two-tops. Ten stools fit along the bar itself, which is conveniently outfitted with hooks for coats and purses.
The den's back patio – covered, expansive – is slated to have seating for another 40 people. That lower-level lounge, including that patio, is set to open by the end of the month or early June.
Meantime, the main dining room upstairs is open and also seats about 50 guests. Here, the feel is fresh – with plenty of natural light and ash wood accents, including a white-washed wood feature meant to evoke an oversize Japanese lantern. It's installed over the open kitchen, ringed by a counter top with seating. Other lantern-like light fixtures add to the ambiance of the space, which stretches some 1,100 square feet.
There's outdoor seating upstairs, too, although not as much as the lower level. Eight two-tops seat 16 on the patio in front of the restaurant overlooking Summit Parkway, the main drag through the development.
Hoefer said he and Heath like the location, which is close to downtown, as well as the vibrancy of the up-and-coming master-planned neighborhood.
"I think both the food concept and the bar sets us apart in the neighborhood," said Early, who's crafting the cocktail menu and curating the wine and spirits lists for both the restaurant and the bar.
"I was pretty excited to create a bar program around (chef Liu's) product," she said.
Early comes to Umi from Sante Restaurant and Charcuterie. Before that, she spent about five years at Clover and its parent company Conversion Concepts. She's also worked at Charley's Grill and Spirits.
The wine list at Umi will feature about 60 bottles, Early said, including selections from Maryhill Winery which has a tasting room in the same building. Look, also, for Washington red blends as well as wines from around the world, available by the glass and bottle. Eight wines will be on tap: four reds, two whites, a rose and a sake. So will six beers, including Sapporo.
The lounge will offer a full bar, specializing in assorted sakes and Japanese whiskeys as well as highballs and batch cocktails. Early has a background in classic cocktails, and they'll be available along with a host of specialty craft cocktails featuring Asian-inspired flavor profiles. Think lemongrass, coconut, kiwi, lychee, Asian peppers, jasmine tea and shiso. Known as in English as perilla leaf, it's a member of the mint family.
Look, also, for shochu, a distilled Japanese spirit, and baijiu, a Chinese spirit typically distilled from fermented sorghum. Pair either with oyster shooters as an appetizer.
Or, perhaps, have the signature Umi Fish House Punch in the lounge downstairs before heading for dinner upstairs.
Local journalism is essential.
Give directly to The Spokesman-Review's Northwest Passages community forums series -- which helps to offset the costs of several reporter and editor positions at the newspaper -- by using the easy options below. Gifts processed in this system are not tax deductible, but are predominately used to help meet the local financial requirements needed to receive national matching-grant funds.
Subscribe to the Spokane7 email newsletter
Get the day's top entertainment headlines delivered to your inbox every morning.
---