Couch Slouch: Old QBs never quite fade away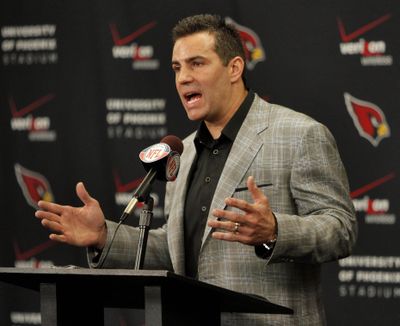 Kurt Warner, Ben Roethlisberger and Tom Brady are three of the iconic NFL quarterbacks of the last 20 years: One is retired, one talks about retiring and one will never retire.
(I'll let readers connect the dots here – you all aren't doing anything anyway.)
Each is a Super Bowl champion, each is a current or future Pro Football Hall of Famer and each created an unusual circumstance for himself last week.
As my boyhood idol Warner Wolf would say, "Let's go to the videotape!"
Kurt Warner wants to play football again. Really?
Warner, who last stepped onto a field in 2009, will turn 47 in June. He mentioned during a St. Louis Cardinals baseball broadcast his desire to make a comeback. And why not?
He remains the most fascinating story in my misguided half-century of watching the NFL – from stocking shelves at a grocery store to the Arena Football League to winning Super Bowl 34. His tale is so impossible, it's improbable they haven't made a major motion picture out of it, though at least that has saved us from another wooden star turn by Kevin Costner.
Warner's 1999 Rams season – 325 of 499, 4,353 yards, 41 touchdown passes, 109.2 rating – remains the second-most magical TV viewing year of my lifetime, surpassed only by 1962, in which "Leave It to Beaver" and "My Three Sons" aired back-to-back Thursday nights on ABC.
But why would he want to subject his body to the NFL again nearly a decade after taking his last snap and only three years away from AARP discounts?
For starters, he has seven kids – don't you think he might want to get out of the house?
In addition, Warner claims his wife Brenda supports the comeback bid. He related, "My wife says, 'Go for it. I think it would be great.' "
Uh, I hate to rain on Warner's marital parade, but this just might be similar to when I told Toni – a.k.a. She Is The One (And Then Some) – that I was thinking of applying for one of those one-way tickets to Mars, and she said, "Go for it. I think it would be great."
Ben Roethlisberger is under fire for kind of intimating he won't be helpful to rookie quarterback Mason Rudolph.
The 36-year-old Steelers veteran took a dismissive attitude toward Rudolph, telling a Pittsburgh radio station, "If he asks me a question, I just might have to point to the playbook."
What, for the good of the team, he's supposed to automatically roll out the welcome wagon for the hotshot kid who wants his job?
I know football is a team sport and art is not, but you think Henri Matisse gave Pablo Picasso endless post-modernist painting tips for the good of the culture?
And do you know how many millennials ask me how they can sit around all day, swig Yuengling, watch TV and make kegs of cash as the next Couch Slouch? What, I'm going to give away my secrets?
(Secret No. 4: Just like a quarterback is useless without a good offensive line, a couch is useless without a good coffee table.)
Anyway, a sadly naïve Rudolph believes Roethlisberger smoothed things over late last week when Big Ben texted him, "Hey, good luck in rookie minicamp," which actually translates to, "Hey, I hope you break a leg and are placed on the physically-unable-to-perform list through 2025."
Tom Brady looked preposterous at a black-tie reception, and I mean PREPOSTEROUS.
At the Met Gala, he was wearing a black turtleneck underneath a Versace tuxedo featuring elaborate gold embroidery on the lapel.
If he had worn this ensemble in middle school, his classmates would have voted to hold him back a year.
Granted, I have never been to a Met Gala, but I remember from my various weddings that any time you are at a formal (if ill-fated) affair with a cash bar, you dress to fit in, not stand out.
In Brady's defense, take a good, hard look at his supermodel wife Gisele Bundchen at this event – how about her outfit? Do you get a discount on a Versace gown when there is no material going up your entire left leg? Heck, at Ross Dress for Less, that baby would've had a red sale tag on it.
Ask The Slouch
Q. In hockey, three goals is a hat trick; in bowling, three consecutive strikes is a turkey, and in horse racing, three big wins is a Triple Crown. What are three marriages called? (Jerry Jarding; Reston, Va.)
A. A 1-2 nuptial record.
Q. Dwane Casey was voted NBA coach of the year, then the Toronto Raptors fired him two days later. Your thoughts? (David Edelstein; Cleveland)
A. This is exactly why I hope to never win a Pulitzer Prize.
Q. My wife and I were getting ready to go to bed and she asked me what a "Euro Step" was. Coincidence? (Gary Bowling; Cross Lanes, W.Va.)
A. I believe this is a trick question; just to be safe, I am forwarding your entry to an actual advice column.
Q. Isn't it curious how the best part of your column is always at the very end… and you didn't even write it? Go ahead and answer that, with our favorite line. (Mark King; Olney, Md.)
A. Pay the man in pennies, Shirley.
You, too, can enter the $1.25 Ask The Slouch Cash Giveaway. Just email asktheslouch@aol.com and, if your question is used, you win $1.25 in cash!
---