A&E > Food
Ten/6 celebrates Cajun and Creole cookery – and all things Alice
May 14, 2018 Updated Tue., May 15, 2018 at 1:07 p.m.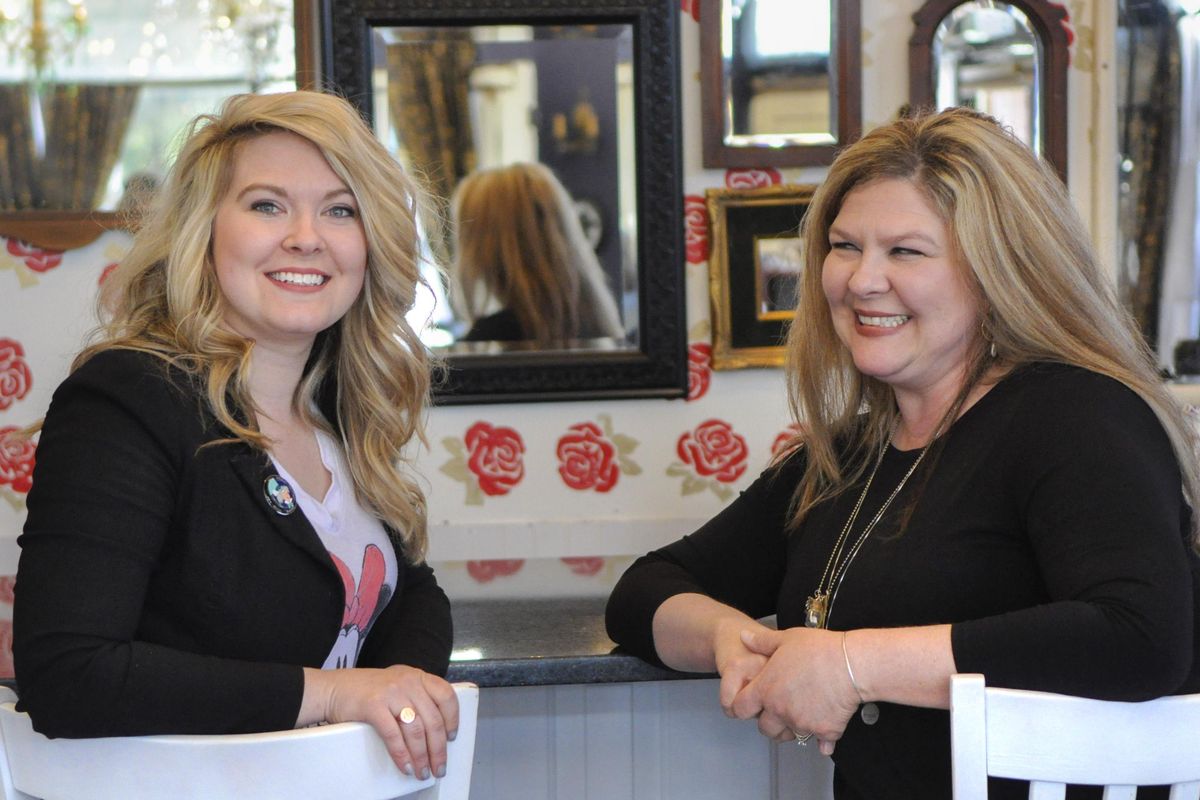 Taylor Jane "TJ" Taylor and her mom, Jill Davis, have been planning their Alice-in-Wonderland-themed restaurant for more than 10 years. Ten/6 opened May 9 in Midtown Coeur dAlene. (Adriana Janovich / The Spokesman-Review)
There are bunnies at every table and white rabbits on the walls.
Of course, there are clocks, too – many, many clocks. The March Hare, after all, was worried about being late. But there's really no need for worry when, as the Hatter says, "it's always tea time."
Brunch time is limited, so missing it is a possibility. But you won't want to, especially if you're a fan of Alice in Wonderland and New Orleans.
Ten/6, a new brunch spot in Midtown Coeur d'Alene, celebrates Cajun and Creole cookery – and all things Alice. The cafe takes its name from the label depicting the price of the hat the Hatter wears in 1865's "Alice's Adventures in Wonderland" by Lewis Carroll.
Taylor Jane "TJ" Taylor, who owns the restaurant with her mom, Jill Davis, actually prefers the 1871 sequel "Through the Looking Glass, and What Alice Found There." But both mother and daughter are enamored with the story and aesthetic of both books as well as Disneyland, Disney movies, New Orleans, and Cajun and Creole cuisine.
They've been dreaming for more than a decade of opening their own eatery where they could create their own Wonderland and help make the good times roll.
"We're very much in love with New Orleans. We're very much in love with Creole and Cajun culture and food," said Taylor, 27, who also goes by "T-Squared." Taylor is her married name.
She and her mom "are absolutely morning people," Taylor said. But, "We love our coffee."
Drip coffee from Evans Brothers Coffee Roasters will be served in the mother-and-daughter's collection of what they call their "ugly mugs," mismatched mugs often emblazoned with humorous sayings.
"Brunch is the best," Taylor said. "Brunch is our favorite. It makes people really happy. New Orleans is all about brunch. So is Coeur d'Alene. I think people are ready for another brunch spot."
As a girl, she picked up a copy of "Alice Through the Looking Glass" at the school library, and she was hooked. The Disney films underscored that love. But, Taylor said, "the inspiration (for the eatery) really came from the book."
She is, her mom said, "a Lewis Carroll purist." The most recent film, in 2010, "was a little far-fetched for her." But, Taylor stressed "I love Johnny Depp as the Mad Hatter."
Growing up in Rathdrum, cooking was, like reading Carroll, "a creative outlet," she said. Both provided the same thing: "escape from reality. We all work hard. We all have bad days. It's refreshing to have a place to escape to."
Cooking together was their mother-daughter thing. Lasagna. Enchiladas. Tacos. You know, Taylor said, "school night food."
And back then, "Mom's house was the place to go."
Davis was divorced, and Taylor spent most of her time at her mom's house. They would make dinner together and then, on Wednesday nights, Davis would cart "as many (kids) as could fit in my car" to youth group.
"We'd crank up our music," Taylor said. "We'd play Frank Sinatra or Bing and just cook and it was our happy place. We just got to escape from the day and relax."
They also made a point to set the table, lay a tablecloth, use the nice dishes and cloth napkins.
"We would elevate things and make it feel like it was special," Taylor said. "We didn't have a lot of money. But we used the good dishes, even for tacos. We would use wine glasses for water with lemon."
And, she said, there were mini salt and pepper shakers at each place setting. That was a must. So were fresh flowers.
Her personal style, Davis said, "has always been not expensive, but thoughtful."
And that's the same idea behind the decor at Ten/6. The mother-daughter duo was going for whimsical, wonderful, cozy and intimate – much like the atmosphere at their weeknight dinners, but with more of an over-the-top "Through the Looking Glass" theme.
"We were dead set on our ideas so it had to feel right, and this just felt like the right spot," said Taylor, noting she and her mom had been actively looking for a location for their restaurant for about five years. They finally found it in Midtown Coeur d'Alene about a year ago.
"The bones of the space were great," said Davis, 48. "We worked on this place cosmetically. The whole goal was to be able to do it together and experience that."
And that's why it took so long to complete the look. They were both working full time and renovating the space nights and weekends up until about a month and a half ago.
The spot, which formerly held Kelly's Irish Pub and Grill, isn't quite 1,000 square feet. But the finished product is highly Instagrammable.
Walls are a deep purplish blue. Frames are gilded. Floors are polished concrete. Wainscoting is white. So is the oversized papier-mache March Hare head that anchors the dining room.
"He's our White Rabbit," Taylor said. "We love him. We call him Dubbya."
A ceiling corner recreates a table and chair, spoon and fork and teacup and saucer tumbling down the rabbit hole.
Some are pieces are antiques or family heirlooms. Grandma's chandelier hangs in a front corner, for example. There are 11 chandeliers in all, including two in the restrooms. (Be sure to make that trip down the hall. The women's is full of faux flowers. The men's is done in a pirate theme.)
Taylor and Davis have been collecting items for their restaurant for about 10 years – storing pieces in Davis' basement and storage unit. Some of the decor is left over from Taylor's Alice-in-Wonderland-themed wedding, which featured plenty of rabbits, teapots and clocks. The flower girls even dressed as Alice.
Taylor starting coming up with ideas for the eatery "10 or 13 years ago" and jotting them down in a series of notebooks – handwritten and full of recipes. For beignets. For grits. For gumbo.
But, she said, "We always knew the name. It's a price tag, basically. Ten schillings over six pence."
She "just thought it was cute."
So did her mom, who got remarried on Oct. 6.
Taylor tried, but the way the calendar worked out in 2015 she ended up marrying Oct. 3. "It was close," she said.
Her husband, Craig Taylor, 27, helped with the restaurant renovation.
"It's really cool to hear (Taylor) talking about it in an interview setting because I have been hearing these ideas since high school," he said. "It's really cool to see it happen."
The pair have been best friends "since like seventh grade," Taylor said. "He was my Disney nerd friend."
Disneyland is their happy place. It's where they got engaged and spent their honeymoon and first anniversary. They took a "pre-opening" trip in January, too.
Their other happy place: NOLA.
A photo on the restaurant's website shows Taylor and her mom gesturing – with praying hands – to the sign outside K-Paul's Louisiana Kitchen, chef Paul Prudhomme's famed French Quarter restaurant.
The opening chef at Ten/6 is Alex Chaffin, 27. He previously worked at the Garnet Cafe, another popular breakfast and lunch spot in Midtown Coeur d'Alene.
"The catfish Benedict will be fun," he said of a special he's looking forward to making.
"Alex will put his twist on everything," said Taylor, who conceived of the menu with her mom. They both now live in the neighborhood.
Entrees run from about $8.95 to about $14.95 and liberally feature Harry's Red Gator All-Purpose Cajun Seasoning, which will also be for sale at the restaurant.
Most of the seating is a mix of four- and two-tops. There's room for 38, and that includes seating at the bar where guests can some of life's larger questions, questions found in "Alice's Adventures in Wonderland," including "How long is forever?" and "Who in the world am I?"
Perhaps they'd like a Mad Platter to go with that banter. The mix-and-match menu item allows guests to create their own experience with one item from each column: meat (andouille, ham, bacon, breakfast sausage), two eggs (any way you want them), and carbs (flapjacks, toast, croissant, English muffin). A smaller version, the Little Hatter Platter, features one egg and a choice of breakfast sausage, bacon or ham and flapjack, toast, English muffin or cereal.
Breakfast is served all day.
Expect beignets, a gluten-free leek-and-bacon quiche with Gruyere, Caprese quiche, breakfast burrito named for Prudhomme, bruleed grapefruit with a Greek yogurt parfait, French toast made from rum custard-soaked brioche and warming spices and garnished with toasted pecans, eggs royal grilled green onion bechamel and fried capers, a breakfast BLT with fried green tomatoes and arugula on a croissant, and red beans and rice with eggs, crispy pork cracklins and the trinity of onion, celery and bell pepper.
The Holy Trinity Hash features andouille sausage and tasso ham sauteed with pickled collard greens and served with gravy, two poached eggs and gumbo debris.
Lunch runs from 11 a.m. to 2 p.m. with rotating seasonal soups and an array of sandwiches such as a Monte Cristo, buttermilk chicken on a croissant, and the cochon (French for pig) with bacon, smoked pulled pork and ham on ciabatta bread. Of course, there's gumbo and jambalaya as well as the White Rabbit's Choice, a gluten-free and vegetarian salad of spring greens, julienned beets, herbed goat cheese and shredded carrot served with a carrot-ginger vinaigrette.
Little lunch guests can opt for the platter again, this time with seasonal fruit and a choice of yogurt, cheese and crackers or veggies with ranch dressing as well as a turkey sandwich, quesadilla, grilled cheese or PB&J.
Small plates include fried green tomatoes, brined deviled eggs with bacon-onion jam and crostini and boiled peanuts. On the side, there's potato salad, English muffins, toast, bacon, soup, chips, flapjacks, salad, toast, andouille sausage and egg.
On the sweet side, try the cane syrup cake finished with buttermilk whipped cream, banana cream pie with cream cheese whipped cream, or the Unbirthday Cake, soft carrot cake with pineapple and coconut cream frosting. It's named for an exchange between Alice and Humpty Dumpty in "Alice's Adventures in Wonderland."
Alice asks, "What is an un-birthday present?"
And Humpty Dumpty explains, "A present given when it isn't your birthday, of course."
Wash it down with an exclusive chicory coffee blend – "a very New Orleans thing," Taylor said – from Evans Brothers.
Or, opt for a Hurricane Mimosa – Prosecco, passion fruit and orange juices, grenadine – or two, or a Man Mosa with beer and orange juice. On the savory side, there's a Bloody Red Gator named for the seasoning. It features beer, house-made bloody mary mix, andouille sausage, pickled okra and more.
Speaking of more, plans to expand are already in the works. Taylor and Davis expect to open a backroom at Ten/6 for private parties and overflow in June.
Local journalism is essential.
Give directly to The Spokesman-Review's Northwest Passages community forums series -- which helps to offset the costs of several reporter and editor positions at the newspaper -- by using the easy options below. Gifts processed in this system are not tax deductible, but are predominately used to help meet the local financial requirements needed to receive national matching-grant funds.
Subscribe to the Spokane7 email newsletter
Get the day's top entertainment headlines delivered to your inbox every morning.
---