News > Spokane
Unique partnership gives young people hands-on experience building low-income housing
Mon., May 14, 2018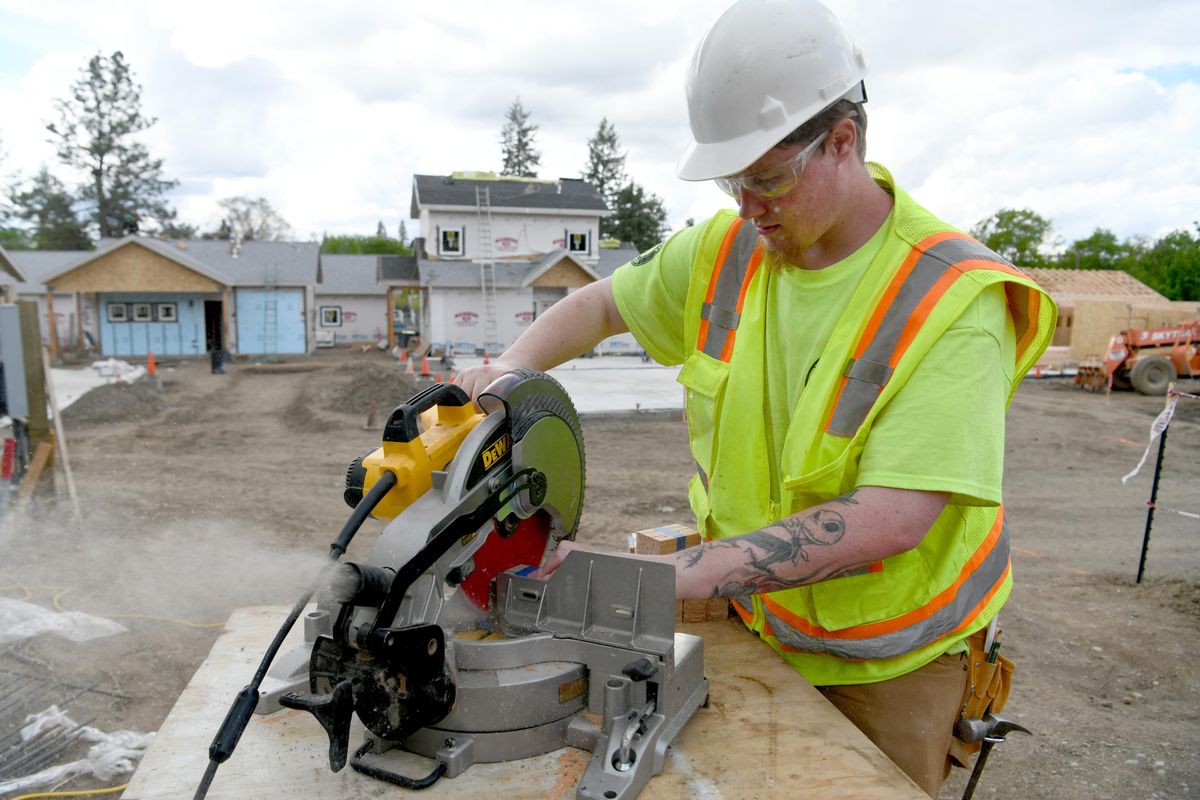 Wolfgang Ford, 22, uses a saw to trim shims that he will place around windows in the cottages being built by Transitions, a housing program for women and families in north Spokane Thursday, May 10, 2018. Ford is getting a temporary work at the job site through YouthBuild, a nonprofit that gives at-risk youth a chance to learn construction skills and get job experience. (Jesse Tinsley / The Spokesman-Review)
Wolfgang Ford looked intently at an unfinished window as he stapled shims around the frame.
The 22-year-old was in the middle of his fourth day on the job, building a village of cottages in northwest Spokane that will become affordable rentals this fall.
His prior work experience has mostly been in food service and other minimum wage jobs. Aside from the 5 a.m. wake-up, construction is a definite improvement, he said.
"It's a more fulfilling job than 'Make a burger, now make another one' until you're dead," he said, drawing a laugh from his co-workers.
Ford is the most recent young person to get hands-on construction experience thanks to a unique partnership between Walker Construction and several Spokane nonprofits focused on helping low-income people.
They include Next Generation Zone, a career center for young people; YouthBuild, a program that gives youth construction training while they work toward GEDs; and Transitions, a nonprofit serving homeless women and families that is building the affordable housing cottages.
Next Generation Zone provides funding so young people working with YouthBuild can earn the prevailing construction wage of $16.24 an hour.
It's a win for everyone. Ford gets to learn a new job while earning an income above many entry-level positions for people with four-year college degrees. Transitions is able to support a program that helps young people who didn't finish high school to get jobs, ensuring their housing development is helping people even before the cottages are rented out.
And Walker gets a fresh supply of new laborers, something the construction industry desperately needs.
"It's a struggle to find skilled labor," said Frank Scoma, the project manager for the Transitions build.
The Bureau of Labor Statistics estimated there were 248,000 construction jobs open nationwide in March, the highest monthly total since at least 2008.
The site superintendent, Dan Siebel, said prevailing advice that all high school graduates should go to four-year college has drawn people away from skilled trades. Jobs in technology are more attractive to people who might have gone into construction a generation ago, he said.
The YouthBuild collaboration is already paying off. A former participant, 18-year-old Daniel Oldfield, has been hired by Walker and is scheduled to begin an apprenticeship in the fall.
Alex Schultz, 20, who worked on the Transitions site in January through the program, has applied for an electrical technician apprenticeship and hopes to someday be an electrical engineer.
All three earned GEDs after dropping out of high school. Ford left because he needed to earn money to support his family. Schultz said he didn't apply himself and as a result had too many classes to make up to graduate. Oldfield was bullied regularly, got expelled and later decided it wasn't worth the trouble to keep going to school, he said.
"I've always loved working with my hands and just being able to show that you've created something," Schultz said. He said it's easier to apply himself to a job that shows him tangible results.
The Transitions project, called the Home Yard Cottages, is a $6.2 million project creating 24 small homes for formerly homeless women and children. The Spokane Housing Authority is managing rental applications, and the cottages will open this fall.
The site has been a challenge, Scoma said, because the tight layout of the homes means some larger equipment can't get in. Some homes were completely enclosed with solar panels being installed on the roofs, while others still had frames going up.
Ford said he hopes to impress his bosses enough to get hired on after his one month of work through YouthBuild ends.
He knows many of his peers might prefer an office job or something working with computers, but he has enjoyed getting his hands dirty.
"Where are you going to put your technology if you don't have a building?" Ford said.
Local journalism is essential.
Give directly to The Spokesman-Review's Northwest Passages community forums series -- which helps to offset the costs of several reporter and editor positions at the newspaper -- by using the easy options below. Gifts processed in this system are not tax deductible, but are predominately used to help meet the local financial requirements needed to receive national matching-grant funds.
Subscribe now to get breaking news alerts in your email inbox
Get breaking news delivered to your inbox as it happens.
---