Dorothy Dean presents: sweet potato fries with chipotle-lime aioli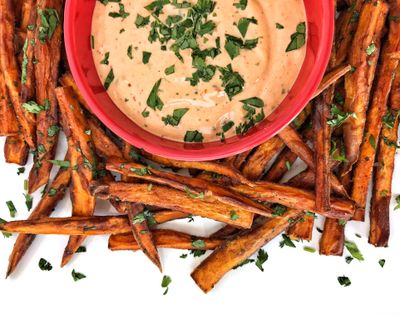 Sunshine is here, and that means my hubby wants to take over dinner duty by becoming the grill master he thinks he is. (He's actually not that bad. And with my guidance, he's pretty legit.)
So I'll let him. But that doesn't mean I'm off the hook from cooking. While he's got the burgers covered, I'm in charge of the sides. And we all know nothing goes more hand in hand with burgers than fries.
Having used the last of my potatoes on hash browns, I remember the sweet potatoes I swooped up because they were on sale. (I'm all about bargains.)
So sweet potato fries it is.
And because I love pairing sweet with spicy, I'm whipping up a chipotle-lime aioli to go with them. Plus, fries need a dip.
Speaking of dip, these sweet potato fries take a double dip in the fryer. For any type of potato fries, it's the secret to getting them super crisp. Their first dip is essentially to cook them and the second is to get them golden and crisp. And always cook in small batches, as overcrowding your oil will drop the temperature, leading to oily, limp, soggy fries. Definitely not what we're going for.
Crispy is what we want. And that's exactly how the exterior of these fries are. Crisp, golden and slightly caramelized, with a sweet and tender center. They're tossed in a mix of salt, paprika and garlic powder as well as freshly chopped cilantro. We could stop right here and they'd be delicious on their own. But we won't. Because we like to take things to the next level.
Step in, chipotle-lime aioli.
Zesty, smoky and mildly spicy, this dip balances the sweetness of the fries and gives them a nice kick. And you can use it on your burger buns, too. Or for a dip for your veggies. Or on your ice cream. Kidding. But it is versatile and tasty. If you're not into spicy, use just one chipotle pepper, or skip the pepper and just use some of the adobo sauce the peppers are in.
With barbecue season here, these sweet potato fries are sure to become your go-to, as they pair well with just about anything you can throw on your grill and make an addicting appetizer to please a crowd.
Sweet Potato Fries with Chipotle-Lime Aioli
For the fries:
Oil for frying
1/4 teaspoon kosher salt
1/4 teaspoon paprika
1/4 teaspoon garlic powder
2 to 3 pounds sweet potatoes, peeled and cut into french fry sized strips, about 1/4" thick
1 cup cornstarch
3/4 cup club soda or cold water
1/4 cup cilantro, chopped
For the chipotle-lime aioli:
1 cup mayonnaise
Juice and zest of 1 lime
2 chipotle peppers in adobo sauce
1 tablespoon cilantro, chopped
1/4 teaspoon garlic powder
1/4 teaspoon cumin
1/4 teaspoon sugar
Add oil to heavy-bottomed pot or deep fryer, (leaving 3 to 4 inches of headroom from top for oil to bubble up), and heat to 375 degrees.
In a small bowl, mix the salt, paprika and garlic powder, and set aside.
Place cut potatoes in large colander and rinse with cold water to remove excess starch. Pat dry with paper towels.
In a mixing bowl, whisk together the cornstarch and club soda, or water. In batches, toss the potatoes in the batter and shake off the excess and place on a wire rack over a baking sheet. Repeat with the remaining potatoes.
Working in batches, add sweet potatoes to hot oil and cook until softened, about 3 minutes. Remove and drain on paper towels. When all potatoes have had their first dip in the oil, start second round of frying.
In batches, return fries to hot oil and cook until crisp and slightly caramelized, 2 to 3 minutes. Transfer fries to paper towels to drain. Toss fries with seasoning and cilantro and serve with chipotle-lime aioli.
To make aioli, add all ingredients together and blend with immersion blender or in a food processor. Cover and chill until ready to use.
---