Gerard Gallant, Paul Maurice took long road to lead Golden Knights, Jets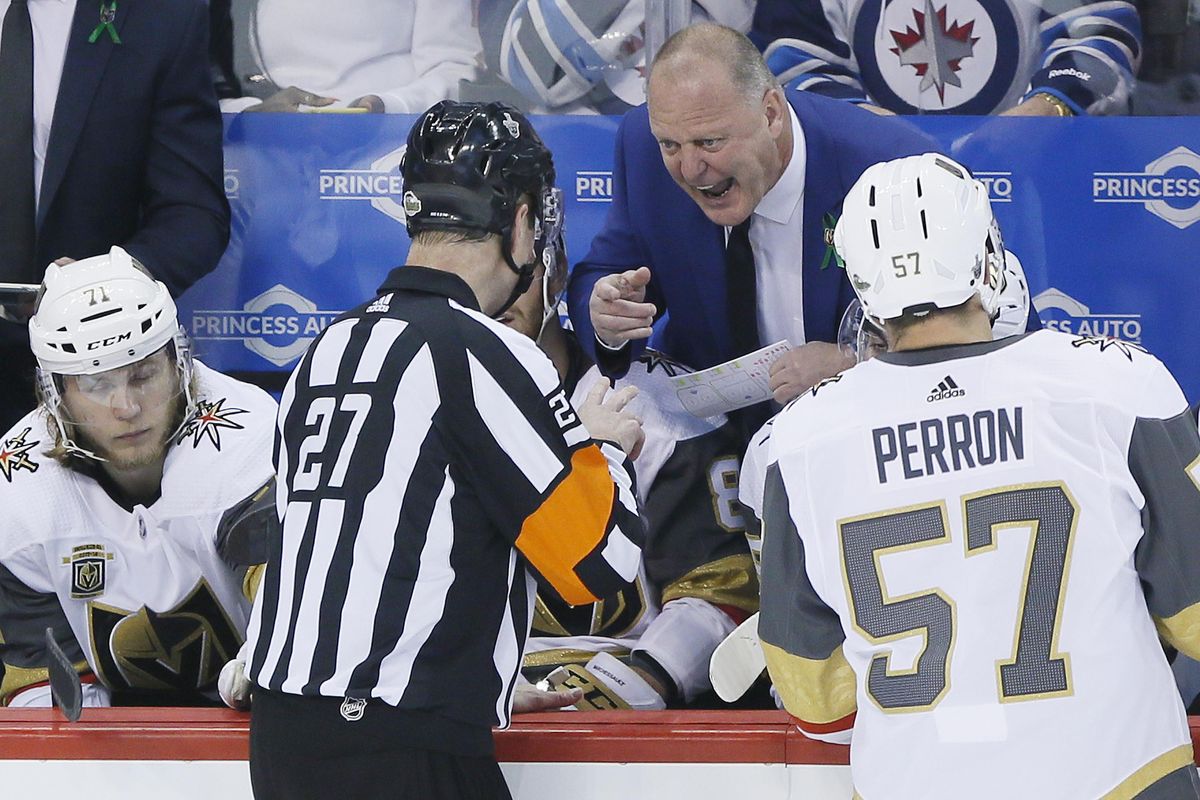 WINNIPEG, Manitoba – Gerard Gallant and Paul Maurice do not know each other well despite having their NHL coaching careers overlap for several years.
The men behind the benches for the Vegas Golden Knights and Winnipeg Jets, though, both have led their teams into the Western Conference final after following long, winding paths.
"It's quite a story for both of them," Hall of Fame coach Scotty Bowman said in a telephone interview.
Gallant was fired by the Florida Panthers with a winning record just 21 games into the 2016-17 season, leaving him to catch a cab outside the arena in Raleigh, North Carolina, after his belongings were unloaded from the bus.
Maurice was fired by the Carolina Hurricanes twice. The second time was after just 25 games of the 2011-12 season.
They will match wits Wednesday night in Game 3 when Vegas hopes home ice gives it an advantage in the deadlocked series.
Gallant was infamously relieved of his duties with the Panthers, a season after being a finalist for coach of the year, because of philosophical differences between analytics-minded management and the old-school coach.
"He was left on the curb," Golden Knights forward James Neal said.
Vegas center Jonathan Marchessault was on the bus when news broke that Florida had fired its coach.
"It was kind of out of nowhere," he recalled.
And it worked out very well for Gallant and a team that also came out of nowhere.
The coach discarded by the Panthers has led a collection of castoffs to a stunningly successful expansion season.
"It's a perfect fit," Marchessault said.
If the straight-shooting coach can help Vegas win three more games, he'll join Scotty Bowman as the only coaches to lead a first-year expansion team to the Stanley Cup final. Bowman did it 50 years ago with the St. Louis Blues, and the Hall of Famer is rooting for Gallant.
"It's a nice story because he deserved a better fate in Florida," Bowman said. "People felt bad for him the way it happened in Carolina. I know there were some teams thinking about hiring him before Vegas did."
Gallant won a career-high 51 games this season, his seventh in the league.
Likewise, Maurice had his best season with what he said has been his best team. He won a career-high 52 games in his 20th year as an NHL coach. He's three wins away from advancing to the Stanley Cup final for a second time. In 2002, the Bowman-led Red Wings beat Carolina and hoisted the Cup.
Maurice broke into the league as a coach in 1995 with the Hartford Whalers, who moved to Carolina two years later. After he was fired the first time by the franchise, he lasted just two seasons and was 10 games over .500 in a pressure-cooker job with the Toronto Maple Leafs.
Winnipeg hired him to lead its franchise with 35 games left in the 2013-14 season. The Jets were patient enough to let him guide a young team he took to the playoffs only once – without winning a game – before their breakout performance this season.
When Winnipeg opened the postseason with a win over Minnesota, it was Maurice's first victory in the playoffs since 2009 during his second stint with the Hurricanes. It reinforced a perspective he gained with two decades in the world's top hockey league, knowing very well how hard it is to win in a league that may have more parity that any other in North American professional sports.
"What I've learned – the short answer is – it's special," Maurice said.
Maurice is as much of a student as a teacher, evolving as a communicator after having language barriers with players while coaching in Russia and learning to show perhaps 10 video clips to his players instead of 100 after coaching in the World Cup of Hockey.
"He's intense in games, but when we aren't playing he's pretty laid-back," Winnipeg forward Andrew Copp said. "He's been in a pretty good mood, cracking some jokes in meetings lately. It shows his confidence in our team. It's nice to have a coach behind the bench who doesn't panic. He has an air of confidence and we carry that mentality, too."
---