Mariners' Robinson Cano suspended 80 games for drug violation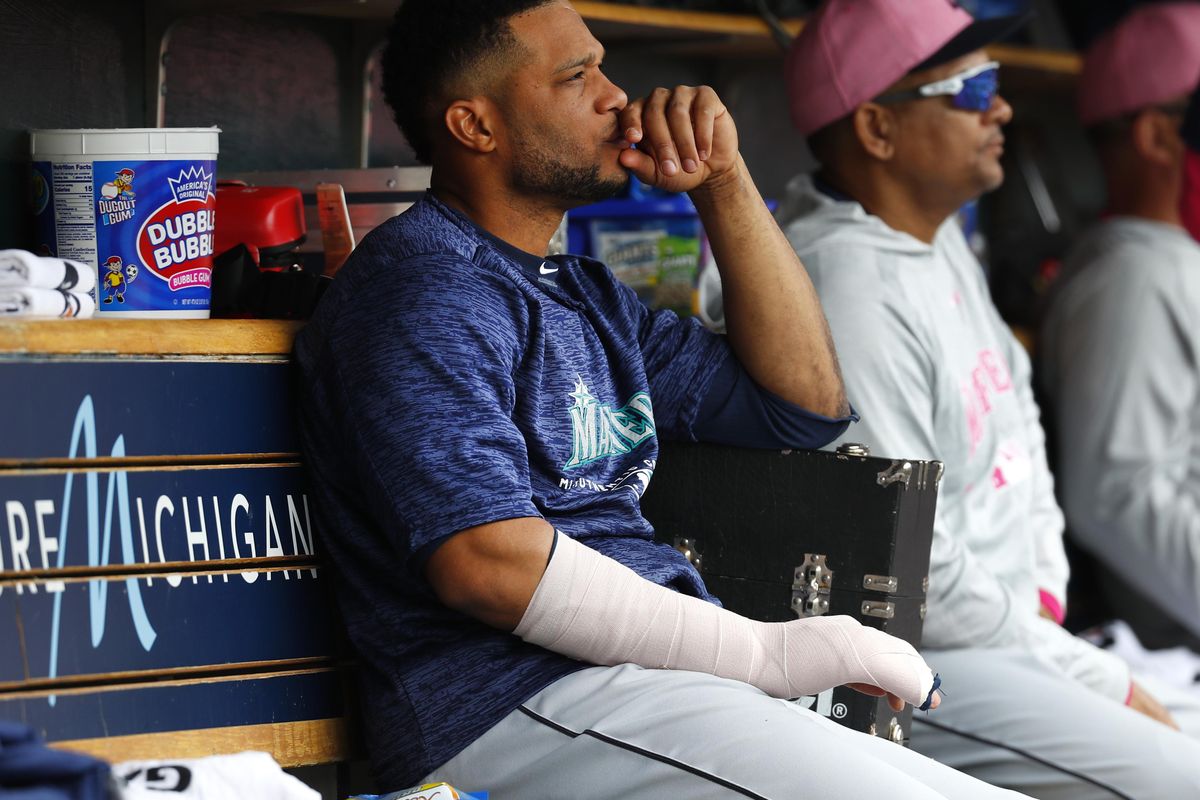 SEATTLE – Seattle already knew Robinson Cano would be out of the Mariners lineup for several weeks, the result of a broken bone in his right hand.
His absence will be significantly longer.
The All-Star second baseman was suspended for 80 games on Tuesday for violating baseball's drug agreement, becoming among the most prominent players disciplined under the sport's anti-doping rules.
Major League Baseball's announcement was a stunning development for a middle-of-the-lineup stalwart and a club expected to contend for a postseason spot. Cano tested positive for Furosemide, a diuretic that can be used to mask performance-enhancing drugs.
In a statement released through the players' association, Cano said, "This substance was given to me by a licensed doctor in the Dominican Republic to treat a medical ailment." He said he did not realize it was banned.
"For more than fifteen years, playing professional baseball has been the greatest honor and privilege of my life," Cano said in the statement issued by the players' association. "I would never do anything to cheat the rules of the game that I love, and after undergoing dozens of drug tests over more than a decade, I have never tested positive for a performance enhancing substance for the simple reason that I have never taken one.
"Today I decided to accept MLB's suspension. This was the most difficult decision I have ever made in my life, but ultimately the right decision given that I do not dispute that I was given this substance. I apologize to my family, friends, fans, teammates and the Mariners organization."
Cano's suspension was a shock to his team. General manager Jerry Dipoto was informed Monday after Cano made the decision to drop his appeal. Seattle manager Scott Servais found out Tuesday morning.
"We love Robinson Cano. We really do and what he means to our ballclub and the organization. But just like a family member makes a bad decision or a bad choice, you still love them," Servais said. "Robinson will be back and will be a big part of our team going forward, but in the short term he's not going to be here."
Cano is the biggest baseball star busted since Melky Cabrera was suspended in 2012 while leading the National League in hitting. There have been 36 players suspended this year under the minor league drug program and six in addition to Cano under the big league program: Houston pitcher Dean Deetz, Washington catcher Raudy Read, Pittsburgh pitcher Nik Turley, Kansas City outfielder Jorge Bonifacio, Toronto pitcher Thomas Pannone and Minnesota shortstop Jorge Polanco.
If no games are postponed, Cano would be eligible to return Aug. 14 at Oakland. In the short term, Seattle will use Gordon Beckham and Andrew Romine to fill the void at second base, but Servais and Dipoto spoke with outfielder Dee Gordon about a possible move back to second base. Gordon was a Gold Glove winner at the position in Miami but made the switch to center field after being traded to Seattle.
Gordon was suspended 80 games during the 2016 season.
"For myself, it was tough. Personally, I didn't have the statistical value Robinson Cano had at that point in my career when I went through it," Gordon said. "I felt like I had to prove to everyone that I could play when I came back. I thank God he has some stats and everyone knows how good he is."
Furosemide, sold under the name Lasix, can be purchased without a prescription and is used to treat high blood pressure and fluid buildup. It is on the World Anti-Doping Agency's list of banned substances.
Cano's positive resulted from an offseason test, a person familiar with the process said. The person spoke on condition of anonymity because the agreement specifies such details remain confidential.
Because the substance involved was a diuretic, the drug agreement called for Cano to be retested. The next step was for Thomas Martin, the independent program administrator hired by the MLB and the players' association, to determine whether the use of Furosemide was an attempt to "to substitute, dilute, mask or adulterate a specimen or in any other manner alter a test," according to the joint drug program.
The agreement states it should be considered a positive test "if the IPA determines that the player intended to avoid detection of his use of another prohibited substance."
After Martin made that determination, the union filed a grievance last month. The case was scheduled to be heard starting Tuesday in Seattle before arbitrator Mark Irvings, but the union informed MLB last Friday that Cano wanted to drop the grievance and reach a settlement, the person said. MLB Senior Vice President Patrick Houlihan and union deputy general counsel Matt Nussbaum then worked to reach the agreement to accept the discipline.
It was the first major strike in a career that has Hall of Fame potential. Cano was trending toward becoming one of the few current players with a chance to reach 3,000 hits in his career and has been a consummate defensive standout. Cano is an eight-time All-Star –he was the MVP of the game a year ago – but now must deal with the stigma of a suspension.
"It's surprising, because I know Robby. But after the Ryan Braun thing, nothing surprises me," Yankees pitcher C.C. Sabathia said.
The suspension was announced two days after the first significant injury during Cano's tenure in Seattle. Cano landed on the disabled list Monday, a day after a bone in his right hand was broken when hit by a pitch in Detroit. Cano was examined Tuesday in Philadelphia by Dr Randall Culp and is expected to have surgery on the injury on Wednesday. Since 2007, Cano has played at least 150 games each season.
Cano can serve his suspension while on the disabled list but is now ineligible for the postseason should the Mariners get there and end the longest playoff drought in the four major professional sports.
If there are no games postponed, the Mariners have 11 off days during the time of the ban, so Cano would lose 91-186ths of his $24 million salary, which comes to $11,741,936.
This season, Cano was hitting .287 with four home runs and 23 RBIs in 39 games. He's appeared healthier and quicker than the past few seasons when he's played through leg injuries that at times limited his range.
"In this particular instance we're going to be without one of our best players and got to find a way to bridge the gap," Dipoto said.
---