Q&A: The Glitch Mob talks 'See Without Eyes', the Blade 2.0 and a new virtual reality experience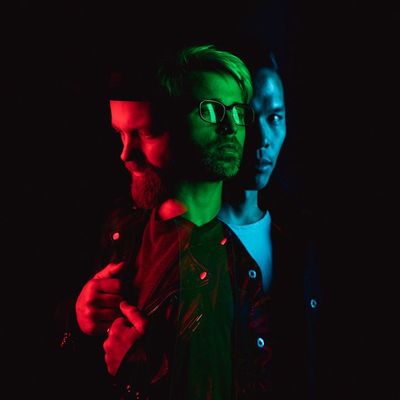 After two years of hard work, electronic trio the Glitch Mob – edIT (Edward Ma), Boreta (Justin Boreta) and Ooah (Josh Mayer) – released its latest album, "See Without Eyes," on May 4.
" 'See Without Eyes' ponders the mystery of being alive, like looking at the stars," the band wrote on Facebook. "It's about connecting to a sense of awe larger than us all."
In advance of the Glitch Mob's show at the Knitting Factory tonight, the trio talked us through the "See Without Eyes" writing process, the Blade 2.0 and how they're using virtual reality to give fans an even deeper look at the album.
Q: What can you tell me about the "See Without Eyes" writing process? How long did you all write, and where did you all write and record the album?
A: We started the album in the Joshua Tree, and then finished it out at our studio in L.A. The process of writing the album took around a year, and then a few months of mixing and mastering. It's all about the journey for us, not the destination. The process of writing the album itself is where the growth takes place. That's where the magic is. We focus on challenging ourselves, on learning and seeking, and the album is a result of that.
Q: When talking about writing the album during your April Ask Me Anything, a member of the band said "The good stuff really has to be incubated and worked on until it's just right, but not overcooked." How do you know when something has been overcooked?
A: If we are changing things just to change them, it's a sign of something about to be overcooked. Different does not always mean better. We ask ourselves "Does this new element help tell the story better?" If the answer is no, it's usually time to move on.
Q: Do you work to uncook, if you will, a song or do you decide to let it go once it's been overcooked?
A: It does happen, but it's rare. Sometimes we'll revert to an older version of a song if the vibe went down a path we didn't end up liking. If we spend a few days on something and it's not moving forward, we will scrap it and move forward. But, a lot of times those scraps end up being composted into new pieces later.
Q: The Forbes article mentions you all were able to balance songs geared toward listening and songs meant for live shows on this album. How do you find that balance?
A: The balance isn't on a track by track basis, but the balance in each song. We've tuned them to be good for headphone listening and also to sound good live. Even the more high energy songs on the album have a lot of detail and layers that are meant to unfold over time. And the more mellow songs are intended to sound good being performed live.
Q: I read in your April AMA that you all have decided to do a "non-LED wall" show on this tour. What was behind that decision? Do you foresee that changing the Glitch Mob live show experience in any way?
A: We wanted to remove the video wall that we had on the last tour to let people focus more on the performance and the music. We love video, but it's easy to get lost in and not even notice what we're doing on stage. This allows us to get out in front of it and let the music work its magic.
Q: What can you tell me about the Blade 2.0, an updated version of the set piece/visual element/instrument the band uses onstage?
A: It's a big upgrade. Functionally and aesthetically it's been boosted. There's new ways for us to play that allow improvisation, more drums and a new light show. Hard to describe without seeing it.
Q: I read that this tour is going to feature a virtual reality experience featuring the work of Strangeloop. Have you all worked with virtual reality before?
A: We are working on a VR experience that should be ready by the end of the month. You'll be able to actually get inside of the album and explore. It's the same world that Strangeloop created for all of the visuals, but an extended VR experience. We're beyond excited for this.
Q: Where did the idea come from to incorporate virtual reality into the tour?
A: We're all big fans of VR and had been discussing wanting to work in that medium for a long time now. It's a natural progression for us. We love playing in the space between tech/art/philosophy/music. Strangeloop just so happened to also work with The Wave VR so it was a natural progression.
Q: How closely intertwined are the Glitch Mob's music and visual art? Do they inspire each other?
A: The music comes first and foremost and everything follows from there. In fact, we don't even discuss the visual side of things until the music is done. Grabbing the vibe with the music is the trickiest part, and the visuals add a new dimension onto the existing framework. We love the visual process and working with so many talented artists.
Q: Now that the album is out, what can fans look forward to from the Glitch Mob in the coming months?
A: So much is about to happen. Lots of touring, collaborations and new music on the way…
---