Settling in as SCC president, Kevin Brockbank focuses on building region's workforce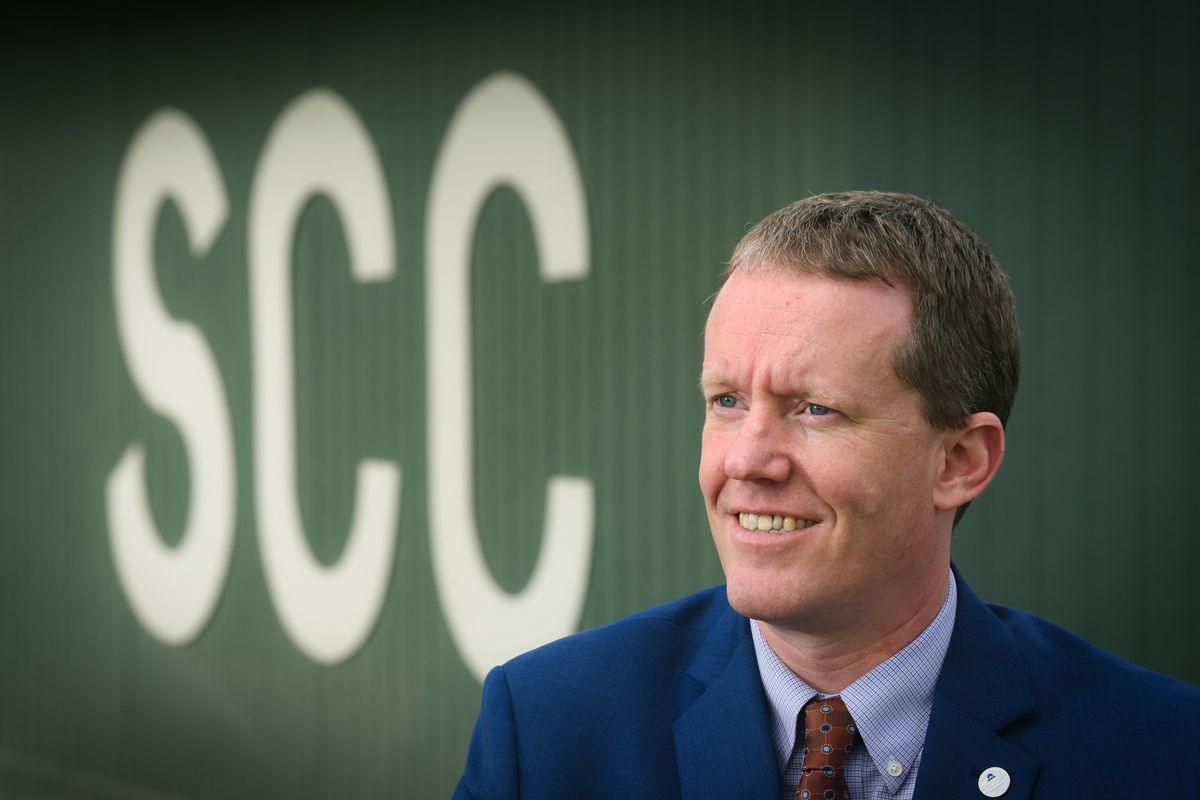 Kevin Brockbank already knows what it's like to be president of Spokane Community College. He's been doing it for the better part of a year, since his predecessor resigned in July 2017.
Now Brockbank is committed to the job for the long run, having beat two other finalists who emerged from a nationwide search to lead one of the biggest two-year schools in the state. In an interview last week, Brockbank said he wants to highlight SCC's role as a supplier of talented employees throughout the region, noting the school's dozens of programs and its rural education centers in Colville, Inchelium, Ione, Newport and Republic.
"I would argue we're as impactful as any institution of higher ed in the area because of our reach and our size and our scope, and all the different training areas that we provide people an opportunity to get careers in," he said.
"I know our two medical schools get a lot of attention, and rightfully so," he added. "But we also take a lot of pride in the fact that, when you go to the doctor's office, you'll see four or five SCC grads before you get to the doctor. You're going to see SCC grads when you go get your hair cut. You're going to see SCC grads when you get your car fixed. We take a lot of pride in our mission and our role in how we build this economy."
Brockbank, 46, grew up in Montana and planned to become a high school business teacher while pursuing his bachelor's degree at the University of Montana. He said it was a "right place, right time" scenario that landed him a teaching job at Helena College, a two-year school affiliated with his alma mater. He said he found it rewarding to educate older students and adults, and he hasn't looked back.
"I think the community college provides really amazing stories and really amazing opportunities for individuals who come here," he said. "For me, working at a two-year college is all I will ever do, and I love it here."
After holding various leadership roles at Helena College and Missoula College, Brockbank spent two and a half years as a dean at Salt Lake Community College in Utah.
He and his wife and child moved to Spokane in July 2015, when he started as vice provost of the Community Colleges of Spokane, the district that includes SCC and Spokane Falls Community College.
In July 2017, when Ryan Carstens stepped down as SCC president after two years on the job, Chancellor Christine Johnson tapped Brockbank to take over while school officials solicited applications to fill the role permanently. Brockbank said that working out of the downtown district office had given him a taste of what both schools have to offer.
"I benefited from being in the district before I started as president," he said, "so that was really good as far as learning curves go."
Carla Naccarato-Sinclair, the president of the district's faculty assembly, said SCC instructors are generally pleased that Brockbank will continue as president. He landed the permanent job, which pays about $182,000 a year, this month after a nationwide search that netted 21 qualified applicants and two other finalists.
"He took the time to understand the campus and get to know the campus, and faculty really appreciated that," Naccarato-Sinclair said. "He seems to listen, he takes input, he responds."
The past few years have been tumultuous for SCC and SFCC. The flawed, expensive rollout of a new computer system called ctcLink, for example, contributed to friction among school and district leaders that was reflected in a faculty survey last spring.
Budget challenges forced SFCC to move its Pullman branch onto the Washington State University campus last year, and that school recently grappled with revelations of alleged sexual harassment by Darren Pitcher, who served as acting president for about eight months before resigning in February. A recent search for a permanent SFCC president was unsuccessful, and the school's current acting president, Nancy Fair-Szofran, is expected to continue in that role until July 2019. Brockbank said he intends to focus on challenges at SCC, such as keeping up enrollment at a time when fewer and fewer people are choosing to attend college.
"When the economy is strong, students sometimes are less likely to take two years out of their life to go and do programs," he said. "But the issue with that becomes, you may get a job, but you maybe not are getting a career. We want students to come here and get careers."
Another challenge, Brockbank said, will arise when the North Spokane Corridor extends past the SCC campus in northeast Spokane. To accommodate the new highway and the traffic it will bring, SCC is beginning to reconfigure its campus with a $25 million renovation and expansion of its largest building, Building 1, which sits closest to Mission Avenue.
Additionally, Brockbank said SCC would work harder to promote its online and hybrid courses. He said the average SCC student is about 35 years old and has life obligations that don't mesh well with a full schedule of traditional classes.
"We're easily the leader in the region for serving adult students. A lot of what we do is recognize all the different things in life that our adult students have, whether that's mortgages and kids, you know, other obligations," he said. "We also have a new generation of student coming here that has different expectations for the use of technology and flexibility in taking courses."
Brockbank said he enjoys Spokane in part because it reminds of him of where he grew up in Montana.
"Oftentimes getting a presidency is difficult, and I got a presidency in a place that feels like home, and is close to where I grew up, and is a great fit for my family," he said. He said he intends to stay at SCC "for a long time."
---