Balanced Rockets tie Warriors in Western Conference finals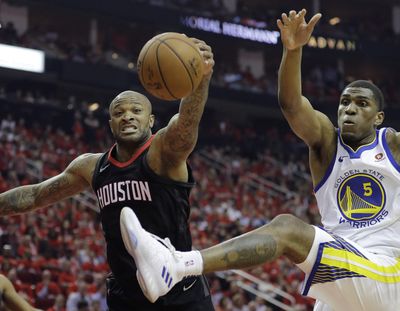 HOUSTON – The Houston Rockets were the best team in the NBA in the regular season.
They played like it Wednesday night, using a balanced scoring attack to rout the Golden State Warriors 127-105 and even the Western Conference finals at one game apiece.
James Harden and Eric Gordon each scored 27 points on a night Houston had five players score 16 points or more.
"We can beat anybody, anywhere at any time playing the way we play," Rockets coach Mike D'Antoni said.
The Rockets didn't trail after the first quarter and led by double digits for most of the night. They head to Oakland, California, for Game 3 on Sunday night feeling much better after rebounding from a deflating 119-106 loss in the series opener.
P.J. Tucker added a playoff career-high 22 and Trevor Ariza had 19 as both bounced back after struggling in Game 1. Tucker had just one point in that game and Ariza scored eight, but was limited on defense after collecting his fifth foul early in the third quarter.
"I never worry about my offense … it's all on defense," Tucker said. "If we get stops, we'll be able to run. It changes the game and it changes the way we play and we know that."
Kevin Durant had 38 points after scoring 37 in the opener, but Stephen Curry and Klay Thompson combined for just 24 points after the pair went for 46 in Game 1.
Houston wasn't able to slow down Durant, but did a much better job of limiting open 3-pointers by Thompson and Curry, and the two made just 3 of 12 attempts.
"They were desperate tonight and played like it, and we weren't and it showed," Golden State coach Steve Kerr said.
The Warriors made three free throws to get within 11 early in the fourth quarter before the Rockets scored the next 11 points, with 3s from Gordon, Tucker and Harden to make it 111-89 with about 6 1/2 minutes to play.
Durant made a basket after that, but Houston scored the next eight points to extend the lead to 119-91 with about five minutes left.
The Warriors got frustrated in that stretch, with Durant getting a technical for shoving Harden in the back and Draymond Green pushing Ariza out of bounds seconds later. It was then that Kerr sent all of his starters to the bench for good.
Gordon came off the bench to make six 3-pointers, Tucker tied a playoff best with five and Harden added three.
"They were more settled tonight and they hit timely shots," Durant said. "The first quarter was still the most important part of the game. Eric Gordon hit two big 3s and that kind of settled them in. Those shots did it for them."
Houston avoided losing consecutive games for the first time this postseason and the Warriors lost in the second game of a playoff series for the first time since the 2015 NBA Finals, snapping a 10-game winning streak in such games.
"We got outplayed the whole game … we got it handed to us," Kerr said. "You can look at it any way you want … and parcel it out, but it didn't matter who we had out there tonight we got beat."
Houston led by as many as 19 in the first half and was up 64-50 at halftime. The Warriors cut it to 74-64 with five quick points from Durant, but the Rockets opened it back up to 89-72 when Gordon made an off-balance layup before crashing to the court while being fouled and made the free throw.
The Rockets were up by 16 to start the fourth quarter but Golden State got within 98-86 with about 10 minutes left. Curry had five points in that span, including his first 3 after missing his first six attempts of the night.
Curry finished with 16 points and Thompson was 3 for 11 for his eight points.
---