California building explosion investigated as intentional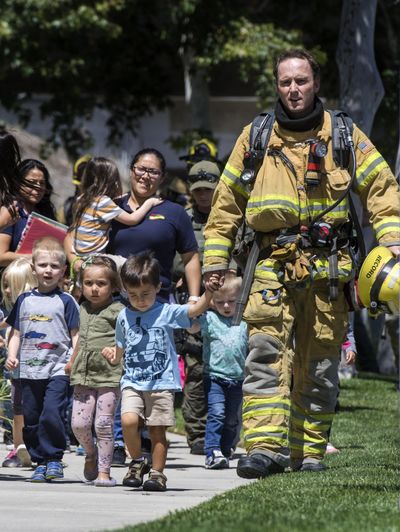 LOS ANGELES – An explosive package targeted an office in a Southern California medical building, causing a blast that left a woman dead and three other people injured, two officials told the Associated Press on Wednesday.
The explosion happened around 1 p.m. Tuesday in Aliso Viejo, about 50 miles south of Los Angeles. The blast blew siding off the walls, exposing insulation and framing and shattering windows at the two-story building that houses medical offices.
The two officials said the explosion appeared to be an intentional act caused by a package that specifically targeted the office where the blast occurred.
A woman was killed and three other people were injured in the explosion. One of the officials said one of those people was believed to be the target.
The officials were briefed on the investigation but not authorized to discuss the matter publicly and spoke to the AP on condition of anonymity.
Orange County sheriff's officials said late Tuesday night that the size of the blast made it suspicious but they had not yet located an explosive device and were searching through debris.
"The corner of that building, the whole bottom floor is pretty much blown out," said Orange County Fire Authority Capt. Tony Bommarito said of the scene.
Bomb technicians and investigators from the Orange County Sheriff's Department, the FBI and the Bureau of Alcohol, Tobacco, Firearms and Explosives remained at the scene Wednesday, said Orange County Sheriff's Department spokeswoman Carrie Braun.
The woman who was killed inside the building was "in close proximity" to the explosion, sheriff's Cmdr. Dave Sawyer said. The three people who were injured were nearby and were being questioned by investigators late Tuesday night, he said.
"Anytime you see an explosion of this magnitude, it would definitely be suspicious to us," Sawyer said.
Authorities were not searching for any specific suspects Tuesday night, but the investigation was ongoing, he said.
Mary McWilliams told the Orange County Register that she arrived for an appointment to find smoke in the area and car alarms going off.
She said she saw two burned women staggering out of the building, covered in ash and soot.
One woman, who had skin peeling on her arm from burns, said, "Take care of my mother," McWilliams said. The other woman was bleeding from her head.
Fire officials said a third person suffered smoke inhalation.
A daycare center and preschool across the street was evacuated. Some children held hands as they were led out by firefighters while sheriff's deputies rolled out babies in cribs.
"When I was playing outside I heard the big crash, I thought it was a garbage truck but it was a building that smashed," 6-year-old Kingston Dik told KNBC-TV.
No children were hurt.
---