Audio clip spurs social media debate over yanny or laurel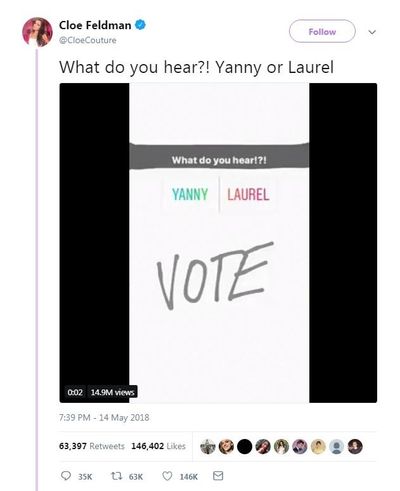 Do you hear what I hear?
That was the question Wednesday as a short audio clip sparked a social media debate about whether the word being heard is "yanny" or "laurel." How one hears it is similar to how people viewed a dress on the internet three years ago and raised questions of whether the mind and ear can be out of sync.
The scientific explanation centers more on the quality of the recording and the resonance of speech sounds.
"This is a relatively low quality signal that is played over a variety of devices and the sound was developed to be on a perceptual border," said Todd Ricketts of Vanderbilt University Medical Center's Hearing and Speech Sciences Department.
"For example, with a full-range higher quality speaker, I clearly only hear laurel, but over my computer speakers, I clearly only hear yanny," Ricketts said.
Alicia Spoor, president of the Academy of Doctors of Audiology, agreed the quality was not good. She said the complicated answer has to do with "resonance of the speech sounds."
"When you say the word "yanny" and "laurel," the waveform looks very similar for the first band of energy resonance. However, there is a significant difference in the second and third resonances of the two words, which is how humans interpret the words," she said.
Cloe Feldman, the YouTuber with nearly 4 million subscribers on her main channel who tweeted the audio clip, said in an email that she found the audio clip on Reddit, and then re-posted it to her Twitter and Instagram, where it went viral.
Ellen DeGeneres tweeted that everything at her show stopped to see what people heard. She said she heard laurel. But New Age musician Yanni was in the yanny camp. Republican House Speaker Paul Ryan said he'd like "to declare something that is just so obvious: It is laurel and not yanny."
Some speculated online that the age of the listener might determine what was heard, while others changed the pitch to alter results.
"Age can play a role, as well as expectations, Spoor said. However, she still heard "laurel" when she changed the pitch.
For an analogy, she cited the 1969 Creedence Clearwater Revival song "Bad Moon Rising:" "There's a bad moon on the rise" versus "there's a bathroom on the right."
As for the dress that caused an earlier commotion, some people said it was white and gold, while others saw blue and black.
---