News > Spokane
Planting begins at Duncan Garden in Spokane's Manito Park
Thu., May 17, 2018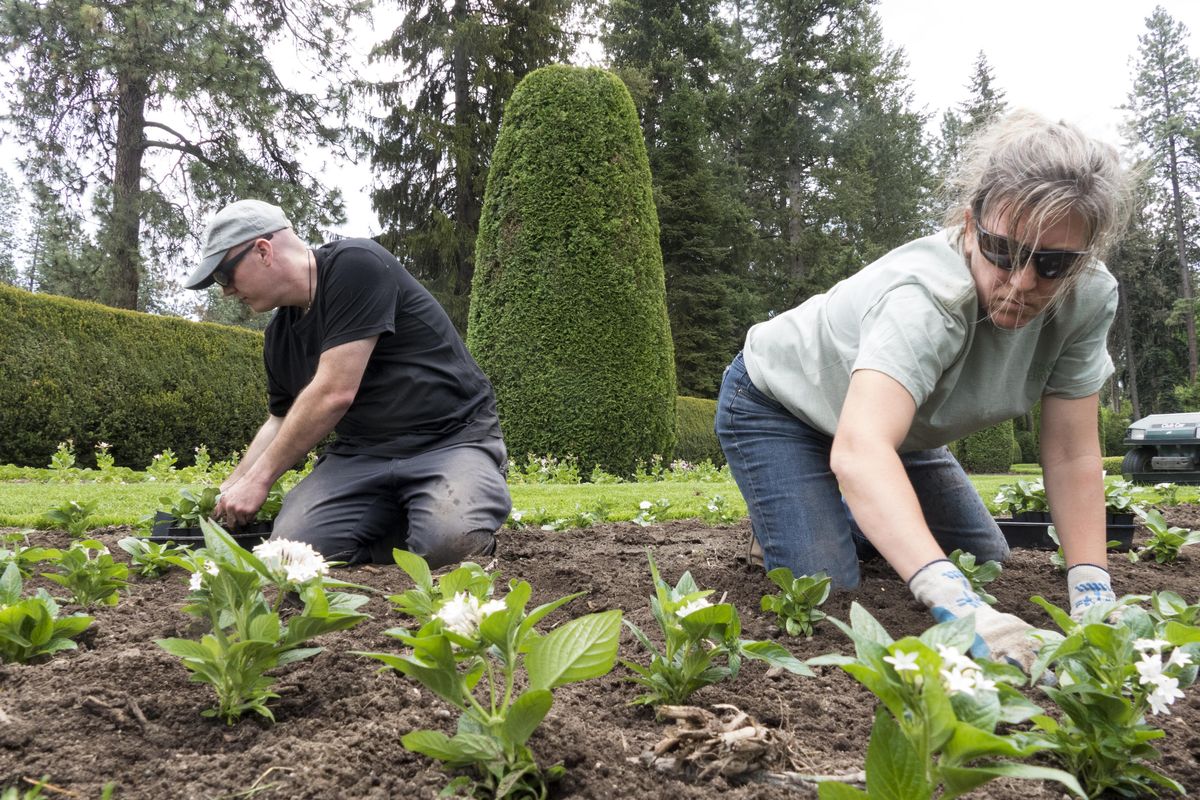 Bryan Koschmann, left, and Serena Lentz plant hundreds of small annuals as Spokane Parks employees converge on Duncan Garden for the annual planting of soon-to-be colorful flowers in the symmetrical beds of the English-style garden. By August, the planting beds will come alive with color and symmetry. Jesse Tinsley/THE SPOKESMAN-REVIEW (Jesse Tinsley / The Spokesman-Review)Buy a print of this photo
The plant experts who maintain Duncan Garden in Spokane's Manito Park are trying something new this year.
Rather than bright splashes of red, blue and yellow flowers, which has been the color scheme for the past decade or so, the gardeners are experimenting with a toned-down monochrome: mostly maroon, magenta and purple flowers, with a few white and yellow ones for accent.
But don't expect to see the garden in its prime just yet. Planting began Monday and could take another week, depending on the weather. And parks officials said most of the flowers won't start blooming until mid-June.
"Showtime is mid-August," said gardener Jed Wagner, who was busy Wednesday morning digging holes to plant some marigolds with a small scoop attached to a cordless drill.
Preparing Duncan Garden for the throngs of people who visit during the warmer months is no small feat. The planting team consists of fewer than a dozen parks employees, who are taking time away from other tasks to complete the annual project, said Steve Nittolo, the city's horticulture supervisor.
Over several weeks, the team selected 36 plant species, including begonias, petunias, geraniums, zinnias and snapdragons. They also crafted a guide that outlines where each plant should go, using mathematical formulas to figure out how many they would need to fill the garden's 63 planting beds.
They arrived at a whopping total of 32,546, a figure that includes some extra plants to replace any that die after planting. Nittolo said all of those plants were grown from seed in five greenhouses at the north end of the garden, not purchased from elsewhere.
"That way we have more variety and more of a guarantee of quality," he said. "I think it tends to end up being less expensive, too."
Duncan Garden was originally called the Sunken Garden, created when Manito Park's first superintendent had 42,500 wagonloads of dirt hauled away for use in all the city's parks. The formal garden was designed and built in 1912 by Manito's second superintendent, John Duncan, and renamed in his honor in 1941, according to the nonprofit The Friends of Manito.
The garden spans 3 acres and takes its styling from the European Renaissance, with geometric planting beds and a central water feature – a large granite fountain donated by the wife of hotelier Louis Davenport, who served on the park board for years before his death in 1951.
To celebrate the park's centennial in 2004, The Friends of Manito helped construct a gazebo at the south end of the garden.
Nittolo said visitors who want to see the flowers on full display should visit the garden in August or September.
"We have a pretty short season here in Spokane," he said. "The real blocks of color only last for a few months."
Local journalism is essential.
Give directly to The Spokesman-Review's Northwest Passages community forums series -- which helps to offset the costs of several reporter and editor positions at the newspaper -- by using the easy options below. Gifts processed in this system are not tax deductible, but are predominately used to help meet the local financial requirements needed to receive national matching-grant funds.
Subscribe now to get breaking news alerts in your email inbox
Get breaking news delivered to your inbox as it happens.
---