A&E > Food
Elliotts, an Urban Kitchen, offers modern American fare on North Monroe Street
UPDATED: Tue., May 22, 2018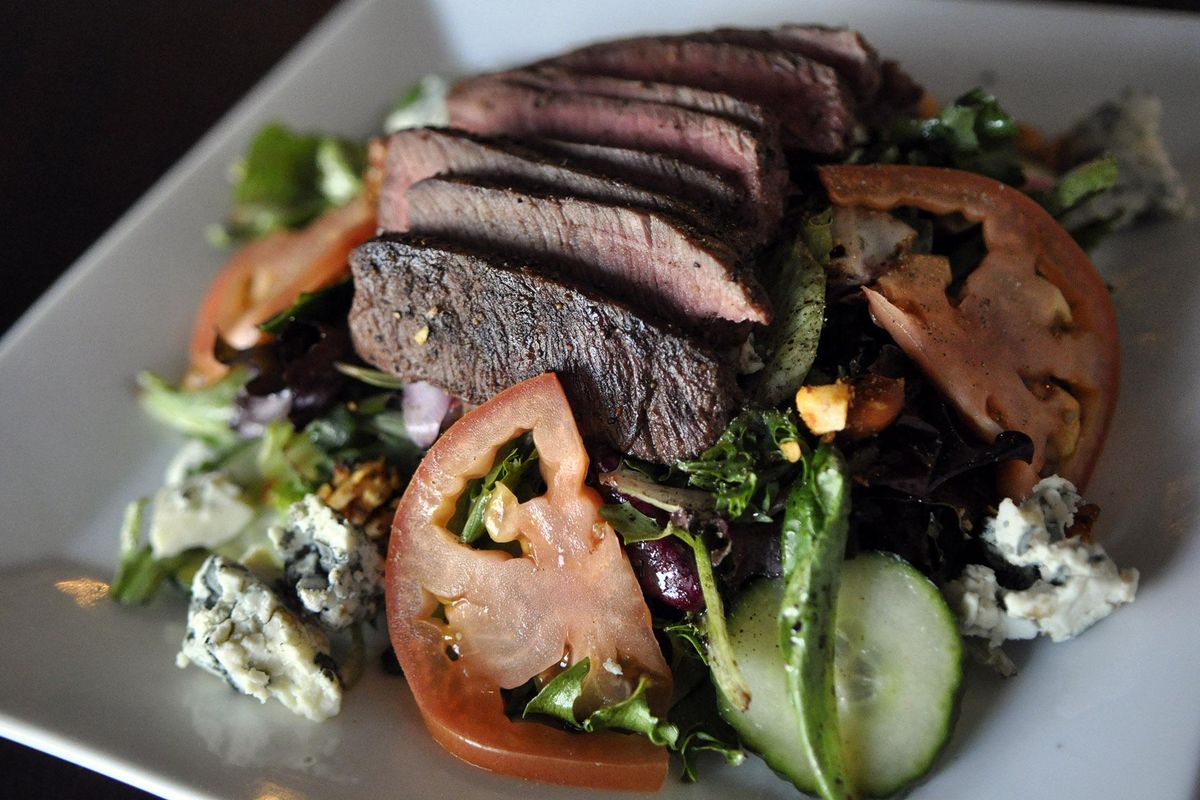 The flat iron steak salad at Elliotts, an Urban Kitchen, features blue cheese, spiced nuts, aged balsamic, cucumber, tomato, greens and pickled onion. (Adriana Janovich / The Spokesman-Review)
First things first. It's Elliotts plural, not possessive.
There are two of them. That is, there were only two of them.
Now that the mom-and-pop shop is becoming busier, Tony and Raelene Elliott, the husband-and-wife team behind the new contemporary American eatery on North Monroe Street, have hired the chef's brother, Scott Elliott, to work in both the front and back of the house. Sometimes, the couple's 13-year-old son, Ryan, helps bus tables.
Patronage is picking up at Elliotts, an Urban Kitchen, since it opened at the end of April. And, it doesn't get more urban than opening a restaurant in the midst of a months-long road construction project.
Timing wasn't everything.
The couple had originally planned to open nearly two months before the start of the $7.1 million North Monroe Corridor Project. But construction on their space took longer – and cost more – than expected, pushing the opening of their eatery back to the end of April, a few weeks after crews began tearing up the thoroughfare.
"We were a little nervous about it," Tony Elliott said. "But we have confidence in the end product."
Road work is slated to continue to October. Once it's done, lanes will be reduced from five to three, and there will be wider sidewalks, more trees and benches, and more visible crosswalks.
The Elliotts are already looking forward to it. They're hoping to install roll-top, garage-style doors and sidewalk seating in front of their restaurant next spring or summer. They're also hoping the traffic-calming measures help bring in more pedestrians when work in completed in autumn.
Meantime, they are working to build their business.
"The biggest base has been from the neighborhood," Tony Elliott said. "We've actually been able to pull in some of the construction guys as well."
The couple said they are grateful for the support from other North Monroe business owners and aim to support their establishments, too.
"I just love getting to know our neighborhood," Raelene Elliott said.
The Elliotts recently moved to the Emerson Garfield area, where they walk to work and shop at the farmers market across the street from their restaurant. They moved to Spokane with the specific hope of opening an eatery of their own. This is the place, they said, where their dream seemed most doable.
Tony Elliott, 43, worked as the executive chef at Fairchild Air Force Base before he and his wife opened Elliotts. He's the chef. She runs the front of the house.
The restaurant features $9 lunch specials and a large community table that seats 12 and faces large windows that overlook North Monroe and let in plenty of natural light.
Decor is eclectic. The vibe is casual, comfortable and approachable with distressed wood floors, naked Edison bulbs and neutral walls. The plan is to hang work from local artists, rotating pieces once a month, on one of the walls. The opposite wall features vintage images of Spokane.
"We really like Spokane," Tony Elliott said, "so we included old photos of Spokane in the design."
Shelves made from repurposed pallets hold glassware. Spirits from Spokane's Dry Fly Distilling sit on the top shelf. There are four beers on tap, all from Bellwether Brewing located just down the street.
Raelene Elliott infuses vodka with ingredients such as lavender and lime. She also plans to start offering sangria.
There's room for eight on stools at the bar, which is lined with corrugated metal. Three more can sit at the shorter counter that overlooks the open kitchen. Five four-tops and another four tall tables that also seat four make up the rest of the seating. Red metal chairs add a pop of color.
The Elliotts signed the lease in December. Electrical work, plumbing and construction of a commercial kitchen hood and ventilation system took longer than expected. The couple did a lot of the work, too.
"Anything that didn't have to be permitted by the city we took on ourselves," Tony Elliott said.
He grew up here and is a 1993 graduate of Shadle Park High School. He met his wife in Missoula, when she was studying psychology at the University of Montana, and he was working as a chef at the Hilton Garden Inn.
Raelene Elliott, 37, grew up in Alberta, Canada. The couple lived in Denver and North Dakota before moving to Spokane in 2015.
They knew wanted to locate their restaurant in a neighborhood, and they liked North Monroe for its walkability, affordability, farmers market and other small, locally owned businesses.
"We were saving all our pennies and looking for a spot," Raelene Elliott said, noting they sketched out plans for their perfect place. "When we saw this one, it almost fit our picture identical."
The Elliotts plan to feature local, seasonal ingredients from the Emerson-Garfield Farmers Market at Elliotts where the fare is American with some Asian, Spanish and Pacific Northwest influences. The menu is streamlined. There are about 20 items.
The kitchen itself, Tony Elliott said, "is not huge. It was built for efficiency."
Plus, he said, "We just want to make sure what we do, we do well."
The house-made ravioli is a signature dish. The filling changes based on seasonality and availability of ingredients and has included caramelized onion, goat cheese and browned butter as well as asparagus, roasted garlic and blue cheese.
Top-sellers include the flatiron steak salad – with pickled onion, spiced nuts, blue cheese, cucumber, tomato and aged balsamic – and the house-made, soft-boiled Scotch egg. Look, also, for chicken and sticky rice served with potatoes and fresh green curry, made from a paste with ginger, garlic, coconut milk, cilantro and lime.
"It's mild," Tony Elliott said. "It's not melt-your-face-off hot. We wanted it to be approachable. It's a dish we've been making at home for years."
And it's a dish, Raelene Elliott said, "that I love."
Their restaurant is located in the historical Lloyd Building, and several items on the menu pay homage to the location. There are Lloyd potato wedges with bacon, charred jalapeño, chives and blue cheese sauce; a Lloyd salad with beets, greens, goat cheese, pickled red onion, sprouts and aged balsamic; and a Lloyd burger with bacon, white cheddar, lettuce, tomato and onion on a brioche bun from Alpine Bakery, also located on North Monroe.
Rolls for the steak sandwich and blackened salmon sandwich also come from Alpine. So does the bread for lunch specials such as the petty melt, served on black rye.
But, besides the bread, Tony Elliott said, "everything is made in-house."
Happy hour sees discounts on some of the shareables: the Scotch egg, potato wedges, specialty Lloyd wedges and cheese curds. But most menu items regularly range in price from $7.50 to $15.50
To start, consider the pork belly appetizer, which comes with three or four pieces of pork belly – 7 to 8 ounces in all – as well as cherries, sherry and a balsamic reduction. Or, try the cheese curds, battered with Bellwether beer and served with marinara.
Rounding out the menu are steak frites, and a chowder with clams and mussels as well as more Bellwether brew.
Weekend brunch features $3 mimosas and $5 bloody marys along with biscuits and gravy, eggs Benedict, French toast, flat iron steak and eggs, and the Lloyd regular, which comes with eggs, home fries, green chili, creme fraiche and cilantro.
The vegan hash features spent grain from Bellwether as well as potatoes, veggies and vegan cheese.
"We're trying," Tony Elliott said, "to keep it classic and good."
Local journalism is essential.
Give directly to The Spokesman-Review's Northwest Passages community forums series -- which helps to offset the costs of several reporter and editor positions at the newspaper -- by using the easy options below. Gifts processed in this system are not tax deductible, but are predominately used to help meet the local financial requirements needed to receive national matching-grant funds.
Subscribe to the Spokane7 email newsletter
Get the day's top entertainment headlines delivered to your inbox every morning.
---