Sports > NFL
New Cardinals cornerback Jamar Taylor looks to earn starting job
Wed., May 23, 2018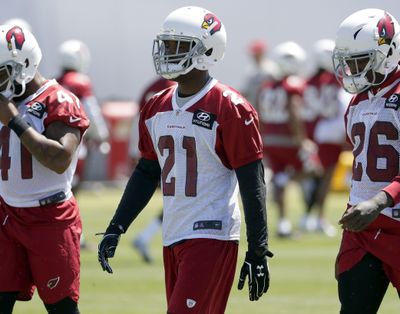 TEMPE, Ariz. – For now anyway, Jamar Taylor seems the odds-on favorite to win the cornerback job opposite Patrick Peterson, a chore that's loaded with action since that's the direction most opponents decide to throw.
Last week, the Arizona Cardinals sent a 2020 sixth-round draft pick to Cleveland in exchange for Taylor, who started 29 games for the Browns the past two seasons.
"It means another opportunity," Taylor said after he practiced Wednesday, the second day of the Cardinals' voluntary workouts this week. "Obviously, they (the Browns) didn't have me in their plans up there. It is what it is. I felt like I did what I needed to do up there as far as help change the culture. I was very loyal to the Browns, but letting me go, it definitely puts another fire in my gut to come out here and ball out."
First-year coach Steve Wilks said Taylor might be the leading candidate but he has to earn the job.
"I think when you look at what he's done on paper, I think you can say that," Wilks said, "but once we get out on the field, it's a clean slate for everybody."
Taylor said he understands that.
"I've always got 100 percent confidence in myself," he said. "But at the same time, you've got to put the work in. You can't just come in here and be like oh, you're going to be the guy. There's a ton of guys in here that are really good. I've been watching the last couple of days. I just have to come in here and make sure I'm doing my job so I get that opportunity."
The Cardinals think highly enough of Taylor that they released another veteran cornerback, Marcus Williams, on Monday.
Wilks is known for his work with cornerbacks. He was cornerbacks coach of the Carolina Panthers before being promoted to defensive coordinator there last season.
"I'm excited," Taylor said. "I've watched his defenses a lot. I'm a big film guy. Just seeing him when he was with Carolina, knowing him when he was with San Diego. I had some old friends that played for him. I've heard what type of coach he is and then seeing out there the past couple of days, it's amazing. This whole organization is a great organization."
Asked what he thinks of Taylor, Wilks said, "When you look at him over the time, particularly a couple of years ago when he had his best season on the other side of (Joe) Haden, to make plays on the ball, extremely smart. He's physical and I love the way he tackles. We take a lot of pride in that, of course I do, in making sure our cornerbacks tackle."
Taylor's three career interceptions came in that 2016 season opposite the longtime standout Haden and he said he welcomes the challenge of playing opposite Peterson.
"It's just more plays for whoever's over there," Taylor said. "More plays, that's how you've got to look at it. More opportunities for you to get picks. When I went to Cleveland, I played opposite Joe Haden. That meant more plays that year. I made a lot of plays on the ball. Playing opposite from a guy like Pat, it's a huge deal, you've got to hold your own."
The Browns went 1-31 in Taylor's two seasons there, but the losing didn't wear him down, he said.
"I've always felt like I was a winner," he said. "I rarely lost in high school, didn't really lose in college. My mindset was just worry about what I can do on the field. If that meant staying late and making sure I had my job right, that's what it meant. I just always tried to keep the other guys together, because in the NFL you could win or lose by three points, two points, one point. Every Sunday is different."
Taylor, and especially his wife Mackenzie, are happy to be moving out West. She grew up in suburban Phoenix. He was a second-round draft choice by the Dolphins out of Boise State in 2013.
"She's more of a topic than I am," he said. "We're both excited. I've been waiting to play on the West Coast my whole career. I went to Miami and all the way north to Cleveland. So I'm happy to be kind of close to home. I know she's happy to be around her family. We're going to definitely have way more support at games now."
Local journalism is essential.
Give directly to The Spokesman-Review's Northwest Passages community forums series -- which helps to offset the costs of several reporter and editor positions at the newspaper -- by using the easy options below. Gifts processed in this system are not tax deductible, but are predominately used to help meet the local financial requirements needed to receive national matching-grant funds.
Subscribe to the sports newsletter
Get the day's top sports headlines and breaking news delivered to your inbox by subscribing here.
---