News > Business
Boston Globe probes text allegation against top editor
UPDATED: Thu., May 24, 2018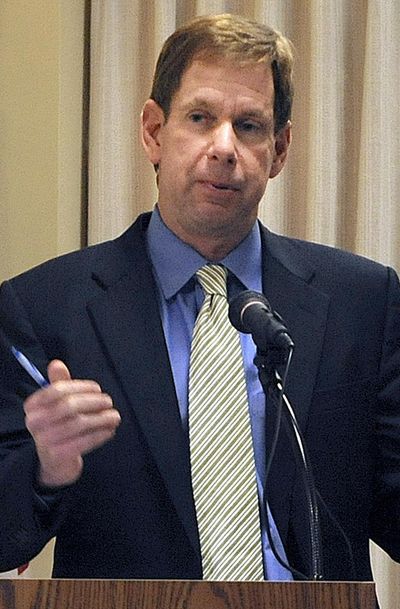 BOSTON – Boston Globe executives said they're investigating an allegation that the newspaper's top editor had an inappropriate text exchange with a former employee he once dated.
Hilary Sargent, a former editor for Boston.com, tweeted a screenshot of a text exchange she said occurred between her and Brian McGrory. In the exchange, she says McGrory asked her what she wears when she writes.
The screenshot doesn't show the names of the people texting and it's unclear when the texts were sent.
In a memo sent to employees Wednesday, the Globe's managing director and president said they began investigating the allegation as soon as they were made aware of it, the Boston Globe reported. Linda Henry and Vinay Mehra said they're seeking more information about the texts and "expect to have a resolution on this matter soon."
Sargent hasn't said when the exchange took place and declined further comment Thursday. McGrory and Sargent have confirmed they dated many years ago, but Sargent said on Twitter they weren't dating when the texts were sent.
McGrory told Globe staff in an email he has no recollection of the exchange and has never harassed Sargent or others. He said he and Sargent have remained friendly over the years, occasionally sending text messages that "included the kind of personal banter of two people very familiar with each other."
"I don't believe I have ever acted inappropriately with anyone at this company," said McGrory, who has worked at the Globe for 29 years.
Sargent was an editorial assistant for the Globe in the late '90s and later worked as both a writer and editor for the Globe-owned Boston.com from 2014 to 2016.
She told the Globe that the newspapers' lawyers sent her a draft of a lawsuit that seeks to force her to hand over more information, such as the date of the texts.
She told the newspaper: "If Brian McGrory truly does not believe he has ever acted inappropriately with anyone at The Boston Globe, then he and I have a remarkably different understanding of what is – and is not – appropriate."
Local journalism is essential.
Give directly to The Spokesman-Review's Northwest Passages community forums series -- which helps to offset the costs of several reporter and editor positions at the newspaper -- by using the easy options below. Gifts processed in this system are not tax deductible, but are predominately used to help meet the local financial requirements needed to receive national matching-grant funds.
Subscribe to the Coronavirus newsletter
Get the day's latest Coronavirus news delivered to your inbox by subscribing to our newsletter.
---