News > Idaho
Detective: Talk to kids about the internet
Thu., May 24, 2018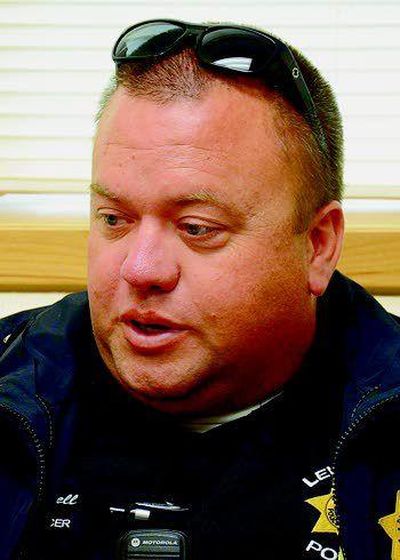 The best stopgap to preventing youths from being victimized online, according to a Lewiston officer, is to closely monitor internet activity.
Lewiston police Detective Brian Birdsell said during a presentation at the Lewiston City Library on Wednesday night that the best defense against things like sexual extortion, revenge porn, blackmail, cyberbullying and other internet abuse is to speak to children and set limits. That may mean monitoring all messaging children do online, prohibiting certain content available from a home network or simply restricting access to internet capable devices.
Birdsell said his home has a Wi-Fi router set up so that it prohibits online activity after 10 p.m., which helps him protect his own children from online abuse.
"I always tell parents if your young children insist on getting a phone, give them a flip phone," Birdsell said. "To date, no kid has spontaneously combusted because they didn't have a smartphone."
Birdsell's presentation Wednesday differed slightly from the one he has given to many local schools, this time geared toward parents and what they can do to limit access to inappropriate material. He said open communication and setting boundaries, even if kids object, is the safest solution. The internet doesn't police itself. The tool has nearly limitless utility, but all that information is readily available to children who may be unprepared or victimized by online users willing to manipulate them, he added.
If a child inadvertently finds illicit content, and a parent observes a child accessing it, Birdsell recommended taking a measured response.
"The main thing you want to do is really gauge your response, start to talk to them," he said. "If they got there inadvertently, you don't want to go hard at them. Sit them down and find out what happened; if it was some kind of illegal contact or someone was trying to get them to do stuff, you need to report that to the police department."
Birdsell said the police department surveyed Lewiston High School, Sacajawea Junior High School and Jennifer Junior High School students' access to social media. Between the various grade levels, none were was below 75 percent of the school population with access to social media. Birdsell said that's the key to understand kids' nearly ubiquitous access to the internet and how to take precautions that inappropriate behavior is curbed.
"Be a little more proactive in your kids' social media, set what the consequences are for inappropriate posts," he said.
Birdsell also touched on how to learn if a child is being cyberbullied. He said in his own youth a bully could only confront him at school. But in the digital age, abuse can be carried home in the pocket of any kid and hound them anywhere they go. He said a lot of kids won't report or acknowledge the bullying to an adult, so he recommended looking for signs. Watching a child's reactions to text messages and gauging if they are uncomfortable can be a starting point. He also advised parents to lead by example. Their online habits can inform kids how to act on social media.
Birdsell said the presentations he's given at schools seem to be having an effect. He warns the kids not to send explicit photos to anyone. Even the most trustworthy friend or significant other can turn around and forward those images anywhere across the globe. He recounted the case of an eighth-grade girl who was shocked to see how quickly things can spiral out of control.
"Some of these girls have told me they didn't know they could say no (to sending inappropriate photos)," he said. "I tell the boys you don't have the right to ask for these photos."
Local journalism is essential.
Give directly to The Spokesman-Review's Northwest Passages community forums series -- which helps to offset the costs of several reporter and editor positions at the newspaper -- by using the easy options below. Gifts processed in this system are not tax deductible, but are predominately used to help meet the local financial requirements needed to receive national matching-grant funds.
Subscribe to the Coronavirus newsletter
Get the day's latest Coronavirus news delivered to your inbox by subscribing to our newsletter.
---