News > Crime/Public Safety
Mead High School student says teacher told her to deny their sexual relationship
UPDATED: Fri., May 25, 2018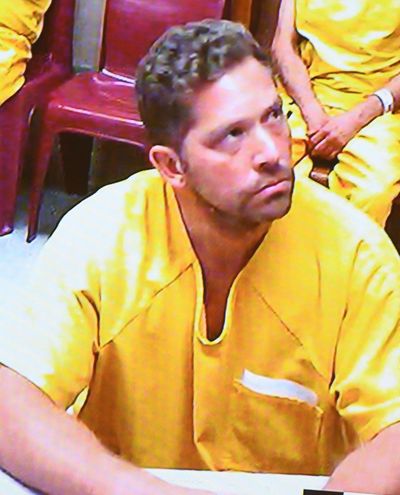 A Mead High School student who initially denied having a relationship with her former teacher recently confirmed they had multiple sexual encounters, including one that occurred in an empty classroom during school hours.
Those details were disclosed in court documents accompanying 37-year-old Wesley Perez's first court hearing before a judge. Perez, a Spanish teacher at Mead, was placed on paid administrative leave on April 19 and was officially charged Thursday with sexual misconduct with a minor and communicating with a minor for immoral purposes.
In court Thursday, Superior Court Judge Raymond Clary set bond at $100,000 after siding with prosecutors who argued they were "concerned about the nature of the allegations" and that Perez was "in charge of minors" at the time of the alleged crime.
Defense attorney Steve Graham argued against the six-figure bond, noting Perez has deep ties to the area, no criminal history and a family to support.
The ruling means Perez will likely spend several days, if not weeks, in jail.
Perez was suspected of sexual misconduct after Mead Principal Jeff Naslund received an anonymous letter in mid-April that alleged a sexual relationship between the teacher and a student beginning last year.
The contents of the letter matched statements other teachers and the alleged victim's friends gave to detectives during their investigation. They included seeing the two together in his classroom between classes and after school, and allegations that the two would meet up after school and have sexual interactions in his vehicle while it was parked in secluded areas.
The student's friends also described a relationship where the student and teacher would communicate constantly via Snapchat, and, at times, would meet at his home to have sex.
When interviewed following the initial allegations, the alleged victim denied the entire relationship. But on May 14, according to court records, detectives were contacted by her attorney, Bob Dunn, who said his client "had not been truthful during her initial interview but was willing to be interviewed again."
In her second interview, the student admitted to details of the relationship corroborated by the letter and her friends. She said the two met after a leadership camp in early 2017 and started talking almost immediately after.
She said she contacted him at high school, and the two exchanged phone numbers, according to court records. The two talked for six hours, when she said Perez told her it was "wrong" that he had feelings for her that he "shouldn't have."
Court records say weeks later, the two met in Perez's classroom during a break between class periods, when Perez reportedly closed his classroom door and the two engaged in sexual acts.
After the letter was received by school officials, the student told detectives Perez began "freaking out" and told her to deny everything, according to court records. He even concocted a story that their relationship began because she was suicidal and he had become her "confidant and father figure."
The student told detectives Perez said he would "go down fighting" if the relationship were ever discovered, court records say.
He was arrested Wednesday at a gas station near Mead High School.
Local journalism is essential.
Give directly to The Spokesman-Review's Northwest Passages community forums series -- which helps to offset the costs of several reporter and editor positions at the newspaper -- by using the easy options below. Gifts processed in this system are not tax deductible, but are predominately used to help meet the local financial requirements needed to receive national matching-grant funds.
Subscribe to the Coronavirus newsletter
Get the day's latest Coronavirus news delivered to your inbox by subscribing to our newsletter.
---