A&E > Stage
Stage Left hopes to unsettle audiences with 'God's Country'
Thu., May 24, 2018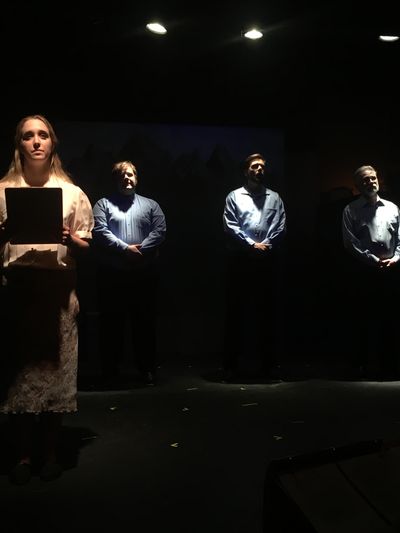 Director Rebecca McNeill didn't have to do too much research when she took on Stage Left Theater's production of "God's Country."
Born and raised in Coeur d'Alene, McNeill has always known about Richard Butler and the Aryan Nations.
"My parents were very, very political and very involved," she said. "Our childhood was spent between the theater and activist meetings."
The Steven Dietz play braids together three narratives: the Seattle trial of a white supremacist terrorist group called the Order; the life and death of Jewish talk radio host Alan Berg, who was killed by members of the Order; and the life and death of the Order's founder Robert Matthews.
"God's Country" opens Friday at Stage Left Theater and runs through June 10.
The play stars Bill Bancroft, Sarajoy Van Boven, Jeff Ridlington, Caryn Hoaglund, Jason Young, Lindsay Teter, Marek Nelson, Kevin Partridge, Kaylan Martin, Kelly Hauenstein and Cole Cullen.
While talking with the cast, McNeill shared stories of her personal run-ins with Butler and members of the Aryan Nations, like the time she and her sister went to see the Tom Berenger and Debra Winger film "Betrayed," which is roughly based on Matthews and the Order.
"The only other people in the theater were Richard Butler and a couple of his bodyguards," McNeill said. "They seemed to be really aware of who we were. We were pretty terrified."
The cast has also done a lot of research on their own.
Through his research, Ridlington, who is playing Berg, learned the DJ used to own an Airedale terrier.
He then asked McNeill if he could have a coffee mug with an Airedale on it for his studio set.
"We all talk about how we're going to get called on by the FBI because of our search history," McNeill said. "I'm buying things on Amazon like racist books and (Googling) 'Do they have racist flags?' so I'm sure I'm on some watch list now."
In total, the actors portray more than 50 characters.
"It's also the most complicated script I think I have ever seen," McNeill said. "It took us the first three weeks just to figure out who was who and what scene are they in."
One scene, for example, finds actors portraying pastors from three different hate groups simultaneously giving sermons that highlight the differences between each group.
In another, the entire cast is on stage listing the names of white supremacist groups across the country.
"It is not an easy play, and the audience should feel uncomfortable and unsettled," McNeill said. "It's something to know going in. It's a really entertaining and well-done show; it's not an easy night of entertainment."
McNeill said the play raises a lot of questions for audiences. As she said in her director's note in the program, addressing those who are white and fighting racism, "What more can I do? And how do I do it?"
But she also said that the play is "incredibly neutral." Much of the script comes from courtroom transcripts and actual sermons, and she said at no point in the play does a character become a caricature.
"We're definitely not saying 'This is right' or 'This is wrong,' " she said. "It's saying 'Here's what happened.' "
McNeill hopes the experience of seeing "God's Country" inspires audiences to reach out to organizations opposing racism and injustice and answering those questions, "What more can I do? And how can I do it?," for themselves.
"This is not a piece of history unfortunately," she said. "This is exactly what's going on now."
Local journalism is essential.
Give directly to The Spokesman-Review's Northwest Passages community forums series -- which helps to offset the costs of several reporter and editor positions at the newspaper -- by using the easy options below. Gifts processed in this system are not tax deductible, but are predominately used to help meet the local financial requirements needed to receive national matching-grant funds.
Subscribe to the Spokane7 email newsletter
Get the day's top entertainment headlines delivered to your inbox every morning.
---