News > Spokane
Proposed high-rise would rise 31 stories in downtown Spokane and become tallest building
Fri., May 25, 2018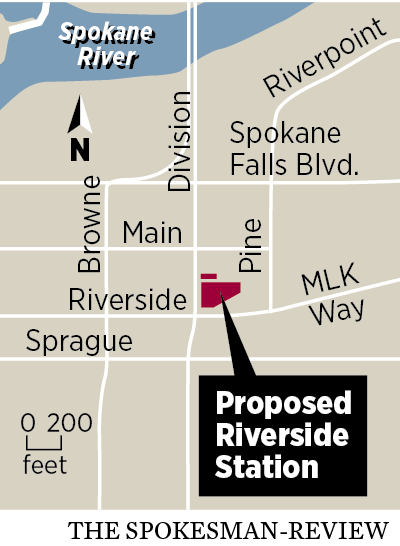 Initial plans for a $65 million, 31-story high-rise at the entrance to the University District in downtown Spokane have been filed with the city.
If built, the 354-foot-tall tower would be the tallest building in Spokane, dwarfing the 20-story, 288-foot Bank of America Financial Center, which was listed for sale Wednesday.
The development, called Riverside Station, would sit on the northeast corner of Division Street and Martin Luther King Jr. Way, and would primarily contain apartments. Floors 19 through 22 would have office space.
The 200,000-square-foot building would sit on four separate parcels, and have setback levels at floors eight and 23. Plans also refer to an "architectural spire and clock" adorning the top level. A fountain and plaza on the street corner are also shown in the plans.
The plans show a number of "bonuses" being sought by the developer, which allow for the building to be built higher if certain "public amenities" are included, according to the downtown zoning ordinances. For instance, an additional eight floors are allowed if 50 percent of the units are designated as affordable housing, putting brick or stone facades on the first three street-facing floors allow a four-story bonus and two extra stories are allowed if covered bike parking is provided.
By including such amenities, the development seeks to include 19 additional floors.
The pre-development application shows construction is expected to begin August.
Reached by phone, the landowner, Vincent Dressel, declined to comment, noting that the project is far from completion. He said he was not "all hat and no cattle" and would comment later if the plans moved toward realization.
Dressel may be right in his caution. A number of high-rise buildings have been proposed for the city core, but none are under construction.
Larry Stone's plan to build two 13-story towers on just over 2 acres of land overlooking the Spokane Falls from the river's northside was approved by the city's hearing examiner last fall, but the old YWCA building on the site sits undisturbed.
Mick McDowell and his wife, Shelley, said they planned to build a 14-story, 50-unit tower on West Riverside Avenue overlooking the Peaceful Valley Neighborhood in 2016, but there has yet to be any movement there.
In 2014, a Spokane Valley dentist named Phillip Rudy unveiled plans for a $50-million, 35-story downtown high-rise on the southeast corner of Division Street and Spokane Falls Boulevard. An old muffler repair shop remains shuttered there.
Local journalism is essential.
Give directly to The Spokesman-Review's Northwest Passages community forums series -- which helps to offset the costs of several reporter and editor positions at the newspaper -- by using the easy options below. Gifts processed in this system are not tax deductible, but are predominately used to help meet the local financial requirements needed to receive national matching-grant funds.
Subscribe to the Coronavirus newsletter
Get the day's latest Coronavirus news delivered to your inbox by subscribing to our newsletter.
---