State 4A softball: Kelsey Gumm homers twice, Central Valley advances to semifinal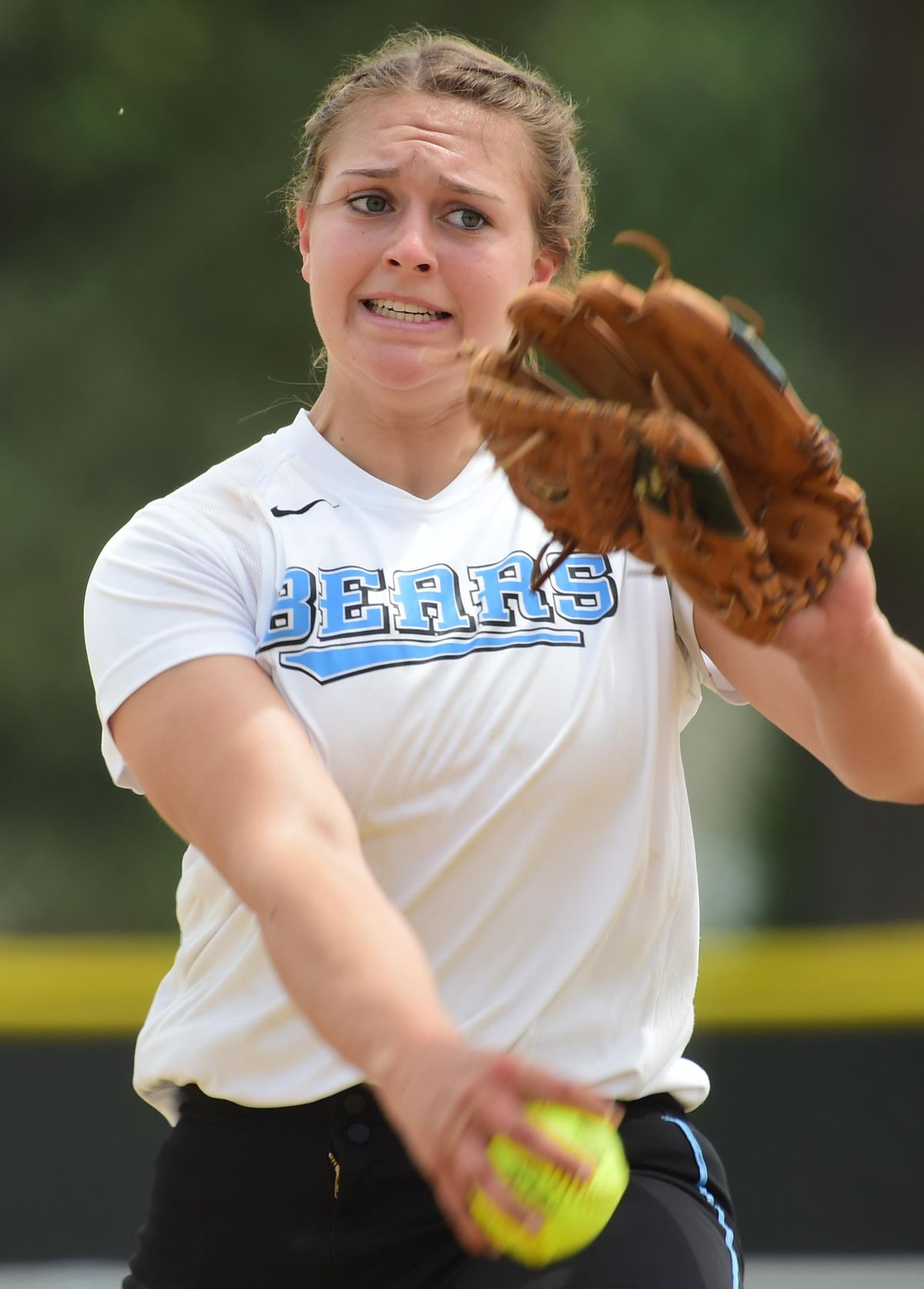 Coaches like to say that at the state tournament, everyone can hit.
Central Valley proved on Friday that they can hit with any of them. And in the process, might have become a favorite the rest of the way.
Leading 5-4 entering the sixth inning, Central Valley exploded for 15 runs in the final two innings and turned a nail-biter into a rout.
Kelsey Gumm, who is known for her pitching and will attend Seton Hall on scholarship next year, went 5 for 6 with a pair of two-run home runs and the Bears routed Auburn Riverside 20-4 in a state 4A quarterfinal at Merkel Sports Complex.
"The run production was absolutely amazing at this level," CV coach Joe Stanton said.
Gumm went the distance in the circle, recording eight strikeouts and no runs after the second inning.
"That Auburn team can hit," Stanton said. "It speaks volumes for what Kelsey did today and keeping them off-balance."
The Bears (22-2) face Monroe in a state semifinal on Saturday at 10 am. Monroe defeated Richland – which beat Central Valley in the District 8 title game last week – 9-4 in a quarterfinal.
Stanton admitted that perhaps his squad was a little psyched out by Richland in the district championship.
"We kind of got in our own way," Stanton said of the loss. "We were a little intimidated before the game got going."
A 27-hit, 20-run outburst can go a long way in settling the nerves.
"After these first two wins I don't think anybody scares us," Stanton said. "I really do like our chances.
"We're just going to show up and be us and let the best team win. And I like those chances."
It was tied at 4 in the top of the fourth with the Bears batting with two down. Grace Stumbough smashed a double and Hannah Wampler followed with a two-strike, run-scoring single to put CV ahead for good.
Wampler finished 6 for 6 with three RBIs.
"It was exciting," Wampler said. "Just a good game, that's all I can say."
"Hannah just puts the ball in play hard," Stanton said, explaining that Wampler struck out just once in the regular season. "She's an unbelievable contact hitter and has surprising power, too.
"We pulled through pretty big there," Gumm said. "I'm super excited for tomorrow and see what we can do."
The Bears had their bats working from the start.
Suheyla Tanak led off the game with a triple and scored on a sacrifice fly. Gumm followed Wampler's first hit of the day with a blast to left-center to make it 3-0 after a half inning.
Auburn Riverside kept up early. The Ravens scratched out a pair of runs in the first off Gumm, then scored two more in the second on a double by Autumn Lee to lead 4-3.
With runners on the corners and one out in the third, CV's Jordan Williams delivered an RBI single to tie it up.
It stayed that way until the sixth. Tanak produced the first of four consecutive singles – all four came around to score – with the big blow a two-run single by catcher Julia Andrews. The Bears batted around, driving Riverside starter Katie Severson from the game, and plated five in the frame.
CV continued the onslaught in the seventh.
Stumbough (3 for 6, three runs) led off with a double, went to third on Wampler's fifth hit of the day, and scored on a wild pitch. That brought up Gumm, who crushed a pitch low-and-away over the right-center fence which made it 13-4.
"It was pretty cool," Gumm said of the two-homer performance "I won't probably get to hit in college so to be able to have that today, that memory of one of the last games I'll get to hit in is pretty cool."
The Bears put their next five batters on and Wampler and Gumm delivered RBI hits in their second at-bats of the inning. The final blow: backup senior infielder SaraJane Lynn singled with two down to drive in CV's 20th and final run.
In its first-round game, Central Valley edged Eastmont 7-4. Gumm recorded each of the first nine outs via strikeouts and ended with 13. Stumbough went 2 for 2 with a two-run home run and Tanak went 3 for 3 and scored three runs.
Kentwood 11, University 6: Rhilmina Sagapolutele clubbed a three-run home run and the Conquerors eliminated the Titans (17-9) in a loser-out game in the third-place bracket.
Chalyse Fuimaono added a two-run homer for Kentwood.
Courtney Awbery hit a two-run double as U-Hi tried to rally in the bottom of the seventh, and Gracee Dwyer finished 3 for 4 with a pair of doubles and two RBIs.
In its first-round game, University fell to Puyallup 4-2. Alyssa Benthagen and Dwyer slugged back-to-back homers in the fourth but Olivia Ellingson struck out 12 over 4 2/3 innings for the Vikings.
Mt. Spokane advances to 3A semifinal
Morgan Flesland delivered a two-run double in a three-run fifth inning and the Wildcats (21-3) defeated defending state champion Redmond 6-5 in a state 3A quarterfinal at Regional Athletic Complex in Lacey.
Mt. Spokane advances to a state semifinal against Bonney Lake at 9 a.m. on Saturday.
Jessie Dupuis went the distance in the circle for the Wildcats and Ashton Cathey had a pair of hits.
In its first-round game, Dupuis struck out 11 in a complete-game three-hitter and Mt. Spokane edged Stadium 1-0. Kate McKinnis stole home in the first inning for the lone run of the game.
---