State 4A track and field: Samara Nelson claims girls shot put title; Shamrock Campbell wins triple jump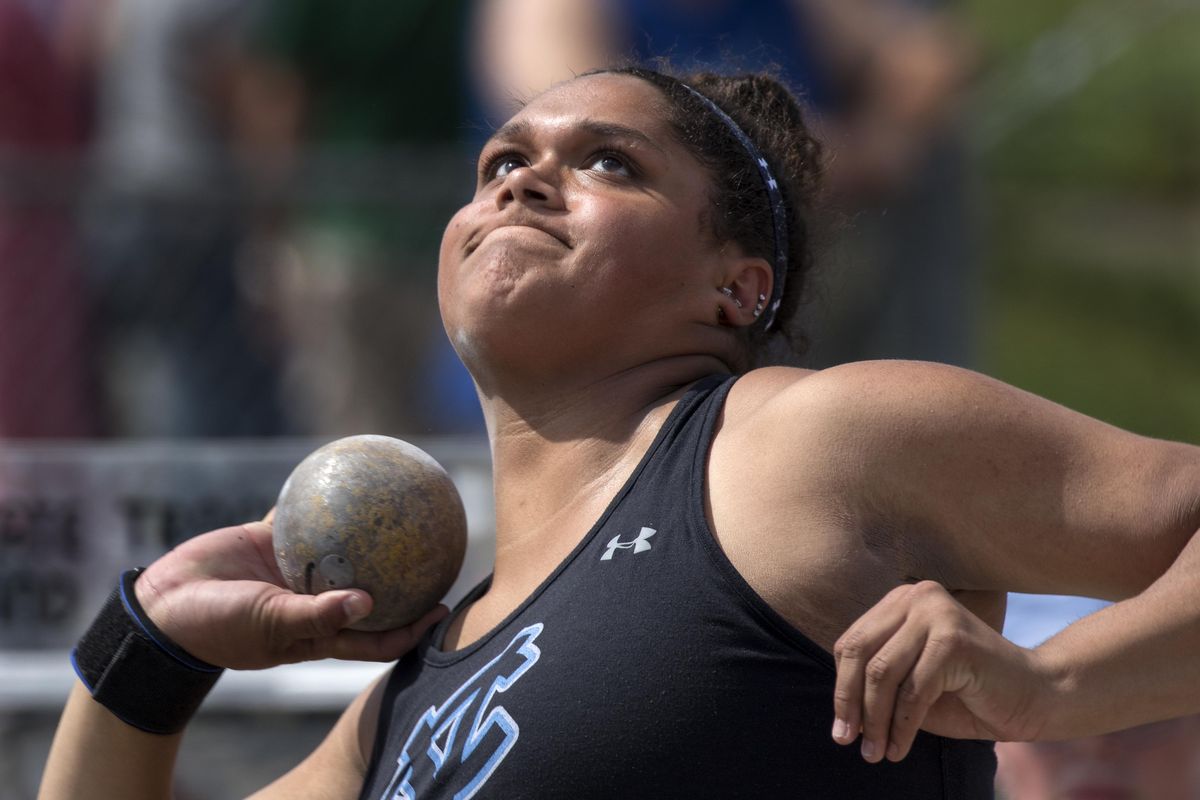 TACOMA – There's a chance Samara Nelson could have had a huge case of "fear of missing out" in March when she watched the Central Valley girls basketball team claim the title at the GEICO Nationals Tournament in New York City.
Nelson walked away from Bears basketball after the 2016-17 season to focus on her true love: track and field.
Then she walked away with a State 4A title in shot put Friday afternoon at the track and field championships at Mt. Tahoma High School, reaching 42 feet, 11 1/4 inches.
"It was the best decision I've ever made," Nelson said of focusing on track. "I really wanted to focus on my track career."
Nelson's toss of 41-8 1/4 inches on her third effort of the preliminary round was good enough to carry her to the state title. She faced a scare from Kentlake's Jordan Fong, who reached 41-6 3/4 to take second place.
"I was definitely expecting some girls to come out and PR and have their best meet," Nelson said. "I certainly didn't have a good meet, but I'm coming home as a state champion."
Nelson didn't seem remotely worried about the competition. It showed with her spending the final three tosses trying to set a school record, falling well short of the mark.
"I wasn't focused on anybody else," Nelson said. "If she (Fong) was going to hit a 42 close to mine, good for her. I was going to go out there and beat her every time."
Nelson expects to be competing at nationals and will spend the coming weeks mulling over which college she will be competing at.
Also at the meet, despite fouling on his first attempt, Shamrock Campbell spent his next three attempts gradually working his way up to what would be his State 4A boys triple jump-winning distance of 48-3.
The Ferris senior leaped 46 feet on his final attempt of the preliminaries, which led the pack at the time. He erased all doubt on his first attempt in the finals, and went 46-3 1/2 for good measure to finish the competition.
Union's Cody Laxson came closest with his final attempt at 46-2 3/4.
Campbell improved his distance by more than 3 feet from last season's fourth-place finish at state.
Mead's Josh Farr, who had the top qualifying time in this season's 4A boys javelin,
was relegated to the silver medal on the last round of the competition.
Enumclaw's Connery McLaughlin threw himself to the ground on his toss and screamed as his attempt went 199-11 to best Farr's top toss by more than 5 feet.
"Obviously, adrenaline can get you there," Farr said. "It was a little inconsistent. (McLaughlin) PR'd by 15, 20 feet today. I think staying calm and collected, you can be a lot more consistent and I think that's just as good if not better."
Farr didn't panic on his final attempt, sticking with his form to throw his top score of 194-8. While not good enough for first, Farr still had a stellar day by topping 190 feet twice and 180 feet four times. He easily secured second place at the event for the second time in three years.
"You definitely show up to win, that's why you're here," Mead javelin coach Chase Wright said. "At the same time, hats off to the other competitors. Definitely a success for Josh coming out and competing."
---