News > Idaho
University of Idaho president to leave after next school year
May 25, 2018 Updated Fri., May 25, 2018 at 9:28 p.m.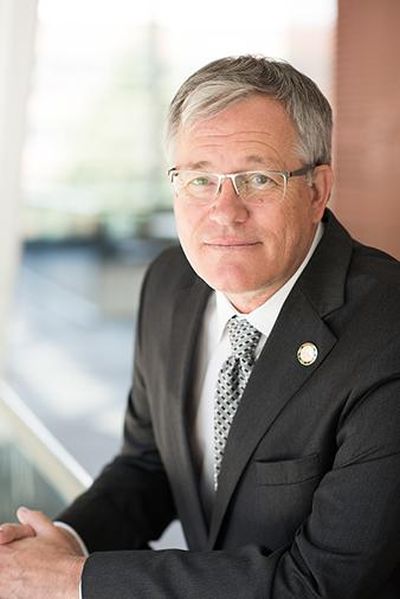 University of Idaho President Chuck Staben will leave his position at the end of next school year.
"I am writing today to tell you that the Idaho State Board of Education and I have mutually decided that the 2018-19 academic year will be my last as president of the University of Idaho," Staben said in a letter to faculty, staff and students issued Friday.
This will make the second vacancy at a major state university, as the board is also searching for a new president at Boise State.
The decision was made less than two months after Staben placed Athletic Director Rob Spear on paid administrative leave during an investigation into the handling of several sexual assault allegations within the department.
In his letter, Staben said the decisions were not connected.
"While the timing of this announcement coincides with the review of past handling of sexual assault allegations in athletics, this decision is unrelated," he said, adding the university would get results from the review soon.
Instead, Staben listed several challenges that seem to have been a major source of conflict.
Among those was pursuing the presidency at the University of New Mexico.
"My decision to pursue a presidency at another university caused a distraction," Staben said.
Other "challenges" he listed included decisions to cut several of the school's athletic programs, and his move in 2016 to send the football team to the Big Sky Conference.
In a statement issued Friday, the Idaho State Board of Education said the decision was mutual.
"The Board and President Staben agree this is the proper course to take and his contract, which expires next spring will not be renewed," said state board President Dr. Linda Clark.
Now the board will focus on finding new presidents for both Idaho and Boise State, she said.
They are looking to determine a hiring firm to find replacements for the two vacancies, after which a timeline for the presidential searches will be announced.
"President Staben has led the University of Idaho since 2014 and on behalf of the board, I thank him for his service and I wish him the best," Clark said.
Long-standing tensions
For much of his tenure at Idaho, Staben had tenuous relationships with elements of Vandals athletics, centered on several issues: sexual assault and harassment, and inadequate long-term solutions for funding football and other UI athletics programs.
Questions about the athletic department's handling of sexual assault and harassment complaints, and Staben's announcement of Spear's leave, are the most recent.
On April 3, Staben announced he was placing Spear on a 60-day administrative leave while the university commissioned a detailed look at how the department responded to complaints in 2012 and 2013 from two former women athletes. According to the complaints, a member of the Idaho football team had harassed them and in one instance touched one of them inappropriately.
That woman, a former diver, said in a blog post early this year that Spear did not treat her complaint seriously, or as soon as he should have. He did not direct her to available counseling, and he did not let her know her assailant had been removed from the football team and expelled.
In late April, in connection with the review, the university signed contracts with Patricia Olson, a Boise attorney whose practice before she retired in 2017 dealt extensively with employment law, and the Dan Beebe Group. Beebe, a former commissioner of the Big 12 Conference, is reviewing how the athletic department complied with university policies and procedures.
The university also formed an internal Student Safety and Wellness Task Force headed by Dean of Students Blaine Eckles.
"The issues we are addressing are serious and our approach to better understanding is also. We will work quickly but will focus on complete and thorough outcomes," Staben wrote in a memorandum to UI faculty, staff and students April 26 announcing the specifics of the review.
USA TODAY Sports reported Friday that the university had placed diving coach Jim Southerland on leave April 13 after university officials learned he had received an interim suspension from the U.S. Center for SafeSport and USA Diving for an alleged improper sexual relationship between him and a female diver in 2010. Southerland joined UI in 2015.
Staben also earned the enduring enmity of some Vandals football supporters when he announced in 2016 that this coming season Idaho would return to the Football Championship Subdivision after two decades of playing as a Football Bowl Subdivision team.
The move, which some supporters see as a retrenchment that not only affects the football program but also makes the university less competitive across all fronts with its rival Boise State University, was prompted by the Sun Belt Conference canceling the membership of Idaho and New Mexico State following the 2017 season.
With no clear prospect for another FBS league affiliation for the Vandals and the revenue security that would bring, Staben declined to allow the team to play as an FBS independent, as it did in 2013.
This spring, Staben also announced plans to deal with a structural deficit in athletic funding approaching $1 million annually. The university had been able to cover the shortfall for several years with budget reserves it amassed from payments given to the university by its former league, the Western Athletic Conference, when the WAC discontinued football after 2012.
With those reserves exhausted, and with the university facing an Idaho State Board of Education rule that it could not carry a deficit more than two years, Staben said the university might have to eliminate soccer, swimming and diving and men's golf.
Those programs were saved for at least a year, though, when the board in April agreed to allow the university to continue deficit funding while it developed a plan to add several new sports without providing them athletic scholarships and while being able to count tuition and fees paid by participants as revenue. However, Vandals soccer coach Derek Pittman left Idaho this month to become the coach at the University of Texas-San Antonio. He cited uncertainty about the future of Vandals soccer as contributing to his decision to leave Idaho.
On Staben's watch, Idaho did record a major athletics fundraising triumph. The UI secured a $10 million gift from Idaho Central Credit Union to help fund a new basketball arena, which has been on UI officials' wish list for facilities for 50 years.
In announcing the gift in January, Staben called it "a game-changing investment for this project, for our university community and for Idaho."
Local journalism is essential.
Give directly to The Spokesman-Review's Northwest Passages community forums series -- which helps to offset the costs of several reporter and editor positions at the newspaper -- by using the easy options below. Gifts processed in this system are not tax deductible, but are predominately used to help meet the local financial requirements needed to receive national matching-grant funds.
Subscribe now to get breaking news alerts in your email inbox
Get breaking news delivered to your inbox as it happens.
---