A&E > Art
New Jundt exhibit celebrates Inland Northwest landscapes
Sat., May 26, 2018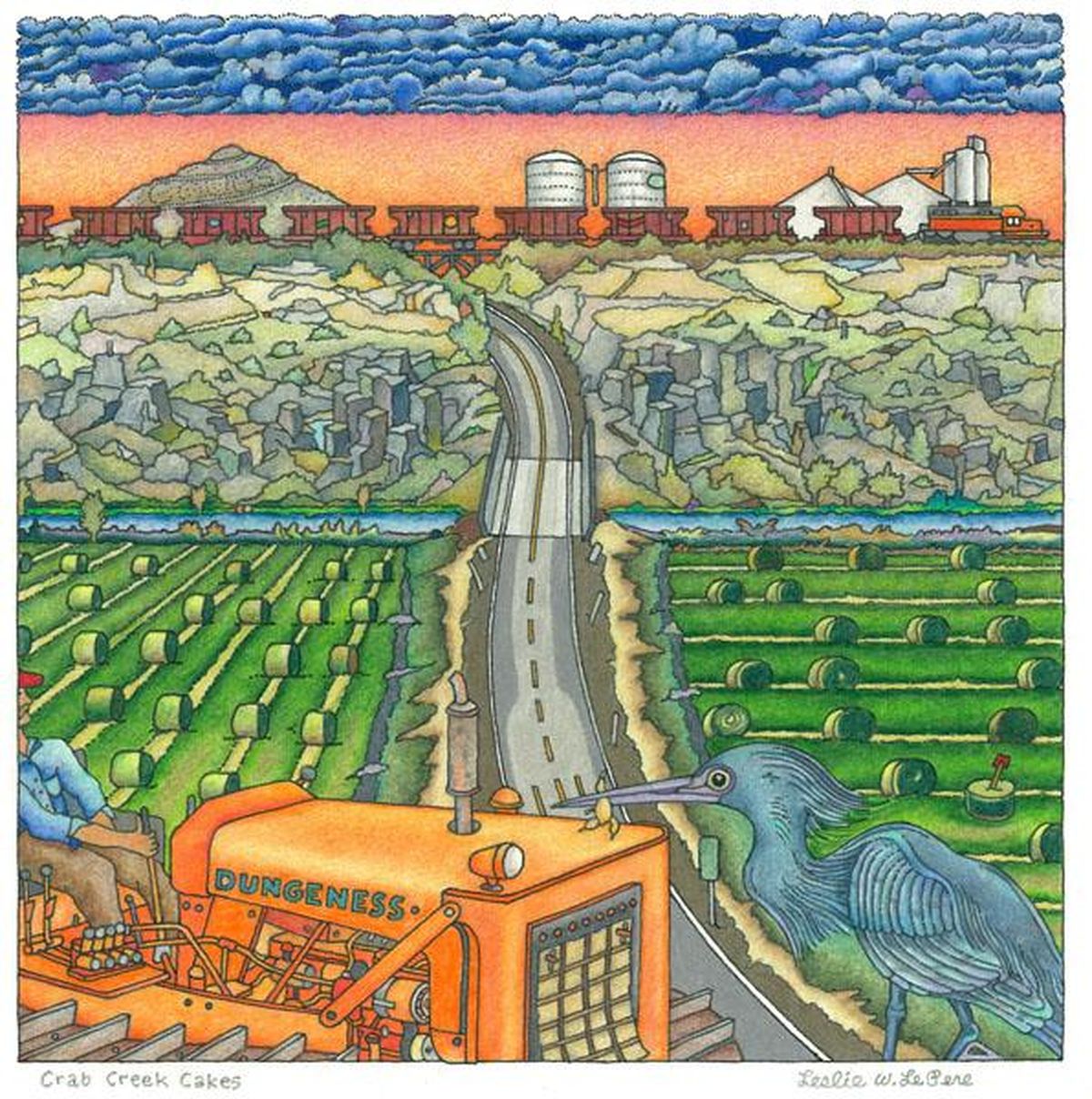 "Crab Creek Cakes," a 2005 colored pencil and ink drawing by Leslie LePere, is featured in the First Inland Northwest Juried Landscape Art Exhibit at Gonzaga University's Jundt Art Museum. (Leslie LePere)
There are paintings of trees. Several, actually. And images of ponds and rivers that reflect the light and color around them. Golden, wheat-covered hills evoke the rolling Palouse, and basalt outcroppings serve to further identify the artwork's subject as Eastern Washington.
But there are also paintings of mountain scenes crafted from geometric forms. There are dangling crows and a tree trunk. Literally a tree trunk. mounted to a wall.
These images and more are part of the first-ever juried art show at the Jundt Art Museum on the Gonzaga University campus, which opened this weekend and continues through Aug.11.
The First Inland Northwest Juried Landscape Art Exhibit is part of the museum's recurring summer series, "Close In," a name that comes with multiple meanings, said museum director and curator Paul Manoguerra. "The focus is on regional artists. It's meant to be a close look, a detailed look at some regional artists," he said. "We've been doing it as one- or two-person shows. … I thought it would be kind of fun to see if we could do a juried show at this museum for the very first time."
In a juried art show, an organization issues a call to artists and asks for submissions. Then a jury is tasked with picking the works that are of the highest quality and also meet the theme of the exhibition. The Jundt put out the call for submissions late last year, by the deadline in January had nearly 300 pieces of art to pull from. Manoguerra and his colleague, the Jundt's curator of education Karen Kaiser, did the initial cut. The museum staff then winnowed the selection down to about 75 paintings, sculpture, conceptual works, drawings, photographs and prints from 54 Inland Northwest artists.
They aimed for an exhibit that not only celebrated the region and its artists, but one that included a variety of styles and ways of thinking about landscapes. That's what they achieved. "Some people went straight landscape painting, which is what we expected," he said. "And then others dealing with thematics, which is interesting also."
Spokane artist Mary Ahmad's 2016 oil on linen painting, "The Palouse Highway," takes the viewer to wheat country in late summer, driving on a two-lane road through fields of yellow and tan. Scott Bailey, of East Wenatchee, submitted a large mountain scene, painted in geometric shapes. M Acuff of Walla Walla submitted a video projection piece, "Landscape is a Material," while Dennis DeHart of Pullman created "Salmon Color Palette," a series of squares in various shades of orange and pink. Michael Dinning of Spokane turned in "Western Dream," a large mixed media work that incorporates images of farm fields, livestock and crows in a eye-catching way.
Other well-known artists in the show include Les LePere, Karen Mobley, Melissa Cole, Bill and Kathy Kostelec, Lisa Nappa and Mary Farrell.
Overall, Manoguerra said he's pleased with how this first run at a juried show turned out.
"You're taking a bit of a risk when you do this sort of call for entries," Manoguerra said. "You have an exhibition in mind and you hope that reality matches the dream. I think this one surpasses. I'm pretty happy.
"Maybe we'll do it again."
Local journalism is essential.
Give directly to The Spokesman-Review's Northwest Passages community forums series -- which helps to offset the costs of several reporter and editor positions at the newspaper -- by using the easy options below. Gifts processed in this system are not tax deductible, but are predominately used to help meet the local financial requirements needed to receive national matching-grant funds.
Subscribe to the Spokane7 email newsletter
Get the day's top entertainment headlines delivered to your inbox every morning.
---