State 2A track and field: Charles Johnson wins four titles, helps Cheney take home boys team crown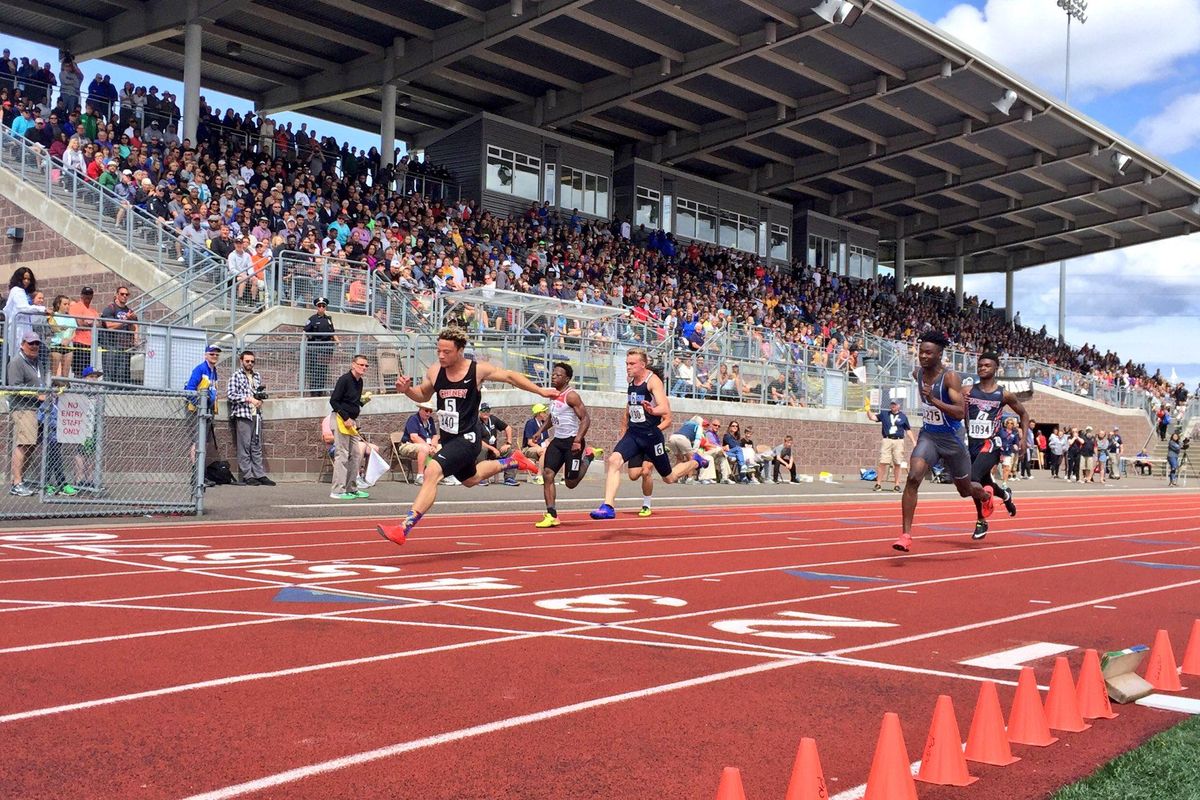 TACOMA – Just minutes after winning his fourth state championship event, Charles Johnson was only thinking of doughnuts. Tasty treats are a bit of a vice for the stellar senior sprinter from Cheney and on this day were well deserved.
Johnson coasted to state championships in the 100- and 200-meter races, and anchored Cheney to victory in the 4x100 and 4x400 relays with dominant performances in each competition in the State 2A track and field championships Saturday at Mt. Tahoma High School.
"Feeling really tired, but I'm really happy. I brought my team to a 'W,' " Johnson said.
Tired was probably an understatement. Johnson had sprinted nearly a half-mile worth of track throughout four races over the span of four hours. The fruition was a second consecutive state championship for the Blackhawks.
The humble Johnson would hardly admit this, though the reality on the day was the opposition didn't have a chance.
The future Washington State sprinter started his day with a victory in the 100. His time – 10.75 seconds – was three-tenths of a second better than the runner-up. Then he anchored the 400 relay, taking the final handoff and turned a slight deficit into a comfortable win at 42.37, beating out Hockinson's 42.50. He won the 200 in 21.53, nearly half a second faster than the runner-up. In the 1,600 relay, he took the baton with a slight lead, completing a 3:22.39 winning time, 2 seconds faster than the runner-up.
"He's been our rock all season," Cheney coach Derek Slaughter said. "He runs four events at every single meet. I don't know of any kids who can run four events that well and end that 4x400 as the anchor."
The bad taste of finishing second by fractions of seconds last season put Johnson to work over the summer with the Spokane Speed Academy. Training with one of his best friends and future WSU teammate, Shadle Park's Tony Pizzillo, Johnson spent the summer repeatedly running 300s, 200s and 150s to get stronger, faster and more confident.
The summer work put in, among other factors, solidified Johnson as the team leader.
"This is his team. He leads by example. His friends say he's loud, (but) he's a quiet guy around me," Slaughter said. "They laughed at me last time when I said he was quiet. He'll bring out his little speaker for practice and he'll just get to work."
Girls
Nothing ever feels like a sure thing for Mayyi Mahama, no matter how impressive her numbers seem to be. She spent much of her time during the 2A girls shot put competition pacing around and figuring out what to do with her arms to keep herself focused.
Her toss of 44 feet, 3 3/4 inches on her second attempt of the preliminary round was just good enough to hold off Sehome's Mary Carbee.
"Today I knew I had to bring it. Mary Carbee, excellent competitor," Mahama said. "I saw she threw 45 feet last week, I said, 'Oh, my god, I have to hit 45 today.' "
Carbee threw 44-2 on her first attempt of the final round, inciting a bit of panic in Mahama. She'd hold on for the title, surpassing 43 feet in each of her three attempts in the finals. She was trying for a personal-record 46.
"I didn't think I'd do it, but now I'm really happy about it," Mahama said. "I'm happier than I was about discus, because I was closer to a certain point and didn't hit it, but here, it's just fine. Right now, I feel electric."
Mahama will continue her athletic career in the Ivy League at the University of Pennsylvania.
---