State 4A track and field: Lewis and Clark's girls tweak little things for relay championship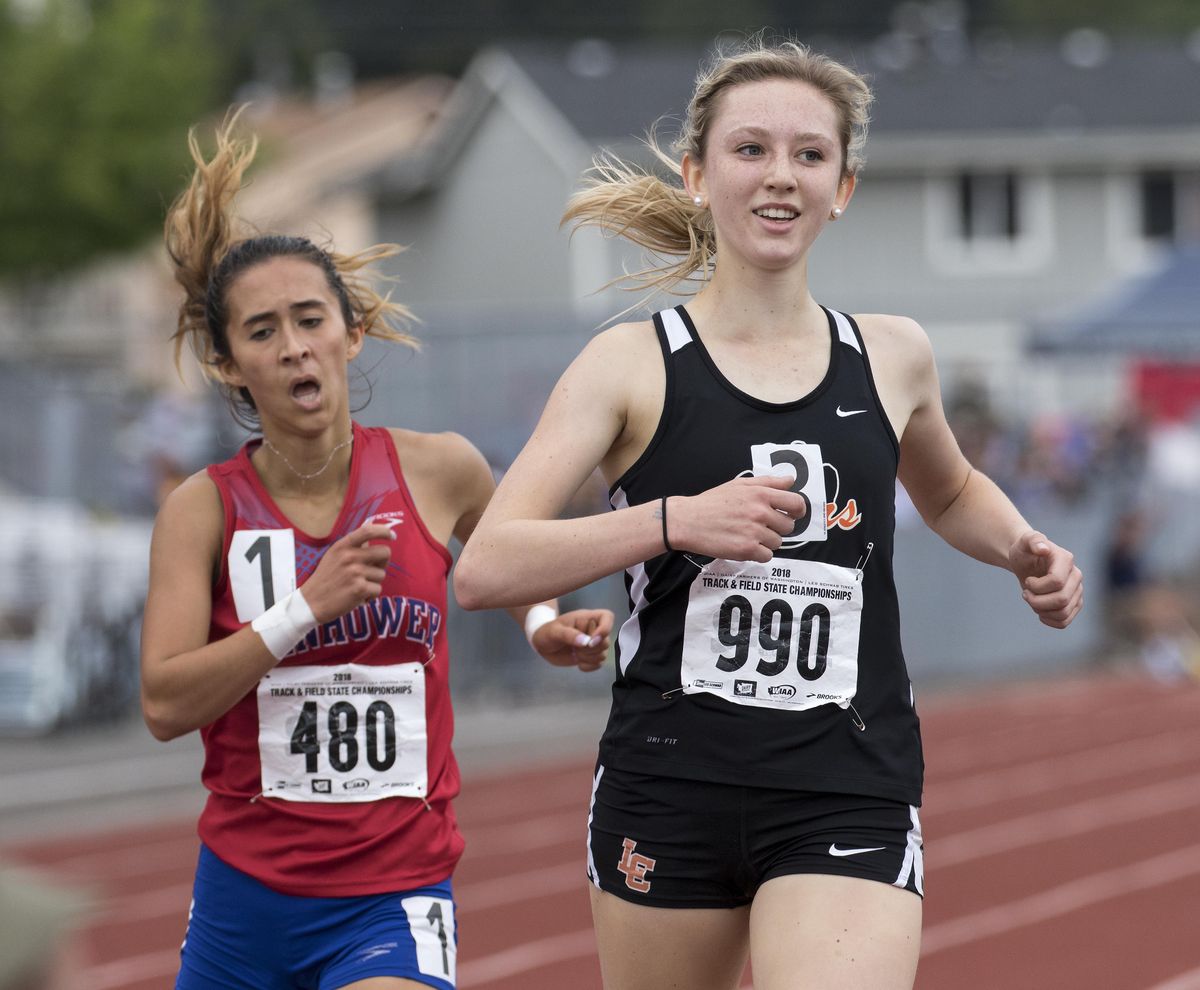 TACOMA – Don Hilsendeger was getting a little annoyed with all of the tiny things keeping his Lewis and Clark squad from gapping the fractions of seconds needed to best Tahoma.
Tahoma had the last laugh four times this season because of small correctable errors, he said. So he came into Saturday's State 4A track and field championships Saturday looking for the perfect race.
It was almost too perfect. Maya Lebar could hardly believe it when she looked back at the photos seeing more than a 1-second gap between her and second-place finishing Curtis to secure the 4x200-meter relay championship for LC.
"I knew they were going to be right behind me and I was really scared about that this whole season," Lebar said.
"So when it was finally time to go I was like, 'No, I am not letting them pass me. This is happening right now.' "
Anna Rodgers was the critical component of the relay, snatching the baton at the halfway point of the race and passing all but one competition before the final handoff to Lebar.
"I just did what I felt like I had to do, and I wanted to run relaxed so I didn't have to worry about it," Rodgers said.
The result is a far cry from last season's sixth-place finish in the competition, especially for the two seniors on the tail end of the relay. No little errors, and a championship in the relay for the first time since their freshman seasons.
"A handoff here, a start there, it was something different every time," Hilsendeger said. "They put a complete race together today and I couldn't be any more proud for my seniors."
Revenge on the Bears was also nice.
"We've raced Tahoma four times this year and they beat us by a half second every time," Hilsendeger said. "So we knew it was going to be competitive, and we just kept telling the girls that every race we just had one little glitch that's kept us winning it all year long, and if we just ran a perfect race that we could win this and we did."
Elsewhere, LC senior Katie Thronson capped off her prep career at the front of the pack with a narrow victory in the 3,200.
Thronson, who will attend Tennessee next year, finished in 10:35.39, holding off Eisenhower's Erica Simison (10:25:65) for the title.
Gonzaga Prep sophomore Kathleen Horn couldn't do much about the opposition during the javelin competition.
On just the second throw of the preliminaries, Puyallup's Tanya Simora threw a 4A meet-record 154 feet, 6 inches to capture the competition.
Horn's toss of 137-10 in the preliminaries was good enough to fend off a pair of Walla Walla throwers for the second-place medal.
Horn didn't place in the competition as a freshman. Simora, a junior, placed fifth last season.
Boys
By the final stretch of the 3,200 meter run, Central Valley's Ryan Kline wasn't going to catch Mt. Si's Joe Waskom.
Waskom strided across the line in 8:57.66. Kline followed close behind to take the second-place medal at 9:12.86 after not placing last season. The junior finished 10th in the 1,600 on Thursday.
---