In Olympia, state archives keeps items of war and remembrance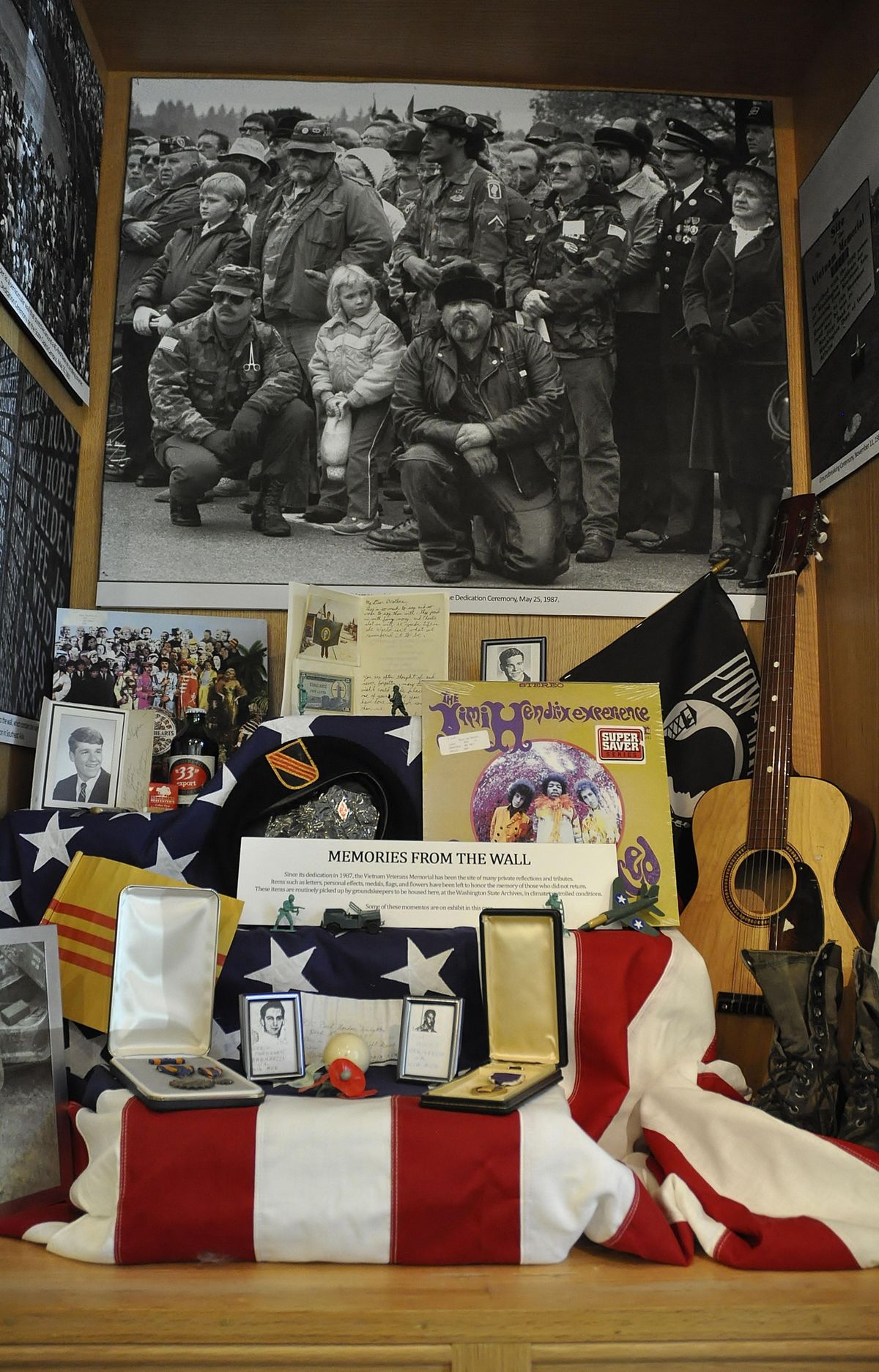 For the past 80 years, Washington state has remembered its war veterans and memorialized the ones who didn't return home with a series of monuments around the Capitol campus.
From the bronze Winged Victory statue of epic proportions for those who served in World War I to the Vietnam Veterans Memorial with its listing of the names of 1,123 Washington residents who died in that conflict etched in marble, the monuments give state residents and tourists an opportunity for somber reflection on the price of wars.
Family, friends and former comrades-in-arms sometimes leave items to mark their visit. Flowers show up throughout the year, wreaths mark special commemorations, and letters are sometimes laid at the base of a stone slab or bronze blades addressed to a nearby name.
Perishable items like flowers and plants remain until they wilt or fall apart. The nonperishable ones are collected by the Capitol grounds crew, and eventually find their way to the State Archives.
5-25-87
Dear Buddy,
I miss you! I miss you so much! I've grown a lot … I'm a teacher finally and ready to make some new changes … I want to uproot and leave the Valley now … I'm angry 'cause you went into the service and you are gone … I've finally accepted your decision … I miss having my big brother around … Someday maybe we'll all be together.
I love you, Jo
– Letter addressed to Lance Cpl. Christopher Inay, in an envelope attached to the staff of a small American flag
The archives hold about 29 cubic feet of items left at monuments around the Capitol campus, archivist Benjamin Helle said. Most – some 22 cubic feet – come from the Vietnam wall, which was dedicated on Memorial Day weekend in 1987, and like the memorial in Washington, D.C., is a magnet for an eclectic array of mementos.
Some were new when they were left, like Teddy bears or Native American Dream Catchers, and remain in the same condition as when they were collected. Others are pieces of long-ago service, like service medals, combat boots, helmets, jackets or the magazine from an M-16.
Live rounds have sometimes been left at the monuments, but they're turned over to the State Patrol for disposal.
Visitors sometimes leave a libation for the deceased. A can of Budweiser and a small airline-sized bottle of Seagrams Canadian Whiskey are in a box of items collected in the late 1980s, with a note inside the box they were emptied by Archives staff and returned to the box in 2009.
The staff treats most alcoholic offerings that way, although it sometimes misses one. A check of boxes last week turned up a fifth of Irish whiskey rolled in the front section of a newspaper from Nov. 11, 2003. A shot glass had been rolled in the second section from that day. The liquor had made its way from the memorial to a storage space at the General Administration to the archives, apparently untouched. Another can of Budweiser in that box also had been emptied and returned in 2009, but the whiskey escaped that ignominious fate.
Dear Bunch,
You are in all our hearts … Your baby is wonderful and his children are happy in their professions, teacher and radiologist … I'll stop by again. I live near here. Send us a nice and good man for the girls.
Love, Juanita
The first war memorial on the Capitol campus, with Winged Victory pointing the way for a soldier, a sailor, a Marine and a nurse, was unveiled in 1938, 20 years after the end of World War I. The campus has no monuments for the Civil War or Spanish American War, although photos exist of gatherings of veterans of those wars in the early years of statehood, Helle said.
The archives have no mementos collected from the World War I monument, but it's not clear if none were ever left by previous generation or there just wasn't a system for keeping them.
An obelisk to Washington residents who received the Medal of Honor was erected in 1976, and the first Vietnam War memorial, a scroll listing the names of the state's casualties encased in marble, was erected in 1982. But veterans groups were unhappy with that design and lobbied for a new memorial. Private groups raised the money for the wall that curved in a semi-circle around a 45-foot base with the names of all state residents killed or missing in action carved on granite panels.
It was dedicated in 1987 with a weekend of events, and the archives contains schedules, programs and several guest books filled with signatures of visitors. Many of the mementos date to the years right after the memorial was dedicated.
To Doug,
… You were the first boy to kiss me in the 8th Grade and a few years later you were gone … You were part of my past and now you're a name on a great stone wall.
Joni
Flags of all sizes are common in the archive's boxes, from small ones left in the holes next to each name on the wall to full-size offerings. One box has a faded Stars and Stripes, folded into a ceremonial triangle like the flags presented to a family at a funeral, with an Airborne patch tied to its halyard.
Another box has a collection of small flags, some still crisp and bright, others tattered. One includes a message on the white stripes for Marine Pvt. 1st Class Bobby Armitage, killed in 1968, telling him the kindergarten class at Garfield Elementary School flew it to remember him. "You aren't forgotten as long as the wind flies the flag," it assures him.
Another small flag is attached to the bottom of a framed photo of woman in a bathing suit. Whether the woman is a girlfriend, fiance or spouse is unclear, there's no name on the photo, and no name to tell for whom it was left.
Some items can be tied to a name on the wall, like the card from the memorial service for Marine Pvt. 1st Class Richard D. Smith, killed May 25, 1970, that includes a picture of a grade-school boy – possibly Smith, although it doesn't say – in a red Hawaiian print shirt.
But most items aren't traceable. The state archives them but it doesn't catalog them or research to provide any information other than what's left on them.
"There's a lot of mystery to it," Helle said. "As much as we'd want to know more, most of these items are left anonymously."
The country never cared about us. A draft dodger now runs for president. It's been 25 years. I haven't forgotten you.
Semper Fi,
The Sarge
The most common items left at the wall are cards and letters, which fill several boxes. There are poems, like the one Marge Logan of Yakima left during the dedication ceremony for her brother Gordon Logan, Jr., killed in Vietnam in 1969, in which she mentions his nephew Gordy is 16, "having lots of fun and he is proud to have our name."
There are cards, like the one for Sgt. Robert Clarance Roper. "I love you Daddy … Are you watching over me? Jodi."
"Bill, my darling husband" says another," Never a day goes by I don't think of you and miss you. Still your wife, Mary. Why?"
Some letters are long, and pour out stories of loss and grief, like the Navy pilot who writes about how he and a friend flipped a coin many years earlier to see who would take a mission, and the friend won. And lost.
Dear Mike,
I remember when we were young, strong and brave … I watched as the aircraft leapt from the end of the deck, began to climb, shuddered and fell from the sky. I watched the plane bob once and sink below the bow of the carrier … I've carried guilt and sorrow for your loss for 28 years. It's time to lay the past to rest and to on with my life.
Rest in peace, John.
Although many of the items are small – plastic toy soldiers, fading Polaroids, a pack of Marlboros, a lighter or some Zig Zag rolling papers – visitors have left large items, including uniforms, helmets and hats.
A Class A Army jacket has an envelope of color photos tucked into one buttoned pocket. The photos show the aftermath of the Battle of Suoi Tre in March 1967, when American infantry encountered Viet Cong units. The U.S. lost 36 in the battle, the VC 647, and some photos show dead bodies heaped in piles.
Some items show support for the war, like a bumper sticker that declares "I'll forgive Jane Fonda when the Jews forgive Hitler." Others have a call for peace, like the photo of a panel at the United Nations Building engraved with the quote from the Book of Isaiah to beat swords into plowshares.
How big will the next wall have to be? – anonymous note left at the Vietnam Veterans Memorial.
Washington dedicated a monument to Korean War veterans in 1993, to World War II veterans in 1999 and to law enforcement officers killed in the line of duty in 2006. They have their own boxes, but some items of remembrance for casualties of other wars were left at the Vietnam war, perhaps because the others hadn't been built or were on another part of the campus.
A selection of items from the Vietnam memorial is a long-standing exhibit in the lobby of the archives building, which includes photos, flags, boots, a guitar and record albums from The Beatles and Jimi Hendrix. The selection in the exhibit changes from time to time, Helle said.
Of the 22 cubic feet of items from the Vietnam wall, 17 were collected between the dedication in 1987 and 2008. The volume of items has begun to slow, although Capitol grounds crew expects to see new items this Memorial Day weekend.
The state doesn't have the resources to inventory or curate the collection, but it will never dispose of them, Helle said: "They're going to be held permanently."
---