News > Spokane
Then and Now: Volunteers of America
Mon., May 28, 2018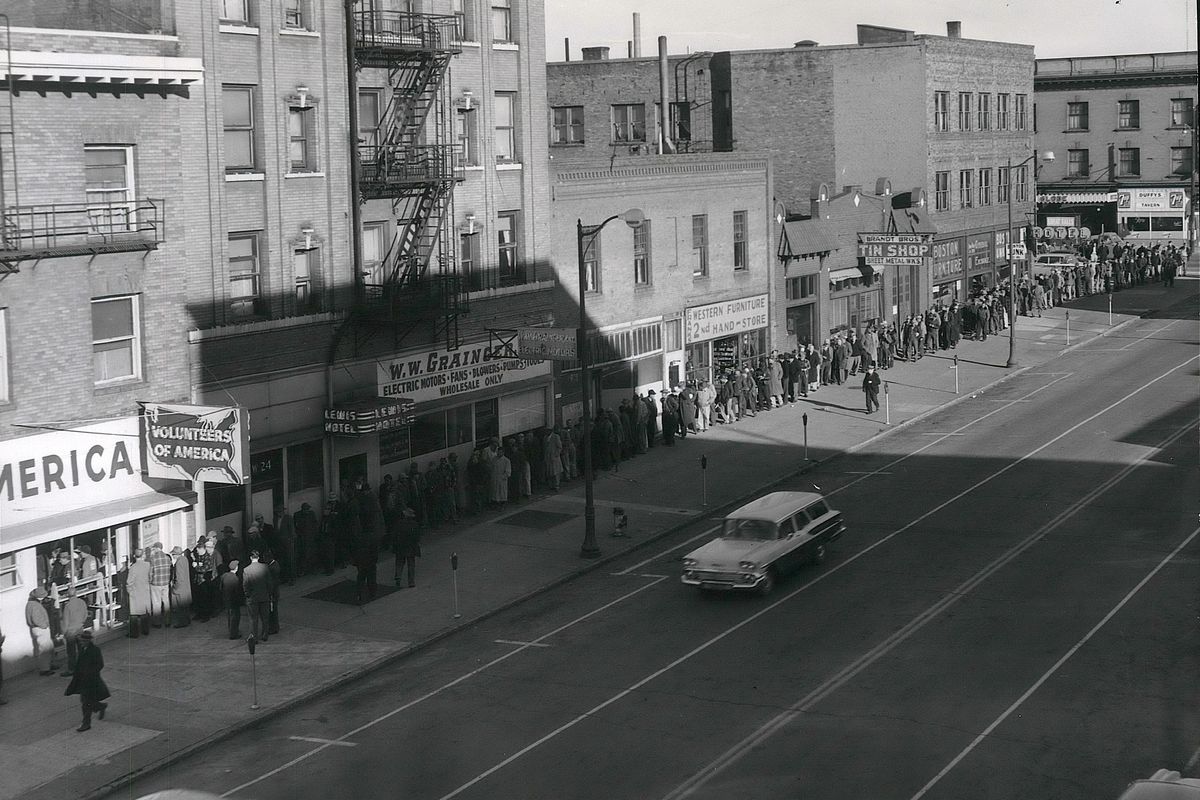 1959 – More than 200 men line up around the block on Thanksgiving morning for tickets to the Volunteers of America annual turkey dinner. The holiday dinner took place later in the day at Matson's cafe three blocks away. For more than a century, the Volunteers of America has been alleviating suffering and social ills in the Spokane area. The VOA office was in the Imperial Block, which is now gone. The VOA helped the homeless, the unemployed, at-risk children, and the elderly alongside charities such as the Salvation Army, the YMCA and Catholic Charities. (SPOKESMAN-REVIEW PHOTO ARCHIVE / SR)
Ballington Booth, with his wife, Maud, formed Volunteers of America in 1896 in New York.
Booth was a son of General William Booth, who had founded the Salvation Army in London. But after moving to the United States to expand the ministry, the couple had a falling out with the Booth family, which led the couple to break ties and start their own group.
They chose the word "volunteer," which at that time meant a person called to full-time service work. The phrase "of America" distinguished them from the British origin of the Salvation Army.
The original VOA leadership also adopted the quasi-military ranks and uniforms, as well as the social welfare goals, of the Salvation Army.
Just a few years later, around 1899, a VOA chapter started in Spokane, organizing charitable activities where they could find space. The group offered religious services along with food and shelter. They preached the gospel from storefront missions under a neon-outlined cross with the painted legend "Gospel Mission."
Since the beginning, VOA has focused on having paid, full-time staff. In some families, there are multiple generations in service.
John T. Foulkes was one of the first VOA volunteers in 1896. Col. Foulkes and his wife were assigned to Spokane in 1903, 1911, 1920 and 1928, rotating through cities like Omaha, Tacoma and Seattle. After 1936, the the couple served in Seattle as statewide commanders.
The Foulkes' two sons, James and John, also became VOA officers. James E. Foulkes was appointed lieutenant in 1937, starting as a truck driver and door-to-door fundraiser. In 1939, James and wife Clara were assigned to Spokane, where they were supervised by the elder Foulkes, who died in 1947 after more than 50 years with VOA.
The younger Foulkes became executive director in Spokane until he died of a heart attack in 1959. He was only 45.
For more than a century, VOA of Eastern Washington and Northern Idaho was known for its soup kitchens, homeless shelters, holiday meals and toy drives. Today, its most visible work is Crosswalk, the shelter for homeless teens in downtown Spokane, but they also have programs for the disabled, foster children, young women and children, veterans and the chronically homeless.
Local journalism is essential.
Give directly to The Spokesman-Review's Northwest Passages community forums series -- which helps to offset the costs of several reporter and editor positions at the newspaper -- by using the easy options below. Gifts processed in this system are not tax deductible, but are predominately used to help meet the local financial requirements needed to receive national matching-grant funds.
Subscribe now to get breaking news alerts in your email inbox
Get breaking news delivered to your inbox as it happens.
---