Round 4: It's Cleveland Cavaliers vs. Golden State Warriors, again in NBA Finals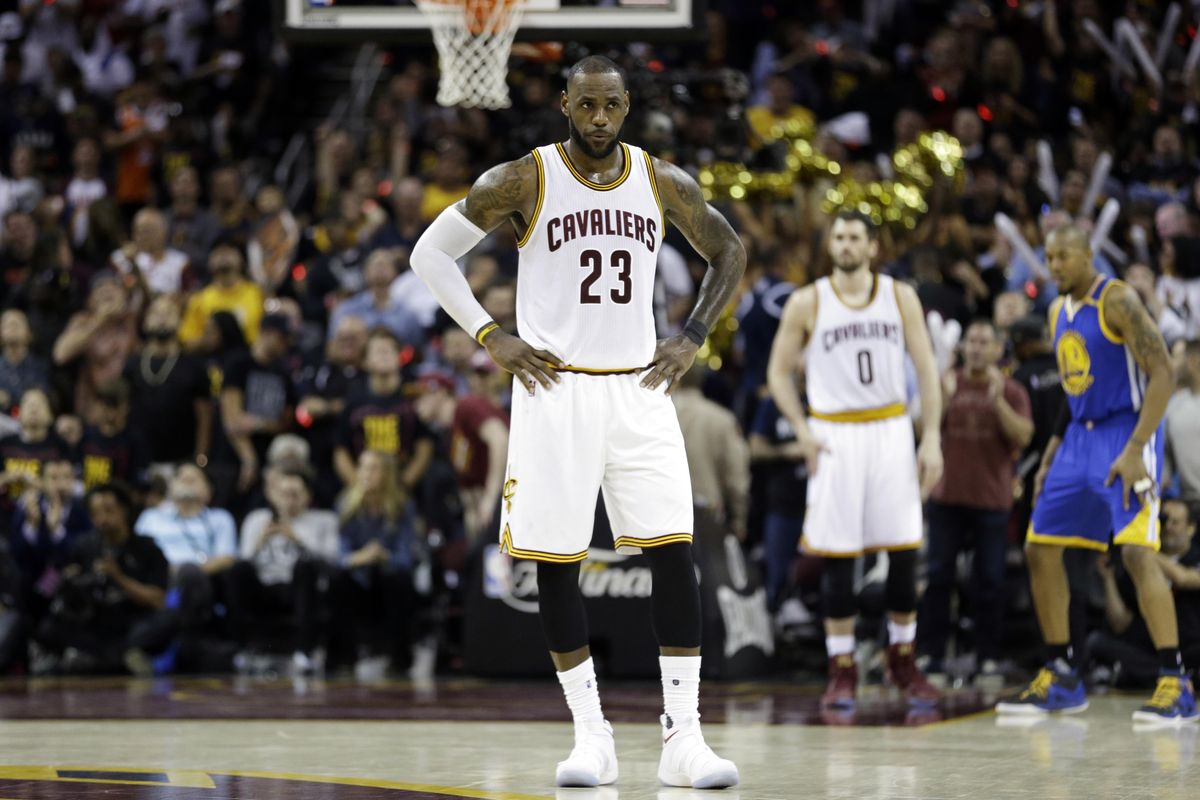 Here we go again.
And again.
And, well, again.
Round 4 – as many predicted, and others probably lamented – is happening. Cleveland and Golden State will meet for the fourth consecutive year in the NBA Finals, the Warriors looking for a third championship in that span and LeBron James and the Cavaliers trying to wrestle the crown away just as they did in the 2016 series.
On one side, the best team of this era.
On the other, the best player of this era and maybe any era.
Game 1 will be hosted by the Warriors at Oracle Arena on Thursday night.
"You've got to appreciate the moment," Warriors guard Stephen Curry said. "Somebody asked, 'Four years in a row getting to the finals, do you appreciate it?' Yes."
Both teams are entering this title matchup with injury concerns. Cleveland's Kevin Love is in the concussion protocol and will need to complete a series of tests before he's cleared to return. Golden State's Andre Iguodala – a former NBA Finals MVP – wasn't able to finish the Warriors-Rockets series because of a bone bruise in his leg.
The Warriors hoped Iguodala would return to the Houston series, but his progress stalled.
"That's just not an easy injury to predict in terms of recovery," Warriors coach Steve Kerr said.
There wasn't a lot of similarity in Cleveland's and Golden State's seasons, but their last few days have been mirror images of one another – both teams had to win Game 6s at home to fend off elimination, then had to go on the road and prevail in Game 7s to win their respective conference finals.
"One of the most challenging seasons I've had," said James, who may be playing the best basketball of his life right now at the end of his 15th season.
Here's some of what the Cavaliers have dealt with since Golden State-Cleveland III ended last June: Kyrie Irving got traded for Isaiah Thomas over the summer; coach Tyronn Lue had to miss time to deal with health issues; Love missed two months; they lost 11 games by 16 or more points, revamped their roster in February and spent much of the season unable to guard anybody.
They're in the finals again anyway, led by someone who will play in the last series of the season for an absurd eighth consecutive year.
"It's been a roller coaster," said James, who is seeking a fourth ring in his ninth finals appearance overall. "It's been good, it's been bad. It's been roses. There have been thorns in the roses. There's been everything that you can ask for."
This wasn't all peaches for Golden State, either. The Warriors didn't get the No. 1 seed out West, lost Curry to a knee injury late in the regular season, lost 10 of their final 17 games and got pushed to the brink.
"I'm glad we're going back," Warriors forward Kevin Durant said.
The Warriors swept the two regular-season meetings with the Cavaliers, winning by seven at home on Christmas Day (without Curry) and prevailing by 10 in Cleveland about three weeks later.
Those two games are meaningless now. Of Cleveland's five leading scorers against Golden State this season, three no longer play for the Cavaliers. James and Love combined to score 100 points in the two games, but Dwyane Wade, Jae Crowder and Isaiah Thomas were all shipped elsewhere by the Cavs in a series of trade-deadline moves.
"We obviously know what LeBron's capable of," Curry said shortly after the Warriors' Game 7 win at Houston ended. "It's a new team over there, so the other guys, we've got to lock in on their tendencies. But we'll worry about that when we get home."
If the Cavaliers win this championship, it might be time to declare the regular season irrelevant.
Cleveland was only 50-32 this season. Should James and his mates get it done, that would be the second-worst, regular-season record for an eventual champion in the last 40 seasons. Houston went 47-35 on the way to the 1995 title; to find another champion who was worse, go back to Washington in 1978 when the Bullets were a mere 44-38.
"Everybody doubted us," Cavaliers forward Jeff Green said. "Everybody had their opinions on what our team was, what we would do, what we can't do, from the start. … And now, I mean, we're where we want to be. We're where we set out to be and where we knew we could be at this point."
Same goes for the Warriors. This season was no cakewalk for them.
"We've been through a lot with this team," Warriors guard Klay Thompson said. "Believe it or not, it's not all success with the Warriors. We got our bumps throughout the season. But to get to this point again, we earned it."
And now it's time for one of these teams to earn a title.
Again.
---