Sports > Area sports
Idaho's Sophie Hausmann takes in U.S. Open experience
May 30, 2018 Updated Wed., May 30, 2018 at 5:11 p.m.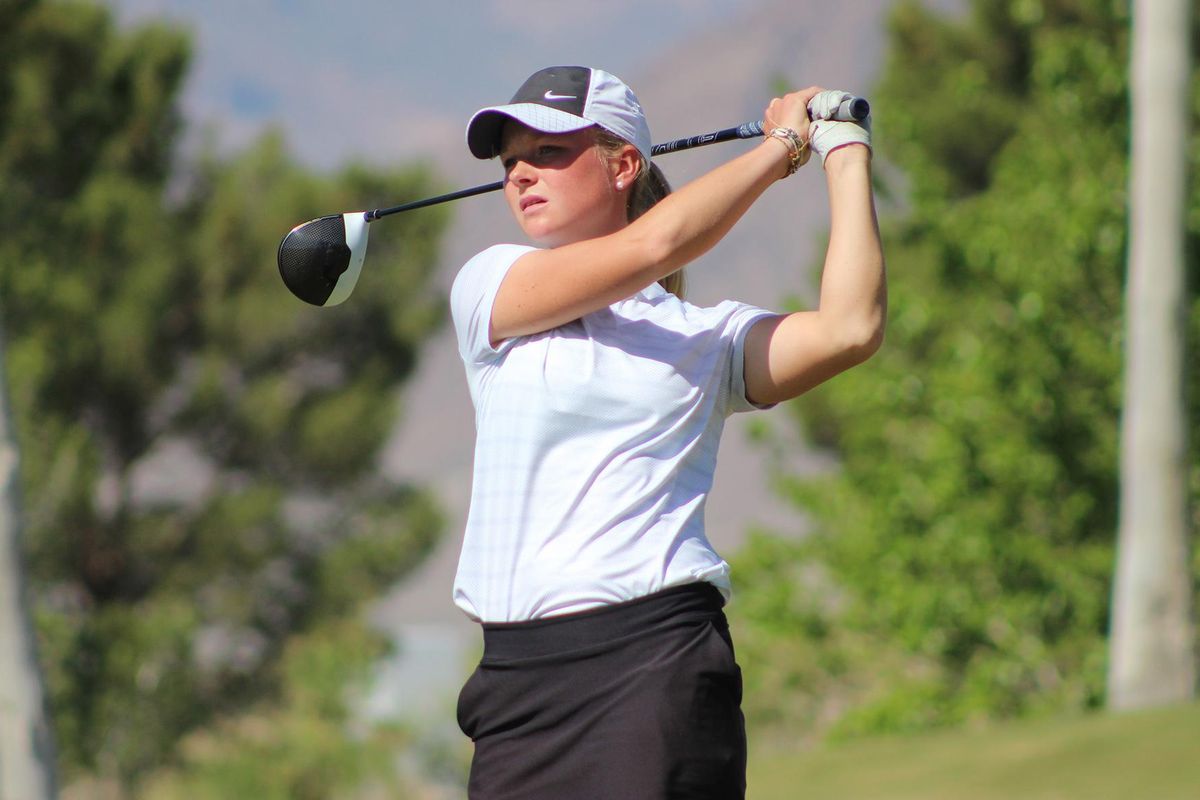 Idaho's Sophie Hausmann finishes a swing during her junior season. (BRYSON LESTER)
Sophie Hausmann has taken an economics exam, had a couple of entertaining elevator chats with LPGA Hall of Famer Juli Inkster and played nine practice holes with Brooke Henderson.
That just leaves a date with history when the University of Idaho rising senior tees it up Thursday morning in the U.S. Women's Open at rain-soaked Shoal Creek Country Club in Birmingham, Alabama.
"I'll definitely be nervous, but I tend to be nervous on the first tee," Hausmann said in a telephone interview. "I would say excited, too. I've really enjoyed it so far. A little girl came up to me to get an autograph with her mom and dad. She asked Brooke a couple of holes before so it took a while to get to me, which was OK and I understand."
With her first on-course autograph in the books, the German native can focus on becoming the first Vandal to play in the women's golf's biggest event. The last area collegian in the U.S. Open was believed to be Kim Welch, who competed in the 2006 tournament after graduating from Washington State in 2005.
Hausmann earned one of 59 sectional qualifier berths by taking second at the Seattle sectional in mid-May. Her father, Jens, caddied in Seattle, but those duties will be handled by UI coach Lisa Johnson at Shoal Creek. Jens had to return to work in Germany.
Hausmann, who has been in Alabama for about 10 days, played the course twice last week and again Sunday and Monday. The weather, including a visit from Tropical Storm Alberto, hasn't cooperated. The Birmingham area has endured 4.3 inches of rain since Sunday, prompting officials to close the course at times.
Shoal Creek's soggy fairways will make the 6,700-yard layout play longer.
"Definitely the driver is an important club because you really want to hit the fairways," said Hausmann, a two-time Big Sky Conference Tournament champion. "A lot of fairway bunkers are in driving distance and the rough is thick. With this weather, the rough is nasty. The par 5s are longer. There might be one or two I can reach, but the other two are definitely lay-up holes."
Hausmann, wearing her Vandals sweatshirt, ran into Inkster on the hotel elevator and they chatted about the lousy weather. Later, they crossed paths again.
"She asked where I was going and I told her I was taking an exam," Hausmann said. "She said, 'Oh fun, money and banking, at least you'll know how to handle money after that.' I asked her what she was doing and she said she was going to have a few beers at the bar. It was pretty fun."
Hausmann's goal is to make the cut and learn as much as she can from the best players in the world.
"With two good days of golf, I can do it," said Hausmann, No. 57 in the world amateur rankings. "But I also feel like, 'OK, you're playing in the U.S. Open, it's a major.' Just say it's a golf tournament, relax and enjoy it. Sometimes I do well with it and sometimes I catch myself and say, 'You don't have to hit every shot perfect.' "
Local journalism is essential.
Give directly to The Spokesman-Review's Northwest Passages community forums series -- which helps to offset the costs of several reporter and editor positions at the newspaper -- by using the easy options below. Gifts processed in this system are not tax deductible, but are predominately used to help meet the local financial requirements needed to receive national matching-grant funds.
Subscribe to the sports newsletter
Get the day's top sports headlines and breaking news delivered to your inbox by subscribing here.
---