News > Spokane
Tacoma's population growing faster than Spokane's; Spokane Valley nearing 100,000
Wed., May 30, 2018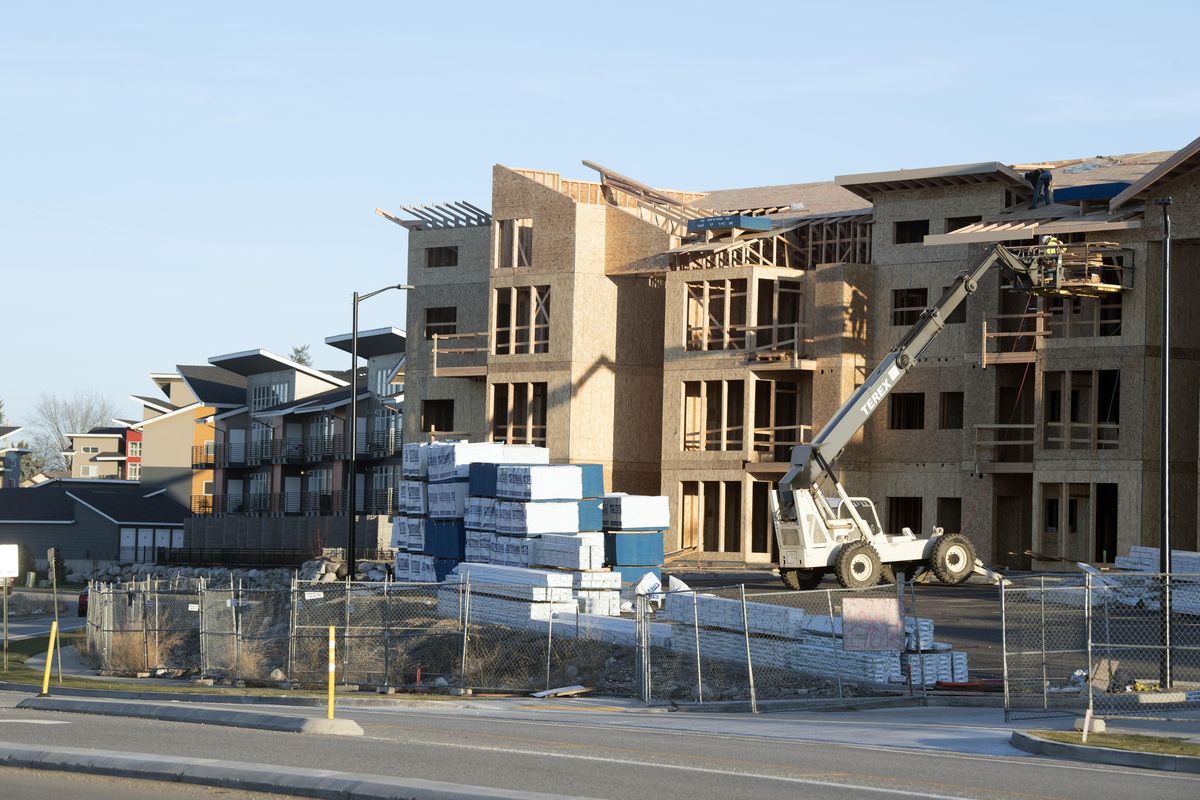 Thousands of apartment units had been built or were under construction along Indiana Parkway, east of the Spokane Valley Mall, in Spokane Valley, where developers were trying to satisfy the demand for rental housing. Even with such development, there is still upward pressure on rental rates around Spokane. Photographed Wednesday, Dec. 5, 2017. (Jesse Tinsley / The Spokesman-Review)
Spokane prides itself on being the second-largest city in Washington, but that might be a title the Lilac City loses in the next 10 years.
New U.S. census data shows Tacoma, the state's third-largest city, is catching up to Spokane's population. Although Spokane marked another year of growth, it slowed from the year prior, and Tacoma is growing at a faster pace than Spokane, according to population estimates released Thursday. Tacoma grew to 213,418 in 2017, a 1.48 percent increase, while Spokane grew to 217,108, a 0.93 percent increase. Within 10 years, if the rates continue on their paths, Tacoma will overtake Spokane.
Next door, Spokane Valley is growing quickly. It's on track to break the 100,000 mark, and is growing faster than Spokane. It posted a 2.1 percent growth spurt between 2016 and 2017, while Spokane grew 0.93 percent. If you look at the span from 2010 to 2017, Spokane Valley grew 8.68 percent and Spokane grew 3.64 percent.
"What really matters for population growth is having an economic reason for people to be here," said Grant Forsyth, chief economist at Avista Corp. He said the housing market's recovery and more employment opportunities are causing more people to move to Spokane.
Whether the population growth is good or bad, Forsyth said, depends on how well the city has planned for it, and everyone has his or her own opinion. Transportation and water usage are the issues he said might become bigger for Spokane.
"One of the things that I've really noticed is the increase in traffic that's occurred over the last decade or so," Forsyth said. "To some extent, things feel a little bit crowded."
But he points to Seattle, which had a 2.5 percent growth rate last year (the second highest in the nation) and asks if the issues like housing, transportation and homelessness are worth the growth rate and its economic benefits.
Patrick Jones, executive director of Eastern Washington University's Institute for Public Policy and Economic Analysis, said Spokane's population growth is closer to the "Goldilocks rate" that a city should aim for.
It's enough to improve the economy and add jobs, but not enough to strain the education, transportation, homelessness and other aspects of a city that come with large population changes.
Some of Seattle's population is moving to Tacoma because it's cheaper to live there while still being close to an urban area, Forsyth said. That accounts for much of Tacoma's population increase.
Last week's data also shows Spokane's growth rate slowed for the first time since 2012.
Jones said that when looking into population growth, one should ask, "Are we the same community that we were 10 years ago?"
A report last year from the Washington Office of Financial Management shows 69 percent of the Spokane County population increase since 2010 includes individuals age 65 or older.
Forsyth said he's not surprised by that because the baby-boom generation accounts for a large part of our population, and they're getting older.
Spokane is benefiting from boomer migration, he said. The city offers world-class health care and more affordable housing, and retirees from other cities and towns in Washington – and California – are coming here.
"We're already seeing the impacts of aging," Forsyth said, which stresses the health care system. The demand for health care jobs is growing fast, and "a lot of rural hospitals aren't doing well," he said. There's a nationwide shortage of nurses because baby-boomer nurses are retiring.
"Spokane's a lot better than most cases with 2 to 3 percent (growth) per year," Jones said. "I think we're going to manage that better."
As for Spokane's path of one day falling down the ranks to Washington's third-largest city, Forsyth said he doesn't see a problem.
"I don't really worry about it too much," he said. "The region already has its own identity that isn't tied to Tacoma's."
Local journalism is essential.
Give directly to The Spokesman-Review's Northwest Passages community forums series -- which helps to offset the costs of several reporter and editor positions at the newspaper -- by using the easy options below. Gifts processed in this system are not tax deductible, but are predominately used to help meet the local financial requirements needed to receive national matching-grant funds.
Subscribe now to get breaking news alerts in your email inbox
Get breaking news delivered to your inbox as it happens.
---