With 3.1 million insects and counting, WSU collection gets a boost from alumnus' estate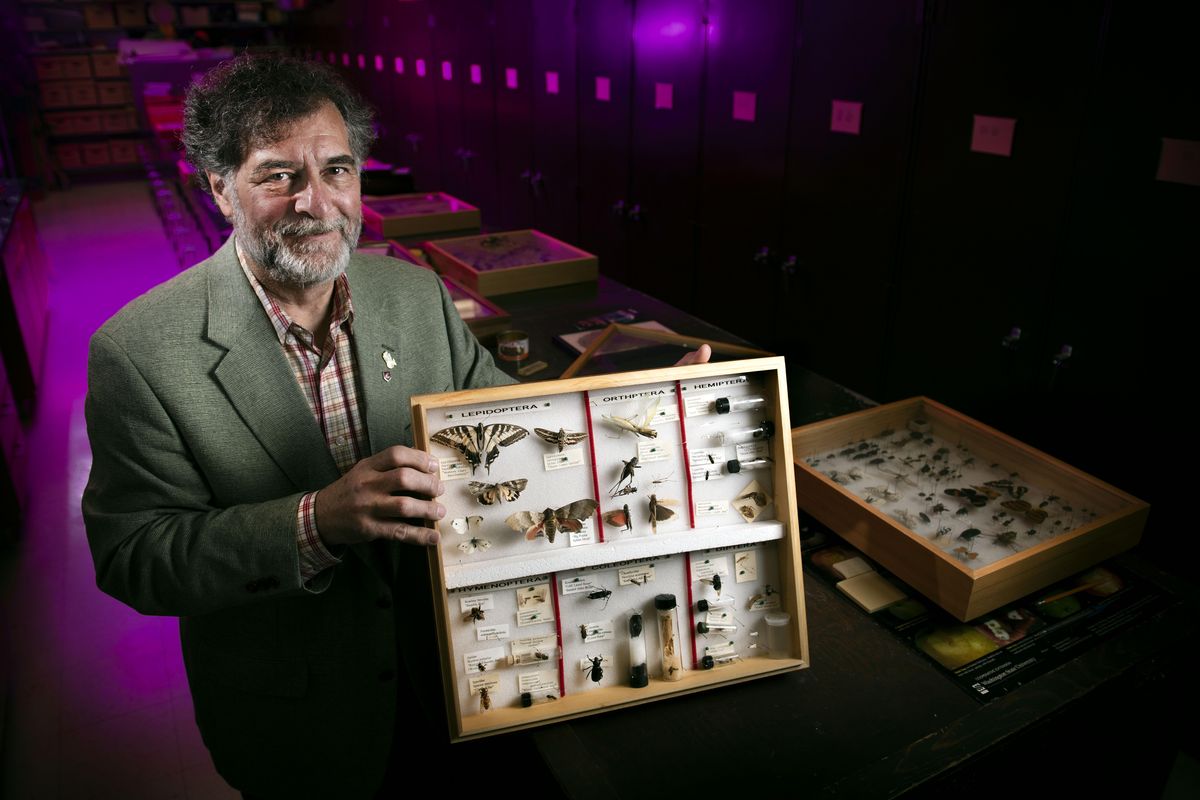 To be a farmer, a forester or even a climate scientist, it can help to know a thing or two about insects, like what they eat, where they thrive, which ones pollinate and which ones spread disease.
"I would argue that entomology is one of the most basic sciences that we need to understand," said Rich Zack, a longtime entomology professor and associate dean at Washington State University. "Insects are certainly the greatest competitors of humans for resources that humans want. In general, we think of insects as destroying about a third of what we grow, everything from cotton to apples to you-name-it to forests."
WSU's entomology program, which has about 15 faculty members spread across the state, recently received a $1.4 million gift from the estate of a Kennewick couple, James and Marilyn Hyde.
James Hyde, who died last year at 89, earned his entomology degree in 1951 from what was then Washington State College. He later pursued a career in nuclear engineering at the Hanford site near the Tri-Cities, but in retirement he rekindled his passion for insects through WSU's "master gardener" educational program, sharing specimens in Pullman, at county fairs and in schools.
The Hyde gift is the largest designated for WSU insect education and research, according to school officials. It will be used to create a fellowship program for entomology students, as well as a speaking series that will invite experts to campus to share advances in entomology research.
James Hyde also donated 600 specimens to be added to WSU's massive M.T. James Entomological Collection.
Named after a late professor who served as its curator in the 1950s and '60s, the collection has about 3.1 million specimens representing tens of thousands of species. Most are neatly pinned and stored in thousands of wooden drawers, with labels showing when and where they were collected and by whom.
Preserving the specimens requires no formaldehyde. Their insides rot, but their hard exoskeletons remain intact. Some are more than a century old.
"The collection itself goes back literally to the founding of the university," said Zack, the professor who has overseen the collection since he was a doctoral student in the early '80s.
"We have specimens, and there are references to an insect collection in some of the early university literature," he said. "It was probably a couple boxes of insects that they used to teach students about agricultural pests and good insects and stuff like that."
The collection is still used as a teaching tool, but it's also a library of sorts for bug experts who want to know about specific insect populations at specific times.
"Our strongest holdings are in Pacific Northwest insects" – mostly flies, moths and aquatic species – "so people around the world that are doing insect studies will rely on us for insects from our area," Zack said.
A few segments of the collection are more exotic. Some WSU researchers, for example, have spent years studying the insects of Micronesia. While giving a tour last week, Zack showed off a case of fat elephant beetles that he and some graduate students plucked from a rainforest in Guatemala, explaining how the males fight each other with their curved horns, the same way bucks clash with their antlers.
He and his colleagues are always on the lookout for new pests and invasive species, such as aphids that damage apple orchards, and they often hear from gardeners and farmers seeking to identify insects that turn up in their fields.
Along with researchers from several other institutions, WSU entomologists contribute to a website called Pacific Northwest Moths, which offers high-resolution photographs and detailed information about more than 1,200 species to make identifications easy. Some moths in the collection are as big around as a dinner plate.
Zack, who specializes in insect biodiversity, said his overarching goal is to understand how humans can better manage and coexist with the six-legged creatures.
"I spend a lot of time in the field just collecting insects, identifying those insects and trying to figure out what's out there," he said. "And entomology – that science which seems pretty low-tech – is literally still in its infancy. We probably only know one of every 10 insect species that exists, so we have a long way to go to figure out just what's out there."
---