A passion for politics: WV's Tajadin Mohammed finds craft in student government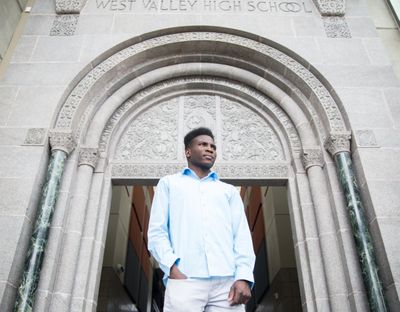 West Valley High School graduate, Tajadin "TJ" Mohammed, has spent very little time standing still. With a passion for advocacy and involvement, Mohammed has found his calling in student government at Spokane Community College.
Prior to finding his niche at SCC, Mohammed spent a greater part of his childhood as a refugee in Kenya, fleeing from his war-torn home of Sudan. In July 2010, Mohammed and his family immigrated to America and found their home in Spokane.
Mohammed attended Ferris High School before attending West Valley High School in his sophomore year, and then entered the Running Start program through SCC.
"He's second to none in his work ethic, he works harder than just about any kid I have," said West Valley's soccer coach Lenny Peterson "(He) never gives up (and is) always very, very respectful."
This work ethic is evident in the level of school activities Mohammed has been able to maintain.
"I just wanted to get involved on campus, and student government was the right thing to do," Mohammed said.
At SCC, Mohammed serves as the director of Legislative Affairs on SCC's student body government and is a member of the Washington Community and Technical College Student Association. He appears on the student conduct board and serves as an associate justice in the student judicial branch of student government. His involvement has led him to be chosen to speak at SCC graduation.
He has won the Spirit of the Community Award for his dedicated service to Mission Outreach, a program that helped him and his family when he first came to Spokane. Last summer, he logged over 200 hours of service for this organization.
"Ever since I came here I started volunteering with them, because that's the organization that has helped my family when we first settled here," he said. "They helped (us) with a lot of donations, cause we had nothing when we came here, so I wanted to help out as they helped me."
He was recognized with the President's Civic Leadership Award and was a finalist for the Governor's Students Serving Washington Award.
"It shows in his work ethic, he goes hard all the time, and you don't always get that," Peterson said.
Mohammed advocates for SCC students through a committee that he started and directed to challenge the food quality at SCC. He also advocates for higher education for undocumented students through WACTCSA.
Through all of this, what he describes as his legacy is a peer-to-peer mentorship program that he created in order to improve student success.
On top of all committees and boards he serves on, Mohammed also helped create a chapter of College Republicans at SCC and serves as the vice president.
Although Mohammed describes himself as moderately independent when it comes to politics, he helped create the chapter of College Republicans in order to create a "community of dialogue."
His passion for politics and advocacy is rooted in his goals to someday — maybe — go into politics himself.
"If you look at the national level (of government), they don't make a lot of difference, all the work happens in the state level and that's what I want to do," he said.
One of the many issues that Mohammed is passionate about is higher education. He says there has been funding cut to higher education programs in the state which poses a significant issue for schools like SCC and technical colleges.
Despite Mohammed's constant running from one committee to another, he finds time to run farther.
As long as he can remember Mohammed has been playing soccer with his seven siblings. He has always loved it and continues to play through the West Valley High School soccer program.
"You can always tell he's busy, especially in the last couple of years with different things," Peterson said. "(But) when he's there he's giving it his all, he absolutely loves it and is always trying to encourage his teammates."
Before possibly entering the world of politics, he hopes to serve his country through ROTC and then go into the FBI.
"It's been my dream ever since I got here," Mohammed said. "I just love it."
Mohammed, who will attend Washington State University in the fall with his associate's degree from SCC, plans to double major in political science and criminal justice while enrolled in military science courses.
Katie Kales is a Gonzaga University student.
---