Canoeing the Winchester Wasteway an easy escape in Eastern Washington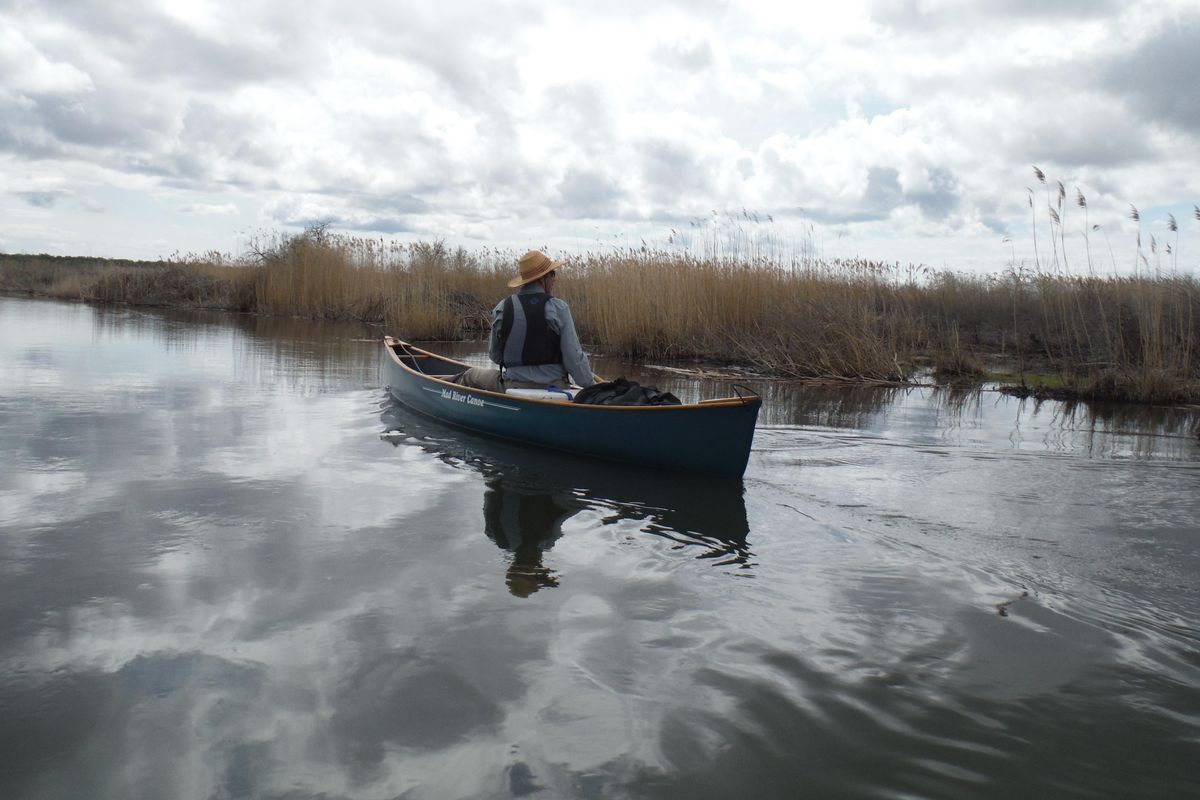 Though it's nobody's favorite canoe trip, a voyage down the Winchester Wasteway is an excellent choice for an easy overnight trip close to home. There's an interesting stream to explore, plenty of bird life and the deep solitude of wild country.
Some friends and I were there recently, weaving our way through a maze of cattails and other marsh plants, then camping beneath an almost perfectly full moon. The days weren't too hot, the night was pleasantly warm and the winds were largely absent.
In short, the conditions were almost perfect.
It was the first visit for two members of our party, both veteran paddlers, and they were enthralled by the area's simple charms. It wasn't the best canoe trip they'd done, but the convenience of the Wasteway – coupled with its surprising beauty – make it an ideal getaway for paddlers in search of close-to-home adventure.
The logistics are pretty simple.
The launch site is a large parking area on the east side of Dodson Road, roughly 12 miles west of Moses Lake. The location is 7 miles south of Interstate 90.
The road to the take-out is a little harder to find, about 5 miles west of the entrance to Potholes State Park. The nondescript gravel road, marked "C SE," leads 3 miles north to a flow gauge on the Winchester Wasteway. En route to the gauge, motorists cross a bridge over a larger stream, which is the Frenchman Hills Wasteway.
When we arrived at the put-in, there were a couple of Boy Scout troops poised to launch a flotilla of battered Coleman canoes. For the sake of acoustic sanity, my party of five scurried to load our three canoes and push off before the Scouts.
After a couple of hundred yards, the shrieks of youthful enthusiasm began to fade and we were immersed in Mother Nature's wide embrace. For hours on end, we neither saw nor heard any evidence of people.
The Winchester Wasteway flows through low, scrubby country where the banks are lined with cattails and an elegant but invasive species known as Phragmites. For most of its length, Russian olive trees and a few high, cut banks are the tallest things in sight.
It's a Wildlife Management Area administered by the state of Washington, and the bird life is remarkable. We were too late to see any sandhill cranes, for which the area is famous, but there was no shortage of ducks and Canada geese. We also spotted plenty of great blue herons and an occasional breathtakingly white egret.
In the still hours before dawn, the birdsong is profoundly beautiful and evocative.
At night, packs of coyotes prowl the landscape, their cacophony of howls a thrilling reminder that this is their turf.
Always restless, the Winchester Wasteway has evolved substantially in recent years. Near the put-in, the stream knits together a succession of small, pothole lakes, but change is continually afoot. As more sediment arrives from upstream farm fields, it settles out, allowing marsh grasses and sedges to take hold.
The upshot is that new vegetation is filling in what once were large expanses of open water. There are still plenty of flooded potholes to explore, but not as many as in years gone by.
Paddling the Winchester Wasteway is a tight, intimate experience, with more twists and turns than a dying snake. At times, the stream sifts itself through the reeds, creating more than one distinct channel.
At that point, it's time for a quick decision: left or right?
At one such juncture, my group chose "right" and we soon found ourselves in an ever-narrowing channel. It was about then when the sky began to darken and it started to rain.
Just when it looked like a waist-deep backtrack through the muck was inevitable, we broke into the main stream, the rain stopped and things suddenly weren't so grim.
From that point on, the trip was an absolute joy. The deep silence, the lack of anything man-made and the sheer isolation were the rewards for our perseverance.
There was time to enjoy the paddling, with its constant maneuvering, and there was also time to appreciate the fine details: a reed fluttering languidly in the current, an unseen critter splashing in the reeds nearby, the lack of biting insects.
Once again, the Winchester Wasteway isn't a great canoe trip. But it's a good one and, better still, it is pretty close to home.
That's its niche, but don't take someone else's word for it.
Go have a look for yourself.
---