Caps ready to roll in Stanley Cup Final if Evgeny Kuznetsov is out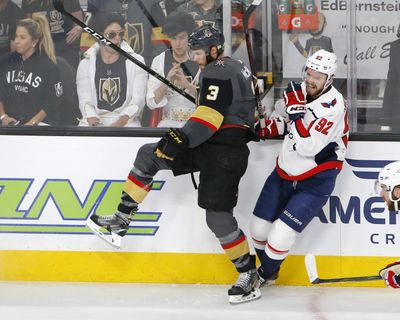 WASHINGTON – The sight of Evgeny Kuznetsov clutching his left arm and leaving the ice after a hit from Brayden McNabb isn't as big a threat to the Washington Capitals' title hopes as it might seem.
Not after the Capitals withstood three games without Nicklas Backstrom. Not after they missed Kuznetsov for most of Game 2 of the Stanley Cup Final and still beat the Vegas Golden Knights to tie the series.
They'd love to have their leading scorer in the lineup Saturday night in Washington, but with superstar captain Alex Ovechkin and several top players producing and filling the void, the Capitals are built to handle life without Kuznetsov if it comes to that.
"We've had some guys been out here and there these playoffs," Backstrom said. "It's hard to replace Kuznetsov the way he's been playing, but if that's the case it is what it is and we just have to have other guys step up."
Coach Barry Trotz provided no update on Kuznetsov on Thursday other than to say the Russian center is day to day. The team practices again Friday.
It didn't look good for Kuznetsov when he went down the tunnel in the first period Wednesday night and didn't return. But Ovechkin scored his first career Stanley Cup Final goal on the power play, and Lars Eller, bumped up the lineup to fill in for Kuznetsov, had a goal and two assists.
No one player can make up for the potential loss of Kuznetsov, who has 11 goals and 14 assists in 21 playoff games, though Washington's depth down the middle looks solid with Backstrom, Eller, Jay Beagle and, if need be, Chandler Stephenson. Eller played a key role in two big victories against Tampa Bay in the Eastern Conference final without Backstrom, and will again be one of the most important players on the ice if Kuznetsov isn't healthy.
"Nick has gone out or Kuzy has been out, Lars has elevated his game and comes up in a more prominent role," Trotz said. "I think he embraces the challenge. He takes the moments very seriously that he has to step up and try to find a way to produce, and he has. He's a veteran player who has good hockey sense, and he's strong on the puck, and I think his game translates well in the playoffs."
It doesn't hurt that the Capitals can lean on Ovechkin in times of need, and they have received strong performances from top-six wingers Tom Wilson, T.J. Oshie and Jakub Vrana and defenseman John Carlson.
It's the kind of production Vegas is looking for from its top line of Jonathan Marchessault, William Karlsson and Reilly Smith. Going on the road means coach Gerard Gallant can't pick matchups, so he's counting on his best players to play like it.
"I don't care who they play against," Gallant said. "We're going to play well and work hard and compete hard. (Wednesday) night they didn't have the offensive outburst they usually have. You're not going to be at your best every night. I expect them to be really good for us like they have all season long."
Gallant tipped his hat to the Capitals, saying they deserved to win Game 2 based on how they performed after losing Kuznetsov. It would be more difficult to sustain that effort and adrenaline for an entire game without him, though it's a test they passed without Backstrom earlier in the playoffs.
"It'll be a big loss, but as you saw in the Pittsburgh series when Nick went down, sometimes that kind of energizes some other guys to get in there and be able to make some plays," Oshie said. "So we'll roll with the punches."
Rolling with the punches has become somewhat of the Capitals' identity this season and into the playoffs. They got some more in the form of a ground stop at the airport after they landed on Thursday as lightning kept them from getting off the plane.
Trotz considers it just another roadblock for his team to get over.
"Our guys are fine," he said. "It's another layer of adversity that we have to go through all the time."
---