Former national team forward Tiffeny Milbrett gets Hall of Fame nod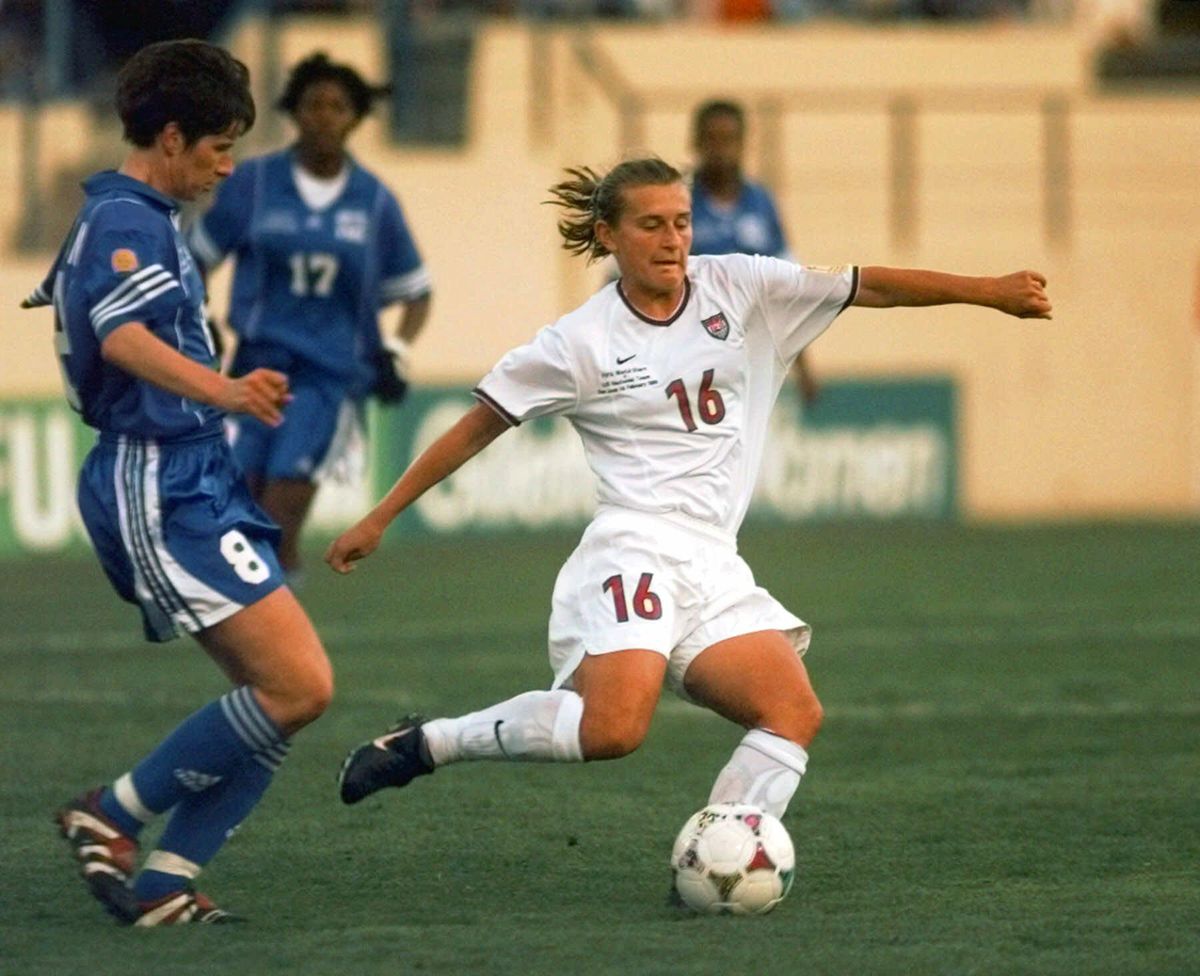 PORTLAND, Ore. – The look on Tiffeny Milbrett's face said it all. She was genuinely surprised when former U.S. teammate Brandi Chastain unexpectedly appeared at a family gathering in Portland and handed her a small box inscribed "National Soccer Hall of Fame."
In it was a commemorative coin with Milbrett's name on it – and her perplexed expression turned into a broad smile.
"The honor is all mine, just being able to be part of such an amazing group. We pushed the boundaries, we pushed the sport for women and obviously I pushed myself to be the best I could be, surrounded by all those players who were doing just the same. So the honor is all mine," Milbrett said.
Milbrett was one of five Hall of Fame inductees announced Thursday, which began with Major League Soccer Commissioner Don Garber getting a similar box delivered during a morning meeting in New York City.
Milbrett and Garber were joined by former U.S. goalkeeper Brad Friedel, midfielder Cindy Parlow Cone and former U.S. Soccer President Bob Contiguglia.
Garber was originally elected in 2016 but put off induction so he could be enshrined in an MLS stadium. The ceremony is set for Oct. 20 at the new U.S. Hall of Fame at Toyota Stadium in Frisco, Texas.
"The induction ceremony will be a moment to look back on the incredible progress the game has made in the United States and also see many of the talented and generous people I've had the privilege to work with during my career in soccer," Garber said.
Garber was named commissioner of the domestic professional league in 1999. Since then, MLS has more than doubled in size. He is also CEO of Soccer United Marketing, the exclusive marketing partner of U.S. Soccer, and a member of the U.S. Soccer Federation board of directors.
Garber announced on Tuesday that Cincinnati would be the home of the league's 26th team, two shy of its ultimate goal. MLS began as a 10-team league in 1996.
Milbrett played for the national team from 1991 to 2006, amassing 100 goals in 206 appearances. She played in three World Cups and two Olympics and was known for her clutch plays in big games.
She was vital to the team that won the 1999 World Cup and scored the game-winning goal in the gold-medal match against China at the 1996 Olympics.
Her 100th international goal came in an exhibition game against Ukraine on the same field she called home while at the University of Portland.
Chastain told her: "You've been unapologetically Tiffeny Milbrett your whole career, and I think because of that you are a gift, and you are a soccer legend in this country."
Milbrett's eyes welled up with tears at times when she spoke to those gathered.
"The only thing I ever wanted to do from as young as I can remember is be at the top level that I could," she said.
Former U.S. teammate Tab Ramos told Friedel that he had been selected at a surprise ceremony in Foxborough, Massachusetts.
Friedel made 82 appearances for the United States over 13 years and was on the national team's roster for three World Cups, starting for the American team that advanced to the quarterfinals in 2002.
His club career was highlighted by 17 Premier League seasons, including stints with Blackburn, Liverpool, Aston Villa and Tottenham.
He was hired as coach of the New England Revolution in November. Friedel also served as coach of the U.S. under-19 national team and was a Fox analyst.
Cone scored 75 goals over an 11-year career with the U.S. women's national team. She was on American teams that won the 1999 World Cup and a pair of Olympic gold medals. She remains the youngest American player – male or female – to win both a World Cup title and Olympic gold.
Former national team coach and North Carolina coach Anson Dorrance broke the news to Cone in Raleigh, where she is a youth coach.
Cone was a two-time NCAA Player of the Year at North Carolina. Following her long career with the national team, she went on to coach as an assistant for the Tar Heels and later with the Portland Thorns, who won the inaugural National Women's Soccer League title in 2013.
Contiguglia, a doctor now living in Denver, led the USSF from 1998 to 2006. During his tenure, the U.S. women's national team won a World Cup and an Olympic gold medal.
Before that, Contiguglia served as president of U.S. Youth Soccer for six years.
Contiguglia was informed of his selection while at a technology and design meeting for the National Soccer Hall of Fame.
---