Formerly homeless Spokane native honored as 'smile maker' for work giving back to community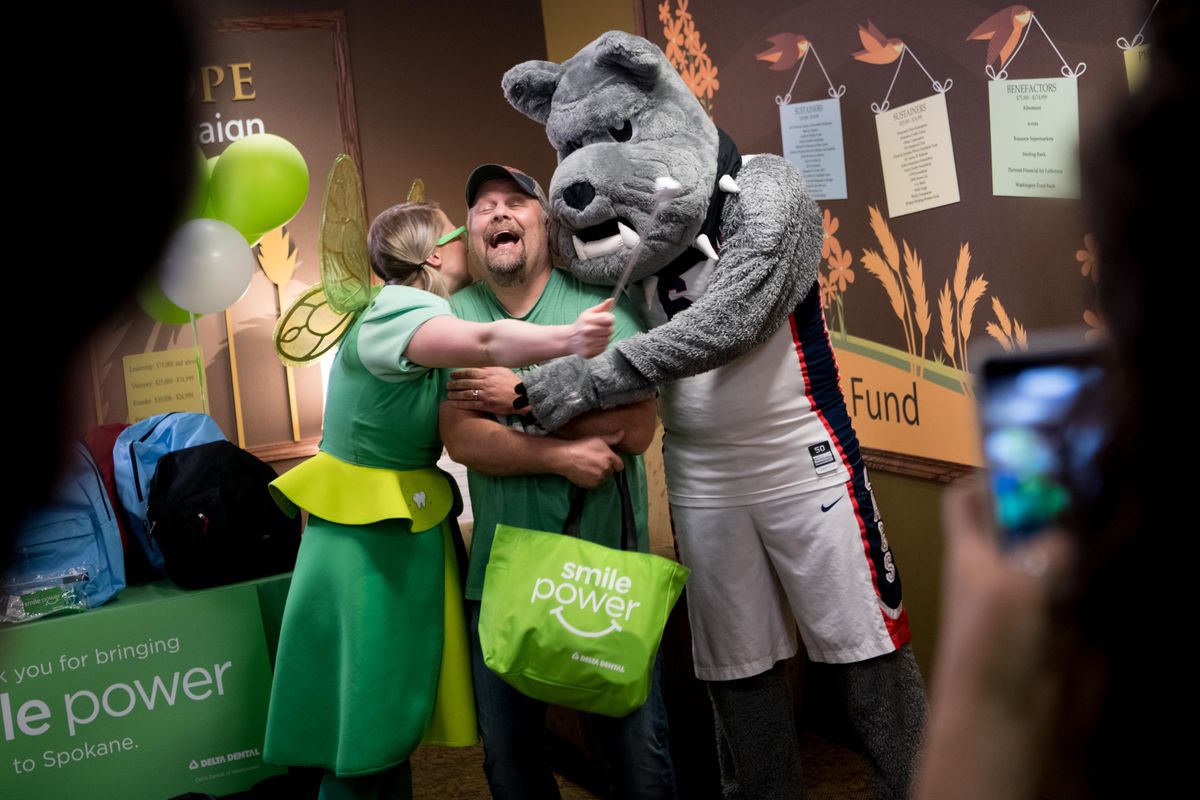 On Thursday morning, community organizer and Gonzaga student Rick Clark celebrated his birthday by showing up for a volunteer shift at Second Harvest food bank.
He was greeted by a team of family and friends recognizing him for his volunteer outreach as part of Delta Dental of Washington's "Smile Power tour" honoring individuals and organizations who give back.
"He has this love for his community, it's just his nature," said his wife Virginia Clark. "He wants to see a person struggling win."
Later in the day, the family would be holding a communitywide birthday party with a $5 entrance fee for donations to the Hope House, where Virginia works and Clark's sister had previously stayed.
Volunteering in his community comes naturally to Clark, Virginia said. He wants people to know that somebody cares.
The Spokane native began his outreach in 2015, when he decided to stop on his way to sign up for college classes, and talk to a homeless man whose backpack had been stolen the night before.
Clark, who has been homeless himself, bought his new friend lunch and promised a replacement backpack if the man could meet him the next day.
"I went on Facebook (to ask for help), and within 24 hours we had collected 25 backpacks," he said.
That initial act inspired Clark to start the "Giving Backpacks" program, which helps homeless communities by filling backpacks with toiletries and other supplies for those in need.
Since starting the program, Clark has used connections through social media to fill over 21,000 backpacks. But he still insists that he isn't responsible for that achievement.
"My community is great," he said. "I'm just the middleman."
At the recognition Thursday, Clark was gifted a stack of backpacks and supplies from Delta Dental to contribute to the program. He also received a GU gift basket and basketball tickets from Spike, the Gonzaga mascot.
The university has a special meaning to him, Clark said. Giving Backpacks helped Clark win a scholarship to Gonzaga, where he studies communications.
"In my acceptance letter they told me, 'We've been waiting for you,' " Clark said. "That meant a lot to me. That meant that I'm home."
A high school dropout, Clark is a first-generation college student and plans to graduate next year. His wife and children are also going to college.
"Meeting with that one man changed my entire life," he said. "To break that cycle in such a short amount of time floors me."
Clark's outreach also extends beyond work with the homeless to anyone who needs help, Virginia said. He's regularly rallied community support for families or individuals in need and works with the same food banks he went to growing up in Spokane.
"We're making a difference in the town that I was born in," he said. "This is my city, and I'm not going to go out the way I came in."
Friend Chris Morse said he met Clark through his outreach on Morse's charitable Facebook group, "Man the Family Up."
The page, which had roughly 6,000 members when Rick joined, now has about 56,000.
"Rick has become the leader that gets things done in the community," Morse said. "He is constantly using social media to make an impact and to try to do good things for other people."
Clark said giving back is where he finds meaning.
"I have no doubt what this life is meant to be, whereas before I had so many questions," he said. "I've got it worked out, and it's helping other people."
---