Grip on Sports: There were chances yesterday, chances that were missed by that much A GRIP ON SPORTS • If you are looking for a theme for Wednesday just past, other than the usual hump-day stuff, then "missed it by that much" might fit. Read on.
••••••••••
• The Mariners had a chance to move into a tie for the American League West lead. James Paxton, their best starter, was on the mound. And they missed it by that much. They lost, 7-6, when neither Paxton nor the bullpen was sharp, efficient or effective.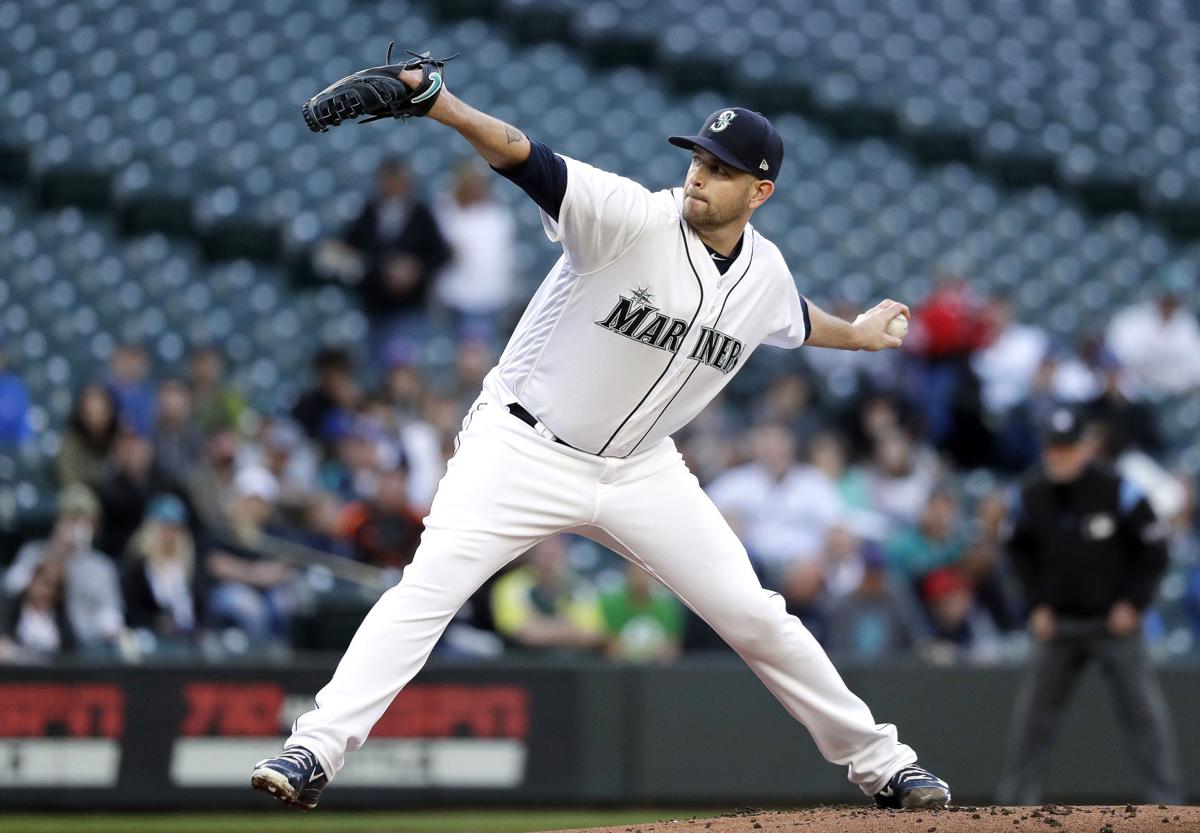 Seattle recent run – it was as many as 13 games over .500 just a couple days ago – was despite a lineup that's been gutted by injuries and one big old suspension. The pitching had stepped up and made runs less important.
But the past two days Felix Hernandez and Paxton, along with assorted members of the bullpen, haven't held up their part of the bargain against the Rangers.
So an end-of-May opportunity was lost. Image if the M's had won the past two nights. They would be in first place, and could be there as June begins. Talk about your feel good story of the year.
Oh well, it may still happen. The Astros host Boston today and if they lose, the M's will have another shot. Beat the Rangers and Seattle would be percentage points ahead in the West. 
Wouldn't that be something? 
By the way, I turned on the M's game last night in the seventh inning. The first seven batters I saw hit for both teams all struck out. Seven. Nothing was put into play. Now that's boring. Boring enough, actually, to entice this lifelong baseball fan to look for a movie to watch. 
• The Cougars' Robert Franks thought he was ready to begin playing basketball professionally, but he found out over the last month those who sign the paychecks didn't agree. So when he missed the NBA combine by that much, he announced yesterday he was headed back to Pullman for his senior year.
Of course Franks wasn't alone. All over the country players who seemed determined a month ago to begin their professional careers found out there are only so many spots and their chances of grabbing one were less than they hoped.
With an evaluation in hand, they headed back to school. Or, in the case of Stanford's Reid Travis, they headed back to school to pick up a valuable diploma and then headed out the door to a new school, quite possibly Kentucky. That's a win/win for the player but a loss for the Pac-12.
Franks didn't have that option. So he'll be back in Pullman next year, quite possibly wearing a nametag or something. There are so many new faces around Beasley, it might help shorten the introduction time.
• In the exception that proves the column theme, or something like that, University of Idaho golfer Sophie Hausmann will play in this week's U.S. Women's Open. She made it by that much. 
Even in the steamy confines of Alabama's Shoal Creek Country Club, Hausmann should have the time of her life. Making a major, any golf major, is a highlight that can last a lifetime. Or become just the first step in a lifetime of professional golf. Either way, for Hausmann, who will be a senior next year, has made it this week.
•••
WSU: The Franks story is one of two Theo Lawson covers this morning. The other concerns starting center Fred Mauigoa, whose abilities anchoring the Cougar offensive line have earned him a nomination for the Rimington Trophy, given to the nation's top center. … Washington State athletic director Pat Chun will talk with the media this afternoon concerning the department's on-going budget deficit. The school announced this morning a plan to balance the budget by 2023, when the total deficit will have reached more than $85 million. … Elsewhere in the Pac-12, yesterday was the day players had to announce whether they were staying in the NBA Draft or returning to school. Washington and UCLA received good news. Stanford didn't. … Jon Wilner has another interview with a Pac-12 Networks honcho. … The Luke Heimlich case at Oregon State has sparked reflective thought in a lot of quarters. … Washington's track coach left after some players complained about his coaching style. … Colorado is looking to do some more building.
Gonzaga: The Zags begin their NCAA baseball journey tomorrow in Minnesota. Justin Reed talked with one of GU's best hitters, Jake Vieth, who also sports the team's best beard. … BYU coach Dave Rose is still battling cancer, just in a different way. He's beat the disease himself, now he's raising money to help others do the same.
Idaho: Our Jim Meehan has the story of Hausmann's major adventure.
Chiefs: Two Spokane players have been invited to the NHL's draft combine.
Preps: Before we say goodbye to the prep sports season, we have to pass along the spring sports all-league teams. … Dave Nichols was at the Jack Blair basketball game last night and has a story on Metro's win. … He also spoke with Larry Weir yesterday as part of the Press Box pod.
Mariners: Yes, the M's lost. It wasn't pretty. But want to know something interesting? The front office has more interns than Google. And they play a crucial role. … Gordon Beckham hopes to stay in the bigs awhile. … Felix Hernandez is still trying to figure out how to improve.
Seahawks: Brandon Marshall is in the fold. The veteran receiver knows why only Seattle would take a chance on him. … Not at the OTAs is Earl Thomas. They are voluntary.
•••        
• It wasn't all that long ago when a 65-degree day was longed for and was considered the height of heat. It will be 65 degrees today. And it seems downright chilly. It's all relative, right? And a big thanks to Max Smart for today's column theme. "Missed it by that much" is my second-favorite Smartism. Until later … 
---