MEAD Alternative senior triumphs over trauma, health crisis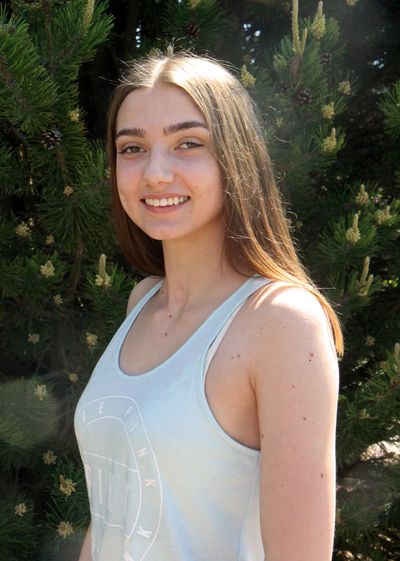 When MEAD Alternative High School teacher Karina Berven first met Marina Brownlee, the student was at least a full academic year behind her peers.
"She had a feeding tube, and she looked like she couldn't possibly lose any more weight," Berven recalled.
Flash forward two years. Brownlee no longer needs a feeding tube and Berven said, "She's graduating sooner than any of us expected. Her hair has grown back. She sparkles!"
Her "sparkle" is a testament to her resilience and triumph in the face of heart-rending trauma.
"A family member raped me when I was 15," Brownlee said. "I kept it a secret."
However, she said the same person assaulted her sister, and her sister spoke out.
Their hopes for resolution and justice were soon shattered.
"He jumped off the Monroe Street Bridge before he went to trial," Brownlee said. "I really blamed myself. His wife calls me a home-wrecker."
Through tears she spoke of her struggle to keep up at school.
"I kept pushing," she said.
And then she got sick. Really sick. She couldn't keep food down, vomiting constantly. Doctors suspected anorexia, but Brownlee knew that wasn't it. She wanted to eat, but her body rejected food. Severely malnourished, she was admitted to the hospital.
"They put me in the anorexic ward and watched me eat. It was so demeaning," she recalled. "I lost my hair."
Finally she was diagnosed with gastroparesis, a condition that affects the normal spontaneous movement of the muscles in the stomach. Gastroparesis can interfere with digestion, causing nausea and vomiting, and causing problems with blood sugar levels and nutrition.
Despite the fact that she missed so much school, Brownlee was determined to graduate.
"I didn't want a GED," she said. "I wanted my diploma. I needed to finish."
Though the task was daunting, Berven believed in her student.
"She loves to read, so we started there," Berven said. "She loves to read about powerful, strong women who've taken control of their lives."
And Brownlee has emulated them.
She moved into her own place, and learned how to live with gastroparesis.
"MEAD helped me with my pace. They worked with me every step of the way. Graduating is a huge accomplishment. It feels unreal," said Brownlee.
Her struggles have made her acutely empathetic to others.
"Invisible illness – invisible trauma can happen to anyone," she said.
To victims of sexual abuse her message is emphatic.
"No matter what the outcome, it wasn't your fault, it wasn't your fault," she said. "Tell someone you can confide in – a counselor or an older friend. Speak up."
She hopes to become a registered nurse and work with people who have gastrointestinal illnesses.
Her teacher can see that happening.
"She has a capacity to help others, especially those with digestive disorders," Berven said. "She has such wise kindness. There's a presence about her."
Full-time college and employment may be a long way off. Brownlee still tires easily, but she's going to take online classes through Spokane Falls Community College.
"It's really remarkable that she's doing as well as she is," Berven said. "You'd never know what she's been through."
When Brownlee reflected on the past few years, she choked up. Her eyes filled.
"I wouldn't change any of it," she said. "I'm really proud considering the circumstances. They've strengthened me. They haven't made me bitter. They haven't tarnished my soul."
---