Mead senior Azizullah Moltafet is going places, counselor says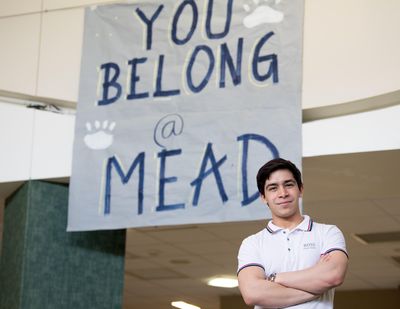 When Azizullah Moltafet arrived in the United States in 2012 via Afghanistan, Russia and several countries in between, he didn't speak a word of English.
Neither did his mother and three younger brothers.
"It was really scary," he recalled. "We had no family – no friends. We didn't know if we would have a home or food on the table."
Immigrating to America was his mother's dream. A single mom, she wanted to raise her sons as far from war and hunger as she could get, and she wanted them to enjoy all the educational opportunities available here.
"My mom was once a physics teacher. She's wicked smart," said Moltafet, sounding just like a typical American teen.
But his journey hasn't been typical. Not at all.
"I learned English by talking to people and pushing myself," he said. "My younger brothers learned it faster than me."
He'd spent most of his life in Russia, and was amazed by the cultural differences between Russia and his new home.
"In Spokane everyone was very welcoming and kind. We experienced racism in Moscow."
It was only the people who were different.
In Russia they lived in a crowded apartment complex with no privacy.
"I had never seen a house in my life till I got here," Moltafet said. "Now it is my American dream to buy a house for my family."
Adam Strate, counselor at Mead High School, believes Moltafet's dreams are within his grasp.
"He's challenged himself from day one," said Strate. "He has a drive beyond any kid I've worked with."
That drive has been instrumental in helping him excel at school while caring for his family – especially when his mother was diagnosed with breast cancer.
"I had to take charge of the home," he said.
He also had to accompany her to all of her doctor appointments, so he could serve as translator.
Getting a job was paramount. Moltafet is a swim instructor and lifeguard at the YMCA.
"He's the sole breadwinner for his family," said Strate. "His day starts at 5:30 a.m. and ends around 8:30 p.m."
The teen laughed when talking about the job he loves.
"When we came to America, I'd never been to a pool or a lake!"
He was given a pass to the Y and took swimming lessons, progressing all the way through to lifeguard training.
"I love my co-workers and the environment," he said.
Moltafet, a Running Start student, plans to study engineering at Whitworth University.
"I want to be an electrical engineer," he said. "I like to build stuff and fix stuff. I fix my car myself – every little thing that goes wrong, I fix it."
He smiles when picturing his future.
"I see myself sitting in an engineer's chair – maybe opening a small business – my mom healthy."
Strate has no doubt his student will achieve anything he sets his mind on.
"He's going places," Strate said. "He wants to provide a good life for his mom."
Moltafet's gratitude for the opportunities he's received is readily apparent.
"I have food, an apartment, work, friends – people who accept me for who I am," he said. "I appreciate every second here."
---