News > Spokane
Medical Lake Alternative's Barry Martin credits the school for helping turn his life around
Thu., May 31, 2018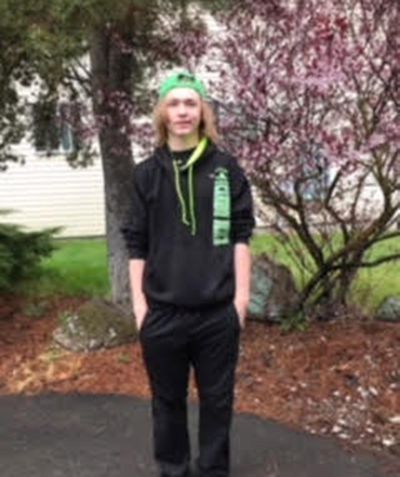 Barry Martin credits Medical Lake Alternative High School with helping him turn a corner on his life.
"I used to be a troubled student," he said, but ended up being a favorite of the staff by proving himself.
The alternative school format gave him the flexibility to work at his own pace. It was a better fit for him than the regular high school.
Martin, 18, a senior, is due to graduate this spring.
That wasn't a given several years ago when school trouble involving Martin played itself out, he said.
He is not afraid to own up to the problems.
"I used to get into a lot of fights," he said. If he was harassed by other male students, "I automatically started pushing back. It was more of a defensive mechanism."
They purposely antagonized him, and the incidents landed him in the office, he said, "where you pretty much go in and sit down and shut up."
Martin said he had been diagnosed with oppositional defiant disorder along with obsessive compulsive disorder. He has problems concentrating, he said. He was in a spiral of detention and in-house suspension.
He said the health problems had previously led to medications.
"I got skinny, couldn't eat anything," he said.
With the support of his father, Barry Martin Sr., he started going to counseling and quit the pills.
He and his dad made the choice of the alternative school in 2014.
"In regular high school, I wasn't free to be me," he said. Alternative high school opened everything up.
His grades improved. He got a 4.0 last year and is on track to earn a 3.3 GPA this year.
The soon-to-be-graduate said he was born in Portland and moved with his family to Medical Lake around 2004. He has a brother and three sisters. His mother is Nita Gallagher.
He said he is open to going to college, but he also wants to get a job and start working. His interests are in forestry, mechanics and space exploration. He said he's had a bunch of jobs even as a student. "I am very willing to work," he said. He has been mowing lawns for money.
At the school, Lyra McGirk, the school director, described him as "a great kid. He is on it." She said something clicked for him. He doesn't put off schoolwork, a common trait in high school. McGirk said. "He is not a procrastinator. … He is so respectful."
Local journalism is essential.
Give directly to The Spokesman-Review's Northwest Passages community forums series -- which helps to offset the costs of several reporter and editor positions at the newspaper -- by using the easy options below. Gifts processed in this system are not tax deductible, but are predominately used to help meet the local financial requirements needed to receive national matching-grant funds.
Subscribe to the Coronavirus newsletter
Get the day's latest Coronavirus news delivered to your inbox by subscribing to our newsletter.
---