NWC standout exemplifies qualities of servant leader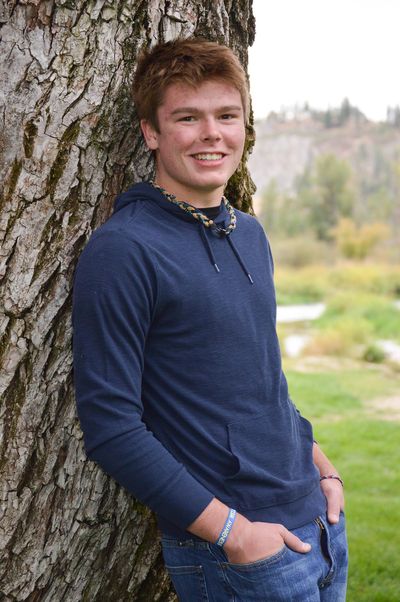 Brett McKenzie could easily be considered "that guy."
Associated Student Body president, baseball left fielder and football quarterback, the senior has all the standing to be cocky and self-centered.
What he is, instead, is the exact opposite.
"He's a really quality young man," said Dan Ferguson, who teaches McKenzie in Bible class and coaches him in both baseball and football. "He's really more concerned with others than himself."
The son of a lieutenant colonel, McKenzie bounced around seven places before landing in Spokane five years ago, when he was in seventh grade.
Shortly thereafter, he found his true home at Northwest Christian High School.
After starting at Mountainside and deciding it wasn't a good fit, he transferred and settled right in at the small Christian school.
McKenzie found a place where he could grow into his true self, while serving others and God, he said.
"Once I got to Northwest Christian I really became me again, and I got to open myself up and experience all the things a middle and high schooler should be experiencing," he said. "I'm really thankful to Northwest Christian for that."
McKenzie strives to combine his love for athletics with his love for his faith.
He does this by serving others tirelessly through his leadership positions.
"I really see him bring his faith into athletics in many ways," Ferguson said. "It's not about him, it's about the team, it's about honoring God in the way he plays."
McKenzie also makes it a point to encourage others and validate everyone's worth.
"You don't have to please God, because He's already pleased with us, and I try to remind everyone of that," he said.
As ASB president, McKenzie stands in front of the student body each week during chapel to give announcements.
"I used to look up to those people, so getting to be that example for freshmen is really awesome," he said. "I just want them to know they can come to me if they need to."
The senior credits his leadership skills to his father who, though deployed for chunks of time throughout McKenzie's childhood, taught him the importance of servant leadership.
"He instilled in me from a young age that it doesn't have to be the person that's vocal, it's just the guy that leads by example, the guy that after practice goes and picks up all the water bottles, it's that servant leader," he said.
Ferguson also credited McKenzie with exemplifying that servant leadership mentality.
"He leads by example – after practice or games sometimes there's field work, and he's always the first person to grab a rake, or he'll do things without being told," Ferguson said.
After graduation, McKenzie will take off for Phoenix to attend Grand Canyon University, where he will study pre-physical therapy. He'll play club baseball and hopes to continue his service at Grand Canyon.
McKenzie decided on physical therapy because he sees it as a way to serve others, as well as a way to touch others' lives in a positive way.
Morgan Scheerer is a student at Gonzaga Univeristy.
---