Spain's Soto finds second home at Genesis Prep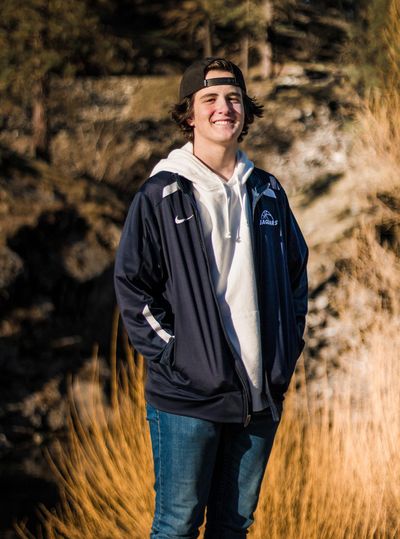 Most foreign exchange student programs last one school year. Jorge Soto, who hails from Spain, loved his experience in North Idaho so much, he worked to extend it.
"It was a process to make it happen," Soto said. "I just had a bunch of good times here. My English was good but I wanted to improve it even more."
His parents always told him learning English was important for career opportunities anywhere in the world.
"In Spain you have to take some English right away, like in kindergarten, so you know a little," Soto said. "But in the beginning (in the U.S.) it was hard … they speak it differently, and it's a lot faster. You're just not used to it."
Rather than target a specific state to visit, Soto's exchange program worked to set him up with a family and school situation that best matched his interests. His host family in Idaho included Luke, who is the same age as Soto, and the family had shared hobbies.
"I would go skiing all the time in Spain, so I thought if I could ski here that would be great. And the family I found ski mostly every weekend," Soto said.
One benefit he didn't expect – living in a slightly more rural environment.
"At home I was living in more like a city area, like Spokane, but the neighborhoods are different here," Soto said. "The houses look very cool, and I like to watch the kids playing basketball outside in their driveways."
The school, Genesis Prep Christian Academy in Post Falls, also turned out to be the right fit, especially with its much-smaller class sizes. The school has an international program focused on easing student transition and helping students understand American culture within a Christian context.
"In high school in Spain, we had 30 to 60 kids per class," Soto said. "At this school I feel more like a family. We all have relationships with each other. It's more close-knit."
Soto said the structure of the school day at Genesis Prep meshed better with how he likes to learn.
"We study a lot there; we will have 12 subjects a year, and here you have five or six," Soto said. "I feel like you study them less here, but you learn more. When I go to class here I actually learn something."
Soto's love of video and digital arts has blossomed at Genesis Prep. He's enjoyed graphic design classes and video production, even volunteering his skills to help the school by making videos and designing flyers for fundraisers.
Those production skills have also improved the ski videos he likes to make on the weekends. He hopes to pursue some form of digital media at a to-be-determined college back in Spain, but returning home this summer will be bittersweet.
"I feel like I've made really good relationships," he said. "I've made good relationships with the teachers … in classes I'm not one of the troublemakers, and I'm always trying to help them."
His host family, however, won't be without a Soto for long.
"I have a little sister who is actually coming here next year," Soto said. "I already know the family, and they wanted her to come, so it makes it easier for her."
---