News > Spokane
Valley Christian senior Jacob Allen 'the one that's willing to jump in and help'
Thu., May 31, 2018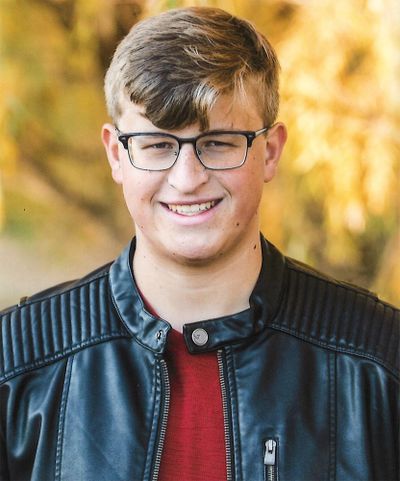 Jacob Allen isn't a valedictorian.
For whatever reason, he wasn't wired that way. He has had struggles learning. But one thing that others treasure about the Valley Christian School senior is his servant's heart.
"For him, he's that kid you don't notice, but he's that kid where things get done or he's the one that's willing to jump in and help and do the unappreciated things," said his father, Steve Allen.
Jacob Allen was in public school through eighth grade. But he moved to Valley Christian for high school for two reasons: "The smaller class sizes and the community," Jacob said. "I didn't feel like I was connected in public school. I wanted a better environment."
Allen will graduate with a 2.75 grade-point average. But he's particularly proud of the 3.27 GPA he earned last semester.
"I really have to work hard at school, always have to make sure I do my homework and get extra help," he said.
His diligence isn't lost on student counselor Wendy Staudenraus.
"He continuously strives to do his personal best in everything," Staudenraus said. "He has character traits that set him apart from many of his peers. He is kind, caring, loyal, honorable, trustworthy, reliable, punctual, persistent, positive and generous to name a few."
Steve Allen, who has taught at Rogers, Mt. Spokane and Central Valley high schools, knows how hard his son has worked the past four years. He resigned at CV last year to become missions pastor at Valley Real Life Ministries.
"Jake has a dad that's an English teacher and a pastor. Speaking and writing come easy to me, but it is difficult for him," he said.
In recent months, Jacob Allen has talked about becoming a middle school math teacher. Math is the subject he loves most.
Allen hopes to attend Eastern Washington University.
He has seen service modeled throughout his life by his parents. Three of his four siblings were adopted from China.
Allen has accompanied his father on mission trips to China and Costa Rica.
"(Being a math teacher) is the most recent thing he's talked about," Steve Allen said. "I could see him as a special education teacher. He's really good with special-needs kids. Whatever he does he's going to be a great employee. He's steadfast, and it's just trying to find a place for him."
Jacob Allen landed a job early last summer working at a retirement home. He has been a food server and dishwasher.
"The residents are awesome," he said. "They're always teasing me and making jokes. I like them a lot."
His father sees his son's job as akin to ministry.
"Ministry is deep in my heart," Steve Allen said. "He has a gentle spirit. He listens to them (the seniors). He loves to hear their stories and about their memories. Hopefully, if one gene got passed to my son, it's that one – a servant's heart."
Local journalism is essential.
Give directly to The Spokesman-Review's Northwest Passages community forums series -- which helps to offset the costs of several reporter and editor positions at the newspaper -- by using the easy options below. Gifts processed in this system are not tax deductible, but are predominately used to help meet the local financial requirements needed to receive national matching-grant funds.
Subscribe to the Coronavirus newsletter
Get the day's latest Coronavirus news delivered to your inbox by subscribing to our newsletter.
---