Volume Music Festival brings eclectic mix of artists to Spokane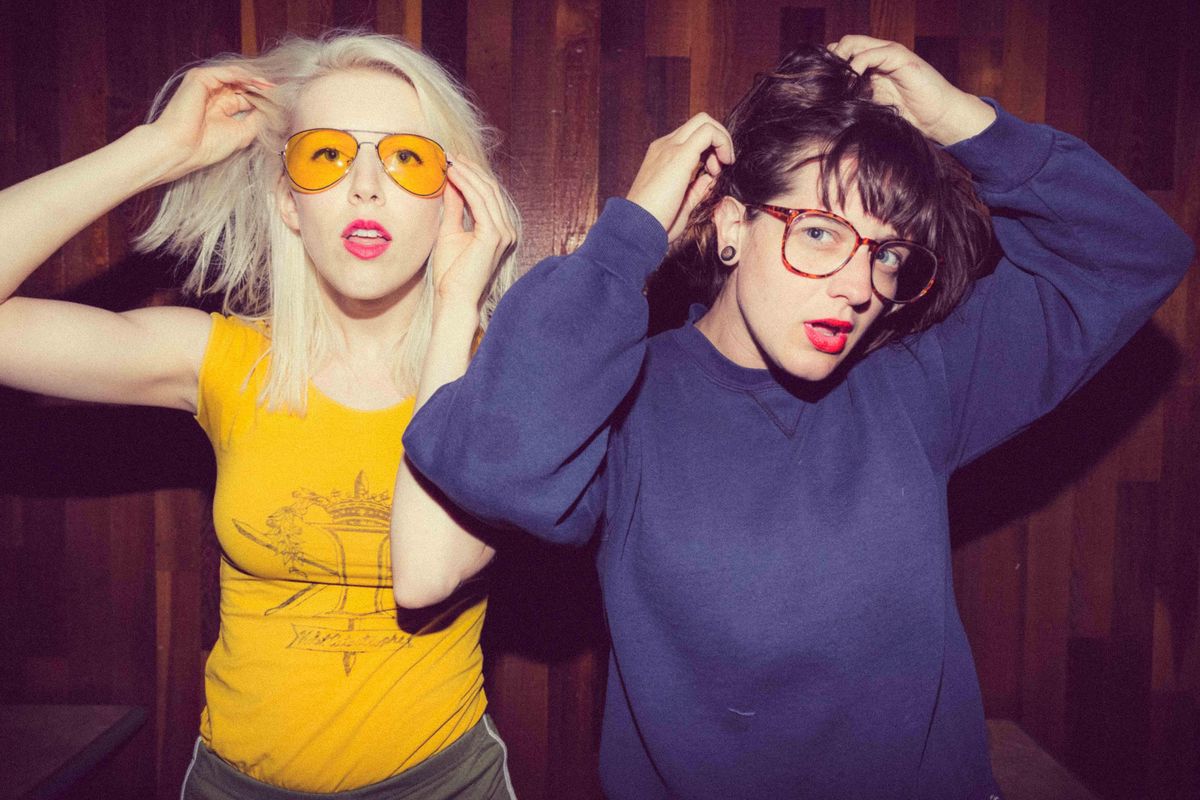 For the last eight years, Volume, the Inlander's music festival, has packed downtown venues with local, regional and even a few national acts for a weekend.
As per usual, bookers have taken care to bring a little something for everyone to Volume.
Looking for something a little bit country? There's Jenny Don't and the Spurs (8:30 p.m. Friday) and Marshall McLean and the Holy Rollers (9:45 p.m. Saturday), both at nYne Bar and Bistro.
A little more rock 'n' roll? Check out Bar Talk (12:15 a.m., Saturday, Mootsy's) or Casual Hex (9 p.m., Friday, the Observatory).
If you're hoping for some hip-hop, Seattle's ExZac Change and Matisse (6 p.m. Friday) and Ryan Caraveo (10 p.m. Friday) have got that covered at the Washington Cracker Building.
There's plenty to see at Volume 2018, but we suggest carving out some time to check out these artists:
The Helio Sequence
11 p.m., Saturday, Washington Cracker Building
In December, after performing together as the Helio Sequence since 1996, guitarist/vocalist Brandon Summers and drummer/keyboardist Benjamin Weikel decided to switch things up a bit.
In collaboration with robotics company Anki and ad agency W+K Lodge, the duo performed as "The 1/24's: A Tiny Helio Sequence Project" as part of "Cozmo: Lost in Reddit," part live event, part video game, part advertisement.
Summer and Weikel scored the six-hour event in real-time while performing in front of a green screen. The tiny Helio Sequence was then projected onto an announcer's desk.
"Our goal was to reinforce the playfulness of the gaming experience and at the same time provide music with a cinematic weight so the event felt like more than 'just a game or an ad,' " the band wrote. "We composed across a wide variety of styles from chip-tune to ambient to full-on orchestral scoring.
The Portland-based alt-rock duo, life-sized this time, headlines this year's Volume.
Donna Donna
9 p.m., Friday, Red Room Lounge
Since releasing its debut album, "Basement Noise," in February, it seems like Spokane's Donna Donna, the blues-rock duo of guitarist/vocalist Lindsay Johnston and drummer Cherri Woith has hardly had a moment to catch their breath.
The pair played shows in Walla Walla, Portland, Richland and Everett, plus three more shows in Spokane, and released a music video for "Chaperone" (filmed in the men's bathroom at Garageland) in a matter of weeks.
Donna Donna recently played a show at SFCC and will perform at ArtFest and Volume on the same day. Who needs sleep when you have rock 'n' roll?
Sidenote: Come early to catch Spokane instrumental rock quartet Deer (8:15 p.m.); you won't regret it.
Indian Goat
11 p.m., Friday, Red Room Lounge
It's been less than a year since Garrett Zanol and Travis Tveit began performing as Indian Goat, but Spokane is clearly already smitten with the fuzzy rock 'n' roll duo.
"Silver Time" was nominated for Best Local Song and the band was nominated for Best New Band/Artist at this year's Bartlett Awards.
If you're feeling particularly sentimental, you could bring a little trinket to Indian Goat's Volume show, as it's the one-week anniversary of the release of the band's second album "2."
Brotha Nature
10:15 p.m., Saturday, Red Room Lounge
Brotha Nature, aka Eli Dyer, must turn a few heads when he loads into a venue.
First, there's his live looping gear, which he uses to layer elements to create beats in real time.
Then, there's his trumpet, which he's taught himself to play over the past few years, and his guitar.
But the real star of the show is something that can't be unpacked: Dyer's beatboxing.
In recent years, Dyer has showcased this talent at previous Volume festivals, Seattle's Folklife Festival, Montana's Pirate Party Festival and countless venues around town.
More recently, Dyer introduced symphony fans to beatboxing as the special guest at Spokane Symphony concertmaster Mateusz Wolski's "The M Show." During the show, Dyer beatboxed while Wolski performed Niccolò Paganini's Caprice No. 24.
Dyer has also opened for the likes of the Nappy Roots, the Pimps of Joytime, Sage Francis, Devin the Dude, Flying Spiders, Real Life Rockaz, Nacho Picasso and more.
Maps and Atlases
9:45 p.m., Saturday, Washington Cracker Building
After six years of radio silence, Chicago indie-rock trio Maps and Atlases is back with "Lightlessness Is Nothing New," which will be released Friday, the day before the band plays Volume.
"Lightlessness" originally started as a solo project for vocalist/guitarist Dave Davison, but when he asked bassist Shiraz Dada and drummer Chris Hainey to perform on a few tracks, he realized it made more sense to release it as a full band record.
"That break makes you realize how much all your best stories and memories have taken place with these people," Davison told Noisey in April.
Thematically, the album explores Davison's experience after his father's death, though, as he told Noisey, it's neither the light nor the darkness of his experience.
" 'Lightlessness' is somewhere in between," he said. "It's somewhere that's not light or dark, not transparent or opaque… The process of making this album has been a meditation on my experiences, and it's given me a different perspective on them. Though I don't know if I have any more answers than anybody else."
---