John Blanchette: Killian Tillie injury will force Gonzaga to test flexibility in a hurry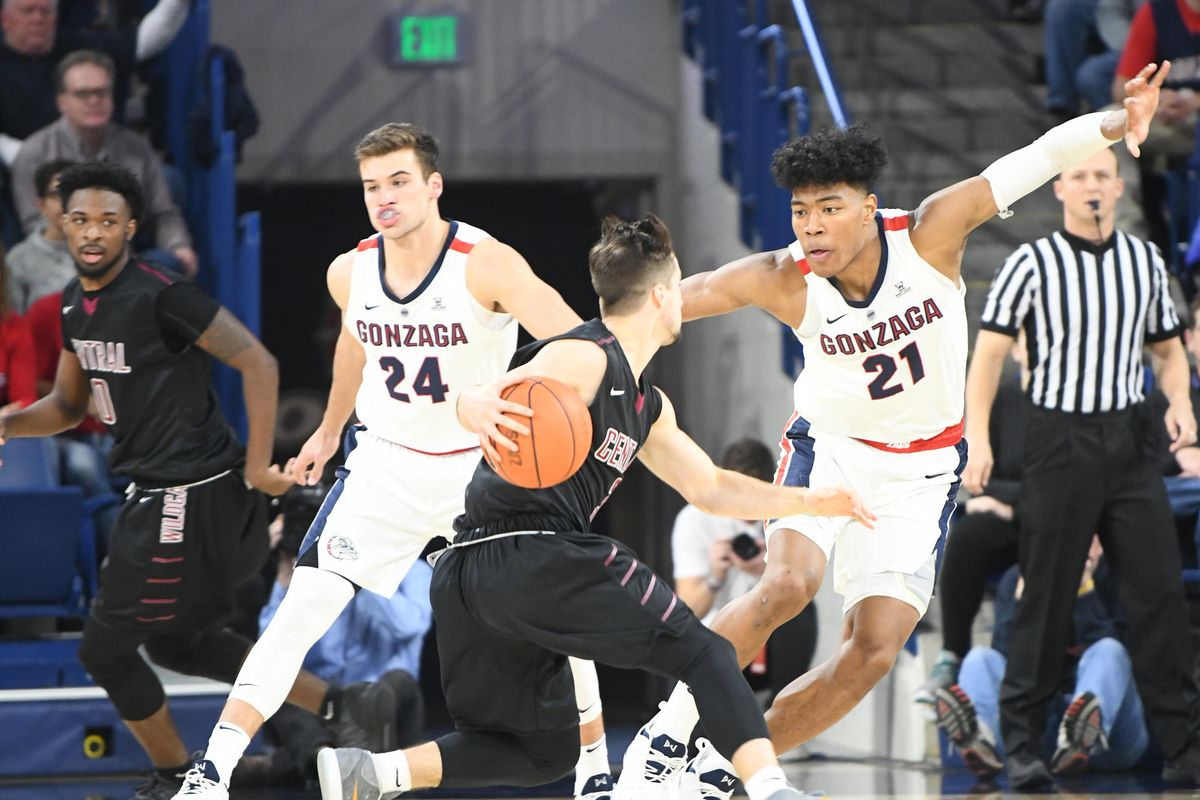 When we last left the Gonzaga Bulldogs in competitive mode, Killian Tillie was hunched in a sideline chair in the Staples Center, jacket collar pulled up under his lower lip. His mien suggested he'd just been served one of those employee special pizzas now famous at Comerica Park.
Catching up Thursday at the McCarthey Athletic Center, we found Killian Tillie … well, in a lighter colored jacket.
That was the only difference – that and the cast on his right ankle.
Not a story arc anyone much wants to get behind, is it?
But all things considered, you'll take your crises on low heat in November and not in a rolling boil in March on less than 24 hours notice.
Crisis? Probably overstating things, but hey – hyperbole is what delivers oxygen to the masses who follow the Zags, including those who showed up for the friendly against Central Washington to see what Gonzaga might make of itself without the player Mark Few came quickly to know as a problem solver upon his arrival in Spokane.
Well, the Bulldogs made the usual hash of the overmatched guest – 108-69.
And, as in last week's scrimmage in Minneapolis against Michigan State, the Zags made themselves feel a little better about carrying on without a figure central to their success, if that's not too little to say about a guy No. 50 on one national assessment of college basketball's best players – and on the watchlist for the Kareem Abdul-Jabbar Award honoring the nation's best center, even though the 6-foot-10 junior is truly the stretchiest of 4s.
Of course, three other Zags rated even higher, so the margin for GU isn't exactly razor thin.
Even if the schedule and his own résumé argue otherwise.
"He hit, what, 14 3s in a row last year?" said teammate Jeremy Jones. "When you lose a guy of his caliber, that's going to affect us some, for sure."
Twelve in a row, actually, and 13 of 14 during the West Coast Conference tournament. The hip injury that made him a no-go for the NCAA Sweet 16 loss to Florida State was a different barometer of his worth, though it figures that he would have struggled to score as much as his teammates, even healthy. In any case, getting him back in one piece was Gonzaga's primary pre-camp concern, along with Geno Crandall putting the full-court press on his degree at North Dakota.
Then it all came undone – though not as suddenly as Tuesday's announcement from the school made it seem.
"It's been hurting for a while," Tillie confirmed. "It wasn't really bad so I was just playing through it, but the last week it was really bad."
It was a stress fracture, requiring surgery and an estimated eight weeks on the Zags' disabled list. So Christmas, roughly – ahead, at least, of West Coast Conference play.
But after virtually all the games the Zags scheduled to build their NCAA seeding portfolio.
"You can see what it means for the team," Few said. "They're going to have to scramble around. Obviously, Filip (Petrusev) is going to have to get better in a hurry, and Jeremy Jones – and we'll have to play Corey (Kispert) some. We're still kind of figuring that out and putting those guys in those positions and see how they hold up."
The Zags are nothing if not multi-dimensional – not positionless, but in the spirit. There was the possibility of playing Tillie, Rui Hachimura and newly eligible Brandon Clarke together – the three-bigs lineup that never got off the ground four seasons ago. Crandall's arrival will allow him to play in guard combinations with Josh Perkins and Zach Norvell Jr. And Kispert provides a mid-sized flex point.
But for the next couple of months, the bigs – with the freshman Petrusev – will be a more traditional three-man rotation, with Jones as the fourth. Keeping the new kid out of foul trouble – he picked up five in 16 minutes against CWU – will be a mission.
"We'll be a little more guard-heavy with Killian out," Kispert offered. "But Jeremy did a great job playing 4 for us tonight, and he's going to have to continue to do that."
Hey, it's the code. The Zags survived the 2016 season without Przemek Karnowski, and Gary Bell's broken hand in 2014 and Steven Gray's broken wrist in 2008. Josh Heytvelt was forever on the injury watchlist. So was Dan Dickau. Even Tillie missed two stretches back in 2017 with other hurts.
"Maybe it's a little harder spacing the floor," Tillie said, "but I don't think it's a problem. It's helpful having a guy like Filip because he can make some 3s, and we'll need him defensively to protect the rim.
"But these guys got it. And I'll be back."
And maybe the Zags can get it up to a rolling boil without him.
---