Sports > Gonzaga women
Laura Stockton is ready to make some noise, as is Gonzaga
Thu., Nov. 1, 2018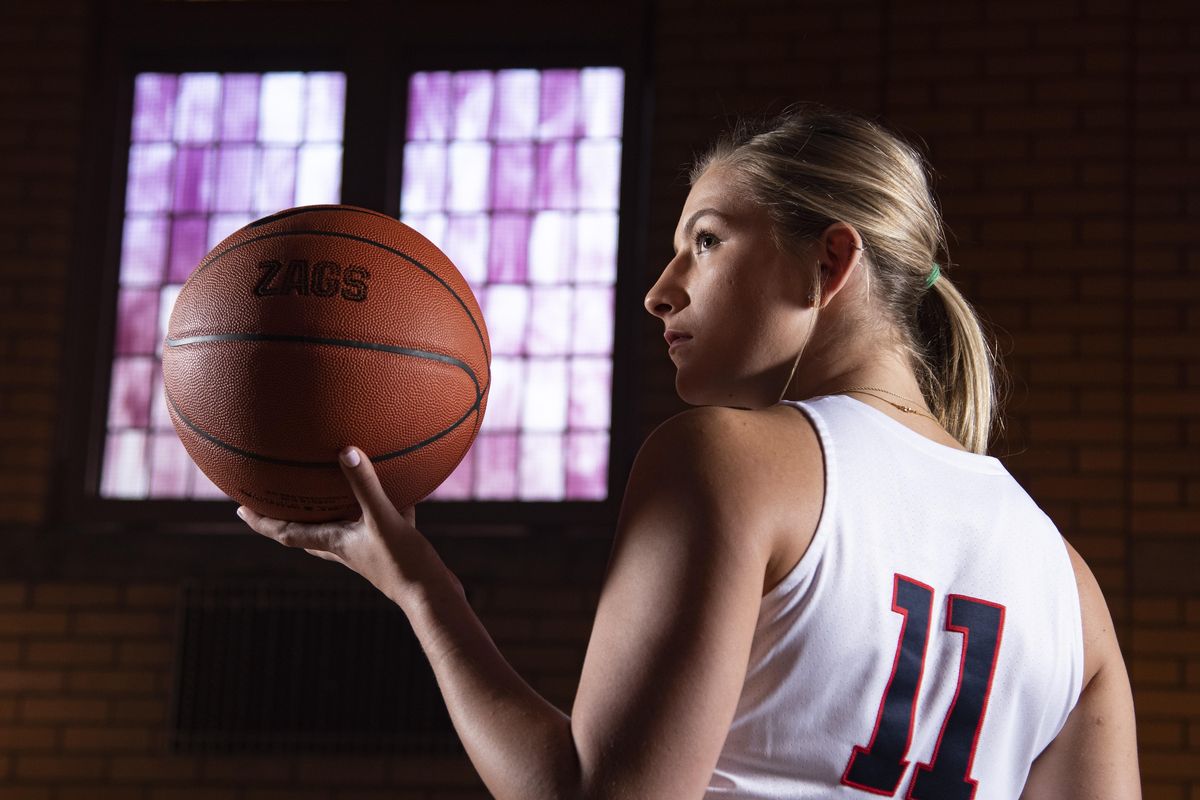 Laura Stockton, point guard and senior co-captain, here in the Hutton Settlement auditorium, returns for her fourth and final year at Gonzaga. (Colin Mulvany / The Spokesman-Review)
The way Laura Stockton sees it, if she makes some noise this season, so will Gonzaga.
It's called leadership, and Stockton isn't afraid to speak her mind to her teammates – especially in this, her senior season at GU.
"That's because I want them to be the best they can be," Stockton said. "Their success is my success."
Stockton has learned a lot about success from her father John, who also played point guard at GU and went on to a Hall of Fame career in the NBA.
"What I've taken from him is that I would do just about anything to get that win," Stockton said. "I'm grateful that he was that type of player, because that's the way that I play."
Laura Stockton made it look easy at Gonzaga Prep, where she led the Bullpups to state titles in 2014 and 2015 and was the Seattle Times Player of the Year after averaging 17.4 points and shooting 50 percent from the field her senior year.
She had many college choices, and Stockton considered leaving Spokane, partly because the family name was so famous that she might want to carve her own identity, to escape the expectations that were sure to burden her at the Jesuit school located only five minutes from the Stockton home.
With plenty of options, she toyed with the idea of playing out of town.
But midway through the recruiting cycle, Lisa Fortier took over the program and didn't miss a beat. She appreciates the Stockton legacy, but let Laura know that life at GU would be about creating a legacy of her own, and her own expectations would be more than enough.
Stockton committed to GU. "I'm excited to be a part of something bigger than myself," she said at the time
The 5-foot-8 Stockton rose to those expectations soon after she set foot on campus. Tenacity, tough defense, a feel for the game – where did she learn all of that? – gave her quality minutes at point as a true freshman behind senior Georgia Stirton.
There were some quality moments too, highlighted by a nonconference game against Montana State and sister Lindsay.
That season, Laura averaged 6.7 points and almost three assists while playing 18 minutes a game. However, that first year ended disappointingly, as GU failed for the first time in seven years to reach the NCAA Tournament.
The ball was in definitely Stockton's hands as a sophomore. She started all 33 games, averaging eight points and 4.4 assists while shooting 43 percent from the field.
"That's what I love about being a point guard," Stockton said. "It's natural to help people do their best, and I'm always trying to make a great pass."
She made enough of them to help GU sweep the West Coast Conference regular-season and tournament titles, then helped the Zags do it again last season.
That Stockton grit was on display in midseason, as she overcame a shoulder injury and a broken nose.
That season also ended in the first round of the NCAAs, leaving GU 53-13 overall and 31-5 in the WCC during Stockton's two years as a starter.
It also left her with one big ambition for her senior year.
"I really want to win a tournament game," she said recently. "That's something I haven't done, and it's something that's on all of our minds."
Confidence is high, thanks in no small part to Stockton's game.
Adding to her stellar defense, Stockton has worked hard on her outside shooting.
"She's really worked hard on her perimeter game," Fortier said. "She's capable and confident right now."
Beyond that, Fortier said, "I'm expecting her to be a great leader. Sometimes we need someone who's going to be stern."
And also to make some noise.
Local journalism is essential.
Give directly to The Spokesman-Review's Northwest Passages community forums series -- which helps to offset the costs of several reporter and editor positions at the newspaper -- by using the easy options below. Gifts processed in this system are not tax deductible, but are predominately used to help meet the local financial requirements needed to receive national matching-grant funds.
Subscribe to the sports newsletter
Get the day's top sports headlines and breaking news delivered to your inbox by subscribing here.
---