Sports > Gonzaga basketball
Underappreciated Gonzaga point guard Josh Perkins primed for big senior year
Thu., Nov. 1, 2018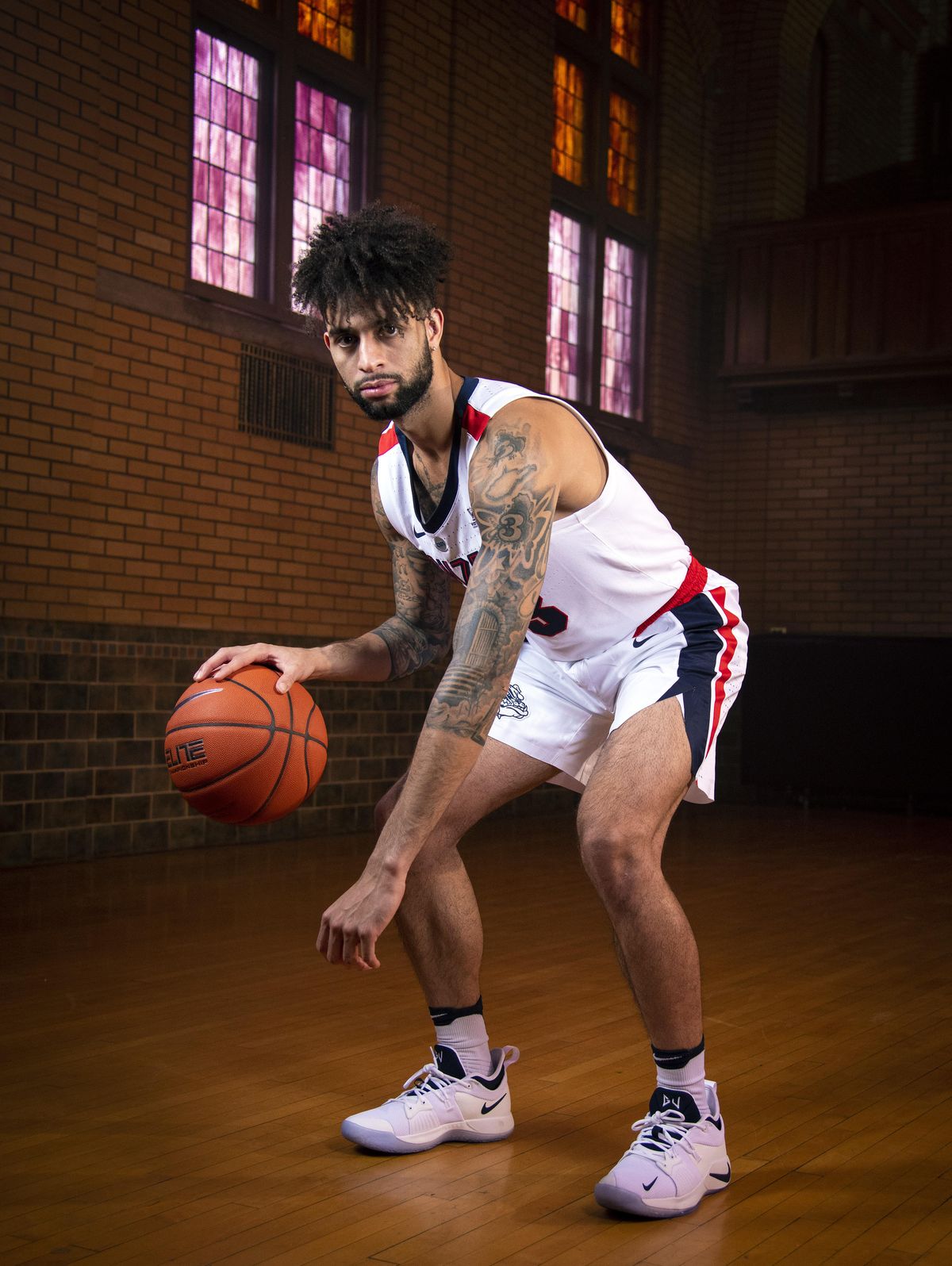 Perkins led Gonzaga in assists (5.3) and steals (1.2) per game last season, while shooting 39.3 percent from three-point range. (Colin Mulvany / The Spokesman-Review)
Josh Perkins doesn't know how many tattoos he has, but they're all there for a reason. They provide a pictorial of his 23 years, from recognizing influential people to life lessons, such as the "Live and Learn" on his arm.
The No. 13 jersey Gonzaga's senior point guard wears? Perkins knows GU's history of fellow 13s Matt Santangelo, J.P. Batista and Kelly Olynyk, but that's not the reason.
Perkins' younger brother Cameron was his backup at Denver's Regis High. Cameron wore No. 1, Perkins No. 3. Perkins decided to play his senior season at Huntington Prep in West Virginia, but back home Cameron was sidetracked by a second torn ACL, prompting Perkins to pick a new number.
"Together 13 was us," Perkins said. "And (former girlfriend) Sarah was No. 13 in high school, too."
Perkins doesn't always tell you how he's feeling – though he's routinely a post-game go-to for media – so much as show you. It's one of the reasons he'll begin his senior season the same way he's entered every game since eighth grade:
By writing "Prove Them Wrong" on his wrist tape.
It's a reminder that his work is not done, his naysayers not fully quelled. In reality, they probably never will be in the age of social media. Perkins has seen it all from the "keyboard warriors," as former Zag great Adam Morrison once called anonymous internet critics.
No player on the current roster – or on perhaps any recent GU roster – has been scrutinized as much as Perkins, who could wake up on Oct. 24 and find a season preview from NBCSports.com describing the core Zags largely in glowing terms before offering: "All that said, the biggest concern, at least for me, is Josh Perkins."
And: "Key to the season, is he trustworthy against elite comp?"
Perkins has had his share of missteps. He's struggled in several big games – Saint Mary's in Spokane last year, the ill-advised inbounds pass against Texas at the PK80, BYU ending Gonzaga's unbeaten run in 2017 – but typically bounces back in a hurry.
Perkins was outstanding in the Saint Mary's rematch. He dropped a crucial jumper to stem a Tennessee rally two years ago in Nashville, and the go-ahead jumper with 40 seconds left as a redshirt freshman to edge Montana. His rare blocked shot preceded Jordan Mathews' dagger 3-pointer against West Virginia in the 2017 Sweet 16. He scored 13 points in the first half of the NCAA championship game against North Carolina.
His final stats in the overtime win against Texas: 16 points, 5 of 7 3-pointers, seven assists.
"To have those experiences of playing in a Final Four, a bunch of Sweet 16s, it doesn't get any better than that," coach Mark Few said. "Now the challenge for him is to take that next step, really own this team, and own those winning plays we're after him about."
Perkins listens to his coach, in part because it muzzles the outside noise.
"It (criticism) gave me ammo and it kind of hurt at the same time," Perkins said. "I was a guy giving it my all, all the time. It didn't seem like anything was ever good enough. Now I'm old enough to focus on my guys, and the only scrutiny I listen to is Mark Few."
Much of the outside chatter goes with playing point guard at Gonzaga. Perkins rattles off the names faster than a three-second count: Hall of Famer John Stockton and the point guard succession during Gonzaga's 20-year NCAA Tournament streak: Santangelo, Dan Dickau, Blake Stepp, Derek Raivio, Jeremy Pargo, Matt Bouldin, Kevin Pangos, Nigel Williams-Goss.
And now Perkins, who has been underappreciated to some degree. He's been a major contributor to the most successful run in program history. He's a two-time WCC All-Academic selection. And he played with a balky right shoulder he estimates has popped out of place "14-15 times" in college.
"He's probably taken some unfair criticism over time," assistant coach Tommy Lloyd said. "How we've talked about it to Josh is, it's part and parcel of being point guard at Gonzaga. It's an extremely important position, and we've had a lot of really good ones, and Josh is another one of those good ones. If you go back over stretches of those guys' careers, people have been critical, but that's changed by the end of their careers."
The majority of NBA Zags lately have been bigs – Kelly Olynyk, Domantas Sabonis, Kyle Wiltjer, Zach Collins, Johnathan Williams – but that doesn't deflect from the attention devoted to the point guard.
"It does captivate the fans," said Santangelo, explaining that guards usually have the ball and make many of the decisions that influence the game.
It's been a somewhat bumpy journey for Perkins, but as he points out, that journey has hardened him.
Rewind to high school, and Perkins was generally considered the top player in Colorado. He wanted to be challenged more, and opted to play his senior season for powerhouse Huntington Prep.
But he was slowed by a nagging shoulder injury and his first bout with adversity. He wasn't able to do much for months, much like his recovery from shoulder surgery last April. When he returned, he was rusty, missing shots and out of shape.
"Being hurt and being away from home, and not being that guy, I really didn't know who I was," Perkins said. "I was in such a dark place at the beginning of that year. I didn't really know if basketball was something I wanted to pursue."
It was about that time that he met Sarah. They were together for roughly five years before breaking up recently.
Perkins said Sarah and his host family, the Hinchman family, steered him through the tough times. Perkins and the Hinchmans vacation every summer on Hilton Head Island, South Carolina.
Perkins has encountered numerous ups and downs at GU. He suffered a broken jaw five games into his freshman season, but returned to start every game the following year. He's helped the Zags reach the Sweet 16 four consecutive years, including his career highlight of playing in the 2017 national championship.
He's been part of 101 victories – it's doubtful there's been another returning Gonzaga player with more Ws – and has a shot at the NCAA record of 137 held by former teammate Przemek Karnowski.
Perkins' 478 assists rank sixth in program history and his 198 3-pointers are eighth. He's just outside the top 10 with 124 steals. He's No. 32 with 1,154 points.
But there's more to playing point at Gonzaga than stats.
"The eyeball test," said Santangelo, when asked what Perkins could do to win over skeptics. "Leadership and body language are where he could really make some strides to quiet some of the noise and public perceptions.
"We only get to see him in small glimpses, and it's not that he doesn't have it. But those are areas he could really take a step, more so than his shooting percentage or assists-to-turnovers, paper stats. It's going to come down to that eyeball test, to see if we're able to capture his essence as a point guard and a leader."
Perkins' low point didn't come on the basketball court. His redshirt sophomore season was nearly derailed when he was arrested for physical control of a vehicle while under the influence.
"I thought it was over for me," Perkins said. "It was the first time I was remotely close to anything like that. I remember being in the back of the car thinking, 'Whoa, my career is done.'"
It wasn't. Perkins was suspended for two games, including the regular-season opener.
"Obviously I had to face some consequences, but for them not to take the one consistent thing in my life away was huge," Perkins said. "For them to stick with me as a person, from (athletic director) Mike Roth to Coach Few, they knew who I was, other than that mistake."
In return, Perkins has proven to be popular with teammates, adaptable to different roles (often playing shooting guard in 2017) and loyal.
"What's cool is it wasn't always smooth or easy, but he hung with it and hung with us," Lloyd said. "I'm just thankful that Josh has stayed in the program five years. That's not a normal thing in this day and age. He did graduate, and he could have pursued things (as a grad transfer) at a very high level."
Perkins arrives at his senior season with some scar tissue, literally and figuratively, but his shoulder is "way tighter than it's been."
Same goes for his mindset.
"I believe in myself now more than ever," he said. "Sitting out 4, 5 months, stepping away from the game, I've got my feel and fire back. My head is in the right spot, basketball is my priority.
"These guys came back for a reason, and I came back for a reason."
Local journalism is essential.
Give directly to The Spokesman-Review's Northwest Passages community forums series -- which helps to offset the costs of several reporter and editor positions at the newspaper -- by using the easy options below. Gifts processed in this system are not tax deductible, but are predominately used to help meet the local financial requirements needed to receive national matching-grant funds.
Follow along with the Zags
Subscribe to our Gonzaga Basketball newsletter to stay up with the latest news.
---