Kicker, punter Roldan Alcobendas is Mr. Consistency for fifth-ranked Eastern Washington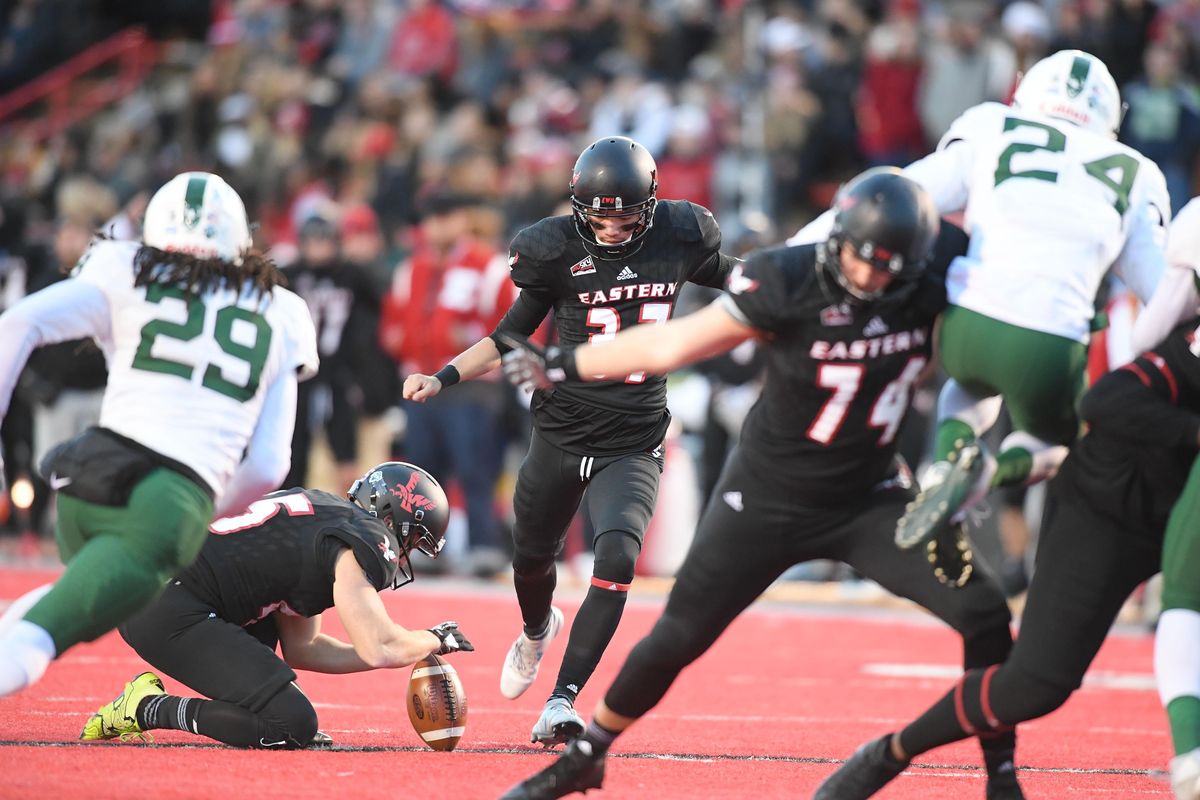 Roldan Alcobendas is often tempted to use his crafty footwork on the pitch, but Eastern Washington's record-breaking kicker refrains.
Soccer was the Camas, Washington, product's first love, although it led to a series of knee injuries and painful procedures that derailed his first three seasons in Cheney.
Alcobendas is now a sixth-year senior, getting every snap, kick and punt he can out of his extended eligibility, all while setting a standard for the freshmen a half-decade his junior.
If not for tearing his anterior cruciate ligament as a senior soccer player at Camas High in spring 2013 – an injury that forced him to redshirt as a EWU kicker in 2013, again in 2014 when it was retorn at Montana State, and in 2015 following another surgery – Alcobendas would likely be two years removed from his college career, as he's already earned a marketing degree.
The injuries and extra reps, however, put him in a position to be the Eagles' primary kicker – and most recently, punter – for more than three seasons.
He's now EWU's all-time leader in kicking points (271), hitting 30 of his 41 field-goal attempts and adding 181 extra points.
Alcobendas is 10 for 10 in field goals this season, one of three FCS kickers with a perfect mark. He's also been a model of consistency on extra points, setting a school record for consecutive extra points made (85).
Pushing through the injuries was tough, he said, but now he's glad he persevered.
"After each injury, I was like, 'What am I doing here? Why am I doing this?' " Alcobendas said. "But I knew I had to prove something, not only to myself, but to my family and friends."
A first-team all-conference soccer player and kicker and punter at Camas, Alcobendas said only a handful of small colleges were interested in his service on the pitch. When he earned a Division I scholarship for football, his arrival at EWU preceded a 2014 signing class that included his old high school teammates, wide receiver Zach Eagle and quarterback Reilly Hennessey.
The longest field goal he hit in high school was 52 yards. At EWU, it's 48.
"I've hit 57 yards in practice," said Alcobendas, who hopes to gets the opportunity to make an attempt beyond 50 yards before his college career is over.
The Eagles' golden toe has yet to set any distance records for kicking, but he set EWU's record for longest punt at Weber State last month. It traveled 78 yards, mostly through the air.
"It was pretty far, and I think I just got lucky with the bounce," said Alcobendas, who before this season hadn't punted full time since high school.
Alcobendas has earned his share of conference honors. He's also in the running for the Fred Mitchell Award, an honor given to the nation's top collegiate place-kicker among FCS, NCAA II, III, NAIA and NJCAA teams.
"I didn't have the career I had pictured a few years ago," he said. "I've just prided myself on doing the best that I can with my ability."
---