News > Education
Hard work and commitment: Westview Elementary wins School of Distinction award for second straight year
Fri., Nov. 2, 2018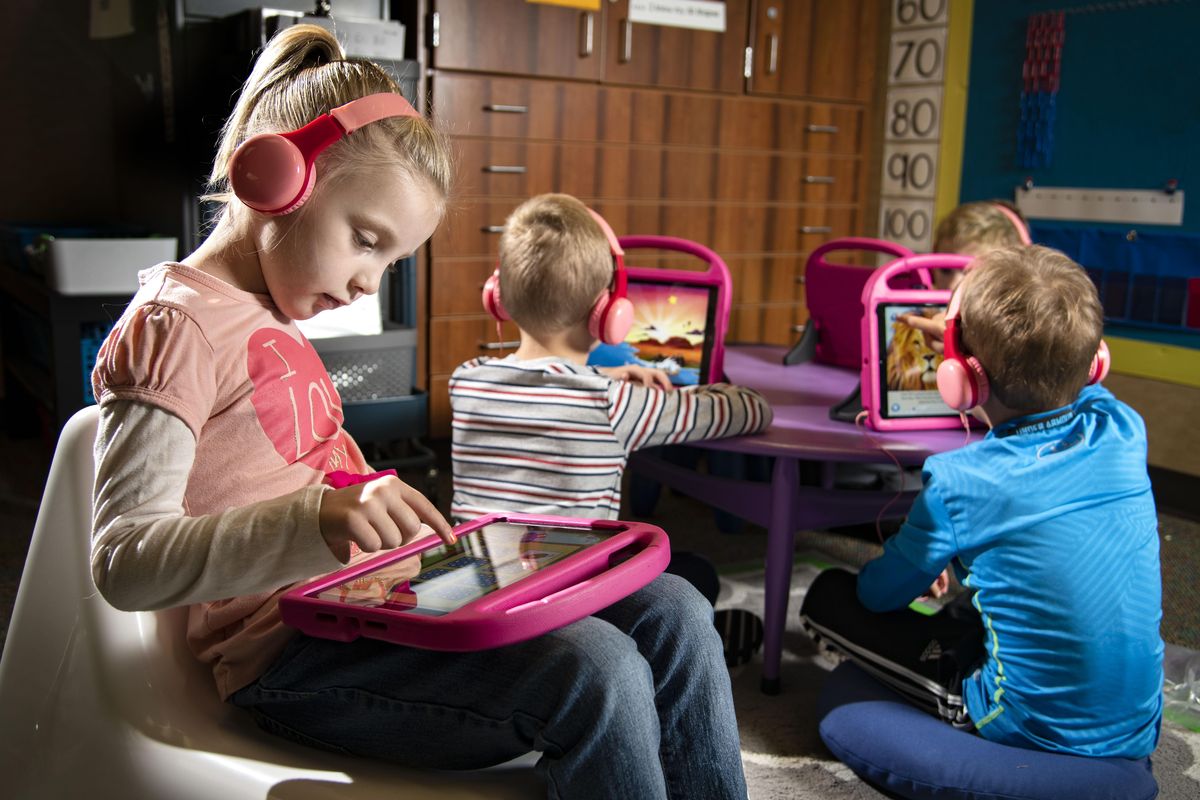 Kindergartener Kylie Maxwell, 5, uses a literacy application on a tablet during class, Thursday, Nov. 1, 2018. For the second year in a row, Westview Elementary School, has been named named a School of Distinction by the state superintendent. (Colin Mulvany / The Spokesman-Review)
The building is a modern marvel, but success at Westview Elementary School is earned the old-fashioned way.
With hard work and no excuses.
Even on the morning after Halloween, nobody was crashing; they were hitting the books.
Maybe that has to do with principal Cathy Comfort's high expectations.
"When the kids come through our door, they really know what we're about here," Comfort said Thursday. "The day after Halloween or any other day, there's not a lot of difference.
"We're a very united staff and believe in the standards. We know what our job is and we attend to that purpose every single day," said the principal of a school that has 66 percent of students on free or reduced-price lunches.
A better education is its own reward, but others have noticed. Last month, Westview won its second straight School of Distinction award from the state superintendent's office.
It's the only elementary school in Spokane to win the honor this year.
The award is based on each school's performance in the Smarter Balanced Assessment, which measures success in language arts, math and science.
Scores take into account the demographics at each school, but during each of the last four years, Westview has ranked no lower than the 96th percentile in both language arts and math. The school also topped the 96th percentile in science the past two years.
There's no secret to the success, other than what Comfort calls her "warriors," a dedicated group of teachers and support staff.
"They look at problems as opportunities, and they understand the importance of relationships," said Comfort, now in her 14th year as principal. "As children attach to teachers and the school, their purpose for learning increases."
That purpose is a product of intentionality from Comfort, the Spokane Public Schools Elementary School Principal of the Year in 2016.
Westview was among the first schools to departmentalize its sixth-grade curriculum, with students moving among three teachers.
In one room, teacher Vicki Malatare was quizzing students on perfect squares before revealing Westview's not-so-secret formula for success.
"We have a really cohesive staff, and we all believe in high standards and holding the kids accountable," said Malatare, a teacher since 1982.
Next door, Kathy Heaps was moving from desk to desk while sharing her passion for Egyptology. Some sixth-graders reviewed ancient history on their laptops, while others sketched statues from the ancient tombs.
Dalylah Rivera and Jordan Fairbanks were given the freedom to work in the hall outside Heaps' classroom. They were lying on the floor as they drew, but were hardly idle.
"Every class here has its challenges," Fairbanks said.
Success arrives because "we have a bunch of teachers who are so willing to go above and beyond, and we have a principal who recognizes what we do well and fosters those strengths," Heaps said.
Those strengths are no doubt amplified by the surroundings. After 57 years in the old Westview school, its teachers and students moved in 2012 to the modern building on Bismarck Avenue, just south of Francis Avenue.
Part of the bond measure approved by voters in 2009, the new Westview is just what Comfort and her staff ordered: a modern facility that looks like a giant combination REI and Starbucks, with big windows and utilitarian stairs.
The library is first-rate, with laptops lined up in rows next to racks filled with books.
"It gave the kids an opportunity to learn and grow in a setting that's more comfortable," Comfort said.
Then again, Westview's success wasn't built on plaster and steel.
No matter the setting, "We're about learning and the endless possibilities that children have," Comfort said. "We tell them, 'You have a future, and we're here to help you get to where you want to go.' "
Local journalism is essential.
Give directly to The Spokesman-Review's Northwest Passages community forums series -- which helps to offset the costs of several reporter and editor positions at the newspaper -- by using the easy options below. Gifts processed in this system are not tax deductible, but are predominately used to help meet the local financial requirements needed to receive national matching-grant funds.
Subscribe now to get breaking news alerts in your email inbox
Get breaking news delivered to your inbox as it happens.
---